RAIJINTEK


Arcadia II Midi-Tower - schwarz Window
Attractive and spacious black Midi-Tower from RAIJINTEK
Top airflow & 1x 120 mm fan pre-installed
Dust filters & space for two radiators
Graphics cards up to 340 mm
Item number: GERT-058
EAN: 4715109922189
MPN: 0R20B00093
Manufacturer: RAIJINTEK
Product information -
Arcadia II Midi-Tower - schwarz Window
After the success of the Arcadia Midi-Tower, RAIJINTEK has produced a follow up in the form of the Arcadia II which is a stylish upgrade that combines premium quality with features such as a PSU shroud and plenty of space for radiators to enable users to upgrade for years to come. As we have come to expect from Raijintek, their latest creation blends high-quality German engineering with tasteful design to make for an innovative and well-ventilated case with plenty of space for upgrades and modifications. Furthermore, the price-to-performance of this case is second to none!
The Features of the Raijintek Arcadia II Midi-Tower at a Glance
Stylish and functional Midi-Tower in black
Sturdy steel case with an an acrylic glass window
Extremely light at just 3,9 kg
Plastic front which has a brushed aluminium style appearance
Plenty of space for air cooling, one 120 mm fan pre-installed
Space for two 240 mm radiators
External 5,25" bay and PSU shroud
I/O Panel with 1x USB 3.0 and 2x USB 2.0
Optimal Airflow and Plenty of Space for Cooling Kit
This case takes inspiration from sports cars with air inlets in the front that enable optimal airflow in the case and these have been designed to maximise the degree and efficiency of airflow throughout the case. The exceptional ventilation in combination with a total of up to four large, and therefore quiet running, fans means that this case manages to be both quiet as well as cool. Two 120 mm fans in the front can pull in cool air and up to two further 120 mm fans can be installed in the roof, along with a single 120 mm which comes pre-installed in the rear to act as an exhaust. Instead of fans, users can also install up to two 240 mm radiators simultaneously in the roof and front of the case.
Something of a rarity these days, Raijintek have managed to cram in a 5,25" bay in the front of the case. The plastic front does a good impression of brushed aluminium too. The front of the roof includes an I/O panel which, in addition to an on/off switch and audio jacks, also includes a USB 3.0 port and two USB 2.0 ports.
Durable Materials and High-Quality Manufacturing in Perfect Harmony
The Arcadia II Midi-Tower has a monolithic appearance, with its cool steel finish as well as its slim yet elegant and attractive black exterior. Weighing in at just 3,9 kg, this Midi-Tower definitely belongs in the lightweight division. One particular highlight of this case is the left side panel, which offers an acrylic glass window to enable an unobstructed view of the system's interior. A PSU shroud also helps users hide any unattractive cables. The rear of the motherboard tray also offers plenty of opportunities for quality cable management with plenty of cable passthroughs. RAIJINTEK has done a stellar job in allowing users to conceal the vast majority of cables while allowing them to get to where they need to be with a minimum of fuss.
Two 3,5" drives can be installed in the HDD cage behind the power supply. For two further 2,5" SSD, users have the option of using the reverse of the motherboard tray as a mounting point. This leaves the main chamber free for graphics cards up to a length of 340 mm, and the 5,25" slot does not obstruct any potential GPU either. The case supports CPU coolers up to 160 mm high, and Raijintek has also thoughtfully included removable dust filters in the roof and bottom to allow the interior and the system's components to remain clean and dust free over the long term.
Technical Details:
Dimensions: 185 x 426 x 375 mm (W x H x D)
Material: Steel, acrylic glass, plastic
Weight: approx. 3,9 kg
Colour: Black
Form factor: ATX, Micro-ATX, Mini-ITX
Total possible fans:
2x 120 mm (front)
2x 120 mm (roof)
1x 120 mm (rear)
Pre-Installed:
1x 120 mm (rear)
Total possible radiators:
1x 240 mm in the roof
1x 240 mm in the front
Filter: Roof, bottom (removable)
Drive bays:
1x 5,25" (external)
2x 3,5" (internal) 2x 2,5" (internal)
PSU: 1x Standard ATX (optional)
Expansion slots: 7
I/O Panel:
1x USB 3.0 (internal connection)
1x USB 2.0
1x Audio In/Out
Maximum GPU length: 340 mm
Maximum CPU cooler height: 160 mm
Maximum PSU length: approx. 210 mm
Further links for

"Arcadia II Midi-Tower - schwarz Window"
Videos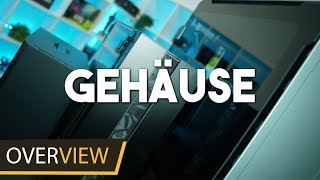 Technical Details
| | |
| --- | --- |
| max. Mainboardformfaktor | ATX |
| Case type | Midi-Tower |
| Form factor | ATX, Micro-ATX, White |
| Colour | black |
| Primary colour | black |
| Width (exact) | 185 |
| Height (exact) | 426 |
| Depth (exact) | Yes |
| Width | 100 - 200 mm |
| Height | 400 - 500 mm |
| Depth | 300 - 400 mm |
| Weight (exact) | 3.9 |
| Weight | 2 to 4 kg (4.4 to 8.8 lbs) |
| Material | plastic, acryl glass, steel |
| max. CPU Kühler Höhe (exakt) | 160 mm |
| max. Grafikkarten Länge (exakt) | 340 mm |
| max. Netzteil Länge (exakt) | 210 mm |
| max. CPU Kühler Höhe | 160 - 179 mm |
| max. Grafikkarten Länge | 300 - 399 mm |
| max. Netzteil Länge | 200 - 249 mm |
| Side panel | with window |
| Front Door | Green |
| Position I/O | Deckel |
| USB 2.0 | 1x |
| USB 3.0 | 1x |
| Audio Out | |
| Audio In | |
| Cardreader | nein |
| Fan controller | no |
| LCD/TFT Display | nein |
| internal 2,5" | 2x |
| internal 3,5" | 2x |
| external 5,25" | 1x |
| Hot-Swap | nein |
| PCI-Slots | 7 |
| Case cable management | yes |
| PSU formfactor | ATX |
| PSU position | Hinten Unten |
| 120 mm Fans | Hard Plastic |
| Radiator Mounting | 2x Dual (240mm) |
| Filter | yes |
| Dampening | no |
| Illumination | no |
| Remote control | nein |
| Serie | Arcadia |
| Transport System | nein |
Awards
At the end of the review of Arcadia II we cannot fail to note that this case, for the price at which it is sold (about 30 €), offers excellent build quality and excellent cable management, allowing the use of the most varied solutions for both CPU and VGA cooling.

read more...

The price is in fact so low as to make it stand out among less evolved and valuable competitors on average. With a few more precautions it would have been perfect, even at a higher price, but it is still among the best ever for those looking for a beautiful but extremely cheap case.

PRO

+ Small footprint
+ Among the most beautiful in the category
+ Smoked acrylic window
+ Brushed aluminum-like front
+ Separate room for psu and storage
+ Very advantageous price
+ GPU up to 34 cm

read more...