RAIJINTEK


Auras 12 LED-Lüfter 2er Set, grün - 120mm
Black LED fan from Raijintek in 2x set
120 mm format with PWM function
800 to 1.800 RPM
max. 101,43 m³/h airflow
max. 1,62 mm H2O static pressure
LED ring with green lighting
Item number: LURT-016
EAN: 4715109921502
MPN: 0R400036
Manufacturer: RAIJINTEK
Product information -
Auras 12 LED-Lüfter 2er Set, grün - 120mm
Allow Raijintek to present the Auras 12, the manufacturer's first fan series that comes with its own integrated LED lighting. To achieve this Raijintek has decided upon an O-type LED ring capable of delivering an incredible array of colours along with a balanced brightness from all angles. Of course the fan itself also provides impressive specifications of its own, offering an airflow of 101,43 m³/h as well as a maximum static pressure of 1,62 mm H2O with a variable rotational speed of between 800 and 1.800 RPM.
The Raijintek Auras 12 LED 2x Fan Set at a Glance:
Two 120 mm fans with PWM
O-type LED ring with green lighting
Spins at 800 - 1.800 RPM
High airflow of 101,43 m³/h
Static pressure of max. 1,62 mm H2O
Efficient bearings for superior durability
Anti-vibration pads to minimise noise levels
Practical Bundle of Two 120 mm LED Fans
This variant of Auras fans comes in a practical bundle of two and comes complete with black frames, the specialised design of which is responsible for the high max static pressure of 1,62 mm H2O. This is then supplemented by the addition of black fan blades which, thanks to their shape, ensure the greatest possible degree of airflow at 101,43 m³/h. These performance specifications are of course seen while running at the full 1.800 RPM, however the fan speed can be regulated down to 800 RPM thanks to PWM.
Equipped with special anti-vibration pads in all four corners of the fans, this ensures that unwanted noise and vibrations are minimised, resulting in a maximum noise output of 32,2 dB from the Auras 12. When connected to a compatible motherboard, the Auras 12 will by no means automatically run at the highest settung, in fact they will only run at high speeds when required to by the motherboard due to CPU- or case temperatures. This means that the 120 mm fan is well-suited for use as a case fan or CPU cooler.
The Auras' special feature is, of course, the stylish green LED lighting as seen in the O-type LED rings integrated into the fan frames. This LED ring outputs impressive colours as well as an evenly-distributed brightness in all directions. Taken together this results in the Auras 12 becoming a truly eye-catching addition to any case.
Technical Details:
Dimensions: 120 x 120 x 25 mm (W x H x D)
Weight: ca. 300 g
Colour: Black (frame) / Green (LEDs)
<
Bearing Type: Sleeve bearings
Fan Speed: 800 - 1.800 RPM
Air Throughput: max. 101,43 m³/h
Static Pressure: max. 1,62 mm H2O
Noise Output: max. 32,2 dB(A)
Voltage: 12 V
Starting Voltage: 6 V
Connector: 4-Pin PWM (black, sleeved cable)
L: 40.000 h
Bundle:
2x Fans
1x Y-Cable
8x Screws
Further links for

"Auras 12 LED-Lüfter 2er Set, grün - 120mm"
Videos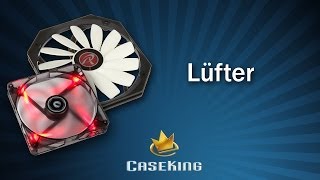 Technical Details
| | |
| --- | --- |
| Primary colour | black |
| Secondary colour | transparent |
| Fan connector | 4 Pin (PWM) |
| Illumination | yes |
| Illumination colour | green |
| Initial Voltage | 6 V |
| Max rpm (exact) | 1800 U/min |
| Min rpm (exact) | 800 U/min |
| Max noise level (exact) | 32,2 dB(A) |
| Max air volume (exact) | 101,43 m³/h |
| Max rpm | 1500 - 1999 U/min |
| Min rpm | 750 - 999 U/min |
| Max noise level | 30 - 34 dB(A) |
| Max air volume | 100 - 124 m³/h |
| Rotor diameter | 120 mm |
| Mounting holes | 120 mm |