RAIJINTEK


Auras 12 RGB LED-Lüfter 2er Set - 120mm
Black LED fan from Raijintek in 2x set
120 mm format
1.200 RPM
max. 67,62 m³/h airflow
max. 0,61 mm H2O static pressure
LED ring with RGB lighting
Item number: LURT-017
EAN: 4715109921519
MPN: 0R400037
Manufacturer: RAIJINTEK
Product information -
Auras 12 RGB LED-Lüfter 2er Set - 120mm
Allow Raijintek to present the Auras 12, the manufacturer's first fan series that comes with its own integrated LED lighting. To achieve this Raijintek has decided upon an O-type LED ring capable of delivering an incredible array of colours along with a balanced brightness from all angles. Of course the fan itself also provides impressive specifications of its own, offering an airflow of 67,62 m³/h m³/h as well as a maximum static pressure of 0,61 mm H2O with a variable rotational speed of 1.200 RPM.
The Raijintek Auras 12 LED 2x Fan Set at a Glance:
Two 120 mm fans with PWM
O-type LED ring with RGB lighting
Spins at 1.200 RPM
High airflow of 67,62 m³/h
Static pressure of max 0,61 mm H2O
Efficient bearings for superior durability
Anti-vibration pads to minimise noise levels
Practical 2-Part Bundle of 120 mm RGB-LED Fans
These variants of the Auras RGB fan come in a handy two-part set and come with full black frames, the special design of which is responsible for the 0,61 mm H2O static pressure. This is complemented by the addition of black rotor blades which, thanks to their shape and rotational speed of 1.200 RPM, allow a a high maximum airflow of 67,62 m³/h.
Equipped with special anti-vibration pads in all four corners of the fan, the fans are able to minimise vibration and operating noise. As a result their maximum volume is a mere 24,8 dB. A 6-Pin cable connects both fans with the bundled controller, and this enables user control of the 256 colour LED ring along with various colours, effects and LED speeds.
The Auras' special feature is, of course, the stylish RGB-LED lighting as seen in the O-type LED rings integrated into the fan frames. This LED ring provides a powerful array of colours as well as an even brightness in all directions. Taken together this results in the Auras 12 becoming a truly eye-catching addition to any case.
Technical Details:
Dimenisons: 120 x 120 x 25 mm (W x H x D)
Weight: ca. 330 g
Colour: Black (frame) / RGB (LEDs)
Bearing Type: Sleeve bearings
Fan Speed: 1.200 U/Min
Air Throughput: max. 67,62 m³/h
Static Pressure: max. 0,61 mm H2O
Noise Output: max. 24,8 dB(A)
Voltage: 12 V
Starting Voltage: 6 V
Connector: 6-Pin (Fan) / SATA (Controller)
Lifespan: 40.000 h
Bundle:
2x Fans
1x Controller
8x Screws
Further links for

"Auras 12 RGB LED-Lüfter 2er Set - 120mm"
Videos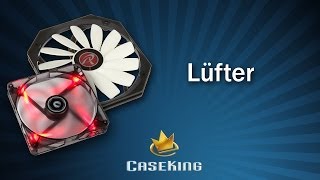 Technical Details
| | |
| --- | --- |
| Rotor diameter | 120 mm |
| Mounting holes | 120 mm |
| Primary colour | black |
| Secondary colour | transparent |
| Fan connector | 6-Pin, SATA (power), Only with controler |
| Illumination | yes |
| Illumination colour | RGB (selectable) |
| LED Anschlüsse | ja, nur über Controller, 6-Pin |
| Initial Voltage | 6 V |
| Max rpm (exact) | 1200 U/min |
| Max noise level (exact) | 24,8 dB(A) |
| Max air volume (exact) | 67,62 m³/h |
| Max rpm | 1000 - 1499 U/min |
| Max noise level | 20 - 24 dB(A) |
| Max air volume | 50 - 74 m³/h |
Awards
These are not the most vivid and best-end cooling fans, but they are, however, a very good value for money product that fits well on weak / low-end computers in order to make them more colorful for cheap money. However, if the buyer has more than 15-20 euros in size, it is advisable to look at the newer fans of RAIJINTEK, which are better in cooling, more colorful colors, and which also comes with an RF receptacle.

read more...

If you have to give colour to your Raijintek cases, both fan series have a specific use. The Auras are very good case fans, provide the right level of lighting to enhance the hardware and especially adapt to any environment. Iris, on the other hand, offer a further lighting step, with greater intensity and more complete illumination.

Both products offer an excellent quality ratio, so I check five stars for both products. Also awarded an award to the Iris, the lighting system is one of the most beautiful to see!

read more...

Pro:
+ Gute Verarbeitung
+ Gute Ausleuchtung
+ Design
+ Kabellänge
+ Kompatibel zu ASUS Aura Sync / MSI Mystic Light
+ Preis

read more...