RAIJINTEK


Calore C360D Kupfer-Radiator - 360mm
Hochwertiger 360er-Radiator
65 mm Tiefe
Kühlkörper aus Kupfer
für 3x 120-mm-Lüfter
Item number: WARA-436
EAN: 4715109921953
MPN: 0R400056
Manufacturer: RAIJINTEK
Product information -
Calore C360D Kupfer-Radiator - 360mm
Raijinteks Calore C360D
aus seiner Atlantis-Serie setzt neue Maßstäbe in Sachen Kühleffizienz. Dafür sorgt der außergewöhnliche Fertigungsprozess des Radiators sowie dessen Aufbau. Hinzu kommt der Einsatz
hochwertiger Materialien
.
Der Raijintek Calore C360D Radiator im Überblick
360-mm-Radiator mit einer Höhe 65 mm
Kühlkörper aus schwarz beschichtetem Kupfer
Zwölf Kanäle für eine effiziente Kühlung
Engmaschige Lamellenstruktur für Hochdruck-Lüfter
Dämmung für Lüfter und Montagematerial inklusive
Feine Lamellen und schicke RGB-Beleuchtung
Raijintek setzt bei seinen Radiatoren aus der Calore-Reihe auf hochwertiges Kupfer, das schwarz eloxiert wurde. Neben einer hohen Festigkeit weist Kupfer eine
hervorragende Wärmeleitfähigkeit auf
. Die schwarze Beschichtung schützt das Kupfer nicht nur vor Korrosion, sondern erhöht auch die Wärmeleitfähigkeit des massiven Radiators.
Der
65 Millimeter hohe Kühlkörper ist mit zwölf Kanälen durchzogen
, durch die die Kühlflüssigkeit durchgeleitet wird und so den gesamten Radiator passieren muss. So wird sichergestellt, dass die Flüssigkeit die maximale Kühlung erfährt. Die Lamellen liegen mit
besonders eng beieinander
. Das macht den
Raijintek Calore C360D
in Kombination mit
Hochdruck-Lüftern besonders effektiv
.
Technische Details:
Maße: 403,5 x 119 x 65,5 mm (L x B x H)
Material: Kupfer
Farbe: Schwarz
Gewicht: 1.730 g
Anschlüsse: 5x G1/4 Zoll
FPI: 14
Lüfter-Kompatibilität: 8x 120 mm
Lieferumfang:
1x Radiator
3x Gummidämmung für Lüfter
5x ¾" Stopper (2x Gummi, 3x Metallschrauben)
24x Montageschrauben
1x Innensechskantschlüssel
Further links for

"Calore C360D Kupfer-Radiator - 360mm"
Videos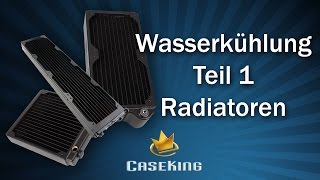 Technical Details
| | |
| --- | --- |
| Radiator size | 360 mm |
| Radiator Typ | Multipass |
| Radiator height (exact) | 65,5 mm |
| Radiator width (exact) | 119 mm |
| Radiator lenght (exact) | 403,5 mm |
| Radiator height | 60 - 69 mm |
| Radiator width | 100 - 119 mm |
| Radiator lenght | 400 - 499 mm |
| No. of water cooling fittings | 5x G1/4" |
| Cooler Material | copper |
| Fan compatibility | 6x 120 mm |
| Fin spacing (fins per inch) | 14 FPI |
| Weight in g (exact) | 1730 |
| Weight in g | 1700 - 1800 g |
| Primary colour | black |
Awards
With vivid and brilliant RGB lighting, good performance and user-friendly price tag, the Atlantis series of custom water loop stuff from Raijintek come on our top recommendation and has won our Performance award.

read more...

Starting with the CWB-RGB CPU water block, the performance seemed to be roughly on the money for a custom water--cooling kit, although we haven't tested any others with our new test gear yet. We'd have liked to have seen more a difference between it and the best-performing AIO coolers out there in our AM4 and LGA1151 systems, but this could be down to a number of factors. In any event, the system managed better cooling than the Corsair H150i Pro and at lower noise levels. The LGA2066 result was certainly the most impressive, which goes to show just how much cooling you should be factoring in with an 18-core CPU. Price-wise, the water block is reasonable at £54, but due to a fiddly installation on all sockets, it might be our first choice.

The Calore C360D radiator offered solid construction and some useful additional ports and retails for similar prices to the competition although Overclockers UK currently has it discounted to £70, which is a very good deal indeed. The core is sizeable and does add to the overall dimensions, making us wonder if more powerful fans or a second row in pull mode might have yielded better results, although our case and plenty others out there simply wouldn't be able to cater for it.

The Antila D5 pump sports all the features you'd expect from a premium pump and reservoir combo with PWM control and at least some effort to aid trapping the air inside it. In terms of value it scores highly too, retailing for £20-30 less than similar models although XSPC's offerings are a little more elegant while EK Water Blocks's combo solutions usually include mounts to secure them to fan mounts, which are extremely handy.

Finally the Iris 12 RGB 256-3 fans are one of the stars of the show. They offer punchy RGB lighting and a range of lighting effects, but best of all is that they're reasonably quiet despite hitting 1800rpm at full speed and cost just £40 for a triple pack - that's half what Corsair charges for its triple pack LL, HD and ML series fans.

read more...