RAIJINTEK


CWB RGB CPU-Wasserkühler - universal
Vernickelter CPU-Wasserkühler von Raijintek
für alle gängigen AMD- und Intel-Prozessoren
mit hoher Leistung durch 3D-Mikrostruktur
RGB-Beleuchtung
Fernbedienung
Item number: WACH-530
EAN: 4715109921939
MPN: 0R400054
Manufacturer: RAIJINTEK
Product information -
CWB RGB CPU-Wasserkühler - universal
Der
Raijintek CWB RGB CPU-Wasserkühler
ist die Erweiterung des populären CWB-C1. Er wurde um ein Gehäuse samt RGB-Beleuchtung erweitert und lässt sich auf nahezu allen gängigen Plattformen von Intel und AMD verwenden. Nach wie vor bildet hochreines, plan geschliffenes und hier zusätzlich vernickeltes - und damit vor Oxidation schützendes -
Elektrolytkupfer
die Basis und sorgt im direkten Kontakt mit der CPU für eine perfekte Wärmeübertragung.
Die Features des Raijintek CWB RGB CPU-Wasserkühlers im Überblick:
Kühlblock aus extrem reinen, vernickeltem Elektrolytkupfer für beste Kühlleistung
Großzügig dimensionierte Zu- und Abflusskanäle für ungehinderten Durchfluss
Integrierte 3-Pin digitale RGB-Beleuchtung mit Fernbedienung
Optimiertes Befestigungssystem zur einfachen Montage
2x G1/4 Zoll Gewinde für größtmögliche Kompatibilität mit den meisten Kompressions-Fittings
Die Features des Raijintek CWB RGB CPU-Wasserkühlers im Detail:
Neben der vernickelten Kupferbodenplatte sind auch die 3D-Mikrostrukturen für die sehr hohe Leistung verantwortlich - sie erhöhen die für die Wärmeabgabe zuständige Oberfläche, die vom Kühlwasser überströmt wird. Durch das optimierte Design werden dank höherem Durchfluss niedrigere Temperaturen erreicht.
Der Deckel in dieser Version hat einen Rand aus
transparentem Acrylglas
, durch die die RGB-Beleuchtung ihre eindrucksvolle Optik entfalten kann. Die
integrierte RGB-Beleuchtung
wird durch den weit verbreiteten
3-Pin digitalen RGB-Anschluss
gesteuert. Raijintek legt auch eine Fernsteuerung bei. Die wird an einem Ende mit dem 3-Pin digitalen Anschluss verbunden, am anderen Ende wird das Kabel für die Stromversorgung über den SATA-Anschluss eingesteckt. Mit der Fernbedienung lässt sich die Geschwindigkeit der Beleuchtung regulieren und zwischen Effekt-Modi wechseln.
Technische Details:
Material: vernickeltes Elektrolytkupfer, Acrylglas, Kunststoff, Aluminium
Maße: 94 x 77 x 26,1 mm (B x L x H)
Gewicht: 180 g
Anschlüsse: 2x G1/4-Gewinde
RGB-Anschluss: 3-Pin RGB (digital)
Sockel-Kompatibilität:
AMD: AM4, AM3+, AM3, AM2+, AM2, FM2+, FM2, FM1
Intel: 2066, 201x, 1366, 115x, 775
Verpackungsinhalt:
Raijintek CWB RGB
Fernbedinung
2x Montagerahmen
1x Wärmeleitpaste
1x 2-Pin-SATA-Kabel
8x Montageschrauben
Achtung:
Bitte beachten Sie, dass manche Kühler mit einer Schutzfolie auf der Unterseite ausgeliefert werden. Diese muss vor der Montage und Inbetriebnahme in jedem Fall entfernt werden. Wir übernehmen keine Haftung für Schäden durch fehlerhafte oder falsche Montage und unsachgemäßen Gebrauch!
Further links for

"CWB RGB CPU-Wasserkühler - universal"
Videos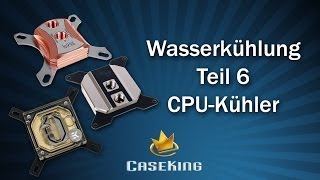 Technical Details
| | |
| --- | --- |
| CPU cooler type | CPU Water Cooler |
| CPU socket | 1150, 1151, 1155, 1156, 1366, 2011, 2011-V3, 2066, 775, AM2, AM3, AM3+, AM4, FM1, FM2, FM2+ |
| No. of water cooling fittings | 2x G1/4" |
| Material base plate | nickel-plated copper |
| Material Deckel | Acrylglas |
| CPU cooler width (accurate) | 77 mm |
| CPU cooler height (accurate) | 26,1 mm |
| CPU cooler depth (accurate) | 94 mm |
| CPU cooler width | 70 to 79 mm |
| CPU cooler height | 20 bis 29 mm |
| CPU cooler depth | 90 to 99 mm |
| Weight in g (exact) | 180 |
| Weight in g | 100 - 200 g |
| Primary colour | black |
| Secondary colour | Transparent matt / frosted |
| Illumination | yes |
| Illumination colour | RGB (selectable) |
| LED Anschlüsse | Digital RGB (3-Pin 5VDG) |
Awards
With vivid and brilliant RGB lighting, good performance and user-friendly price tag, the Atlantis series of custom water loop stuff from Raijintek come on our top recommendation and has won our Performance award.

read more...

Starting with the CWB-RGB CPU water block, the performance seemed to be roughly on the money for a custom water--cooling kit, although we haven't tested any others with our new test gear yet. We'd have liked to have seen more a difference between it and the best-performing AIO coolers out there in our AM4 and LGA1151 systems, but this could be down to a number of factors. In any event, the system managed better cooling than the Corsair H150i Pro and at lower noise levels. The LGA2066 result was certainly the most impressive, which goes to show just how much cooling you should be factoring in with an 18-core CPU. Price-wise, the water block is reasonable at £54, but due to a fiddly installation on all sockets, it might be our first choice.

The Calore C360D radiator offered solid construction and some useful additional ports and retails for similar prices to the competition although Overclockers UK currently has it discounted to £70, which is a very good deal indeed. The core is sizeable and does add to the overall dimensions, making us wonder if more powerful fans or a second row in pull mode might have yielded better results, although our case and plenty others out there simply wouldn't be able to cater for it.

The Antila D5 pump sports all the features you'd expect from a premium pump and reservoir combo with PWM control and at least some effort to aid trapping the air inside it. In terms of value it scores highly too, retailing for £20-30 less than similar models although XSPC's offerings are a little more elegant while EK Water Blocks's combo solutions usually include mounts to secure them to fan mounts, which are extremely handy.

Finally the Iris 12 RGB 256-3 fans are one of the stars of the show. They offer punchy RGB lighting and a range of lighting effects, but best of all is that they're reasonably quiet despite hitting 1800rpm at full speed and cost just £40 for a triple pack - that's half what Corsair charges for its triple pack LL, HD and ML series fans.

read more...