RAIJINTEK


Enyo Tempered Glass Showcase
Offener EE-ATX-Showcase-Tower
zwei riesige Hartglas-Scheiben
Panoramablick auf die Hardware
Wakü-optimiert mit Platz für vier 480-mm-Radiatoren
bis zu 23 Lüfter möglich
Grafikkarten bis 615 mm
4x USB 3.0 & 1x HD-Audio
Item number: GERT-061
EAN: 4715109922448
MPN: 0R20B00119
Manufacturer: RAIJINTEK
Product information -
Enyo Tempered Glass Showcase
Raijintek
hat sich einen Ruf als renommierte Hersteller von Gehäusen und Kühlsysteme erworben, auch deshalb, weil das Unternehmen sich nicht scheut, auch auf außergewöhnliche Designs zu setzen. Mit dem neuen
Enyo setzt Raijintek
aber noch eins drauf: Der offene Big-Tower ist eine Mischung aus Showcase-Gehäuse und Benchtable im Industrial-Design. Mehr noch, er ist für Wasserkühlungen geradezu prädestiniert, ganze
vier Radiatoren bis zu 480 Millimeter
groß lassen sich in dem Gehäuse verbauen. Dazu kommen noch
zwei Pumpen und zwei Netzteile
. Wer seine Hardware lieber lüften will, kann
bis zu 23 Ventilatoren
unterbringen. Natürlich passt auch reichlich Hardware in das
Enyo
und lässt sich durch viel Temperglas begutachten: Des Modders Traum!
Die Features des Raijintek Enyo im Überblick:
Prachtvolles Showcase-Gehäuse mit Seitenteilen aus gehärtetem Glas
Robustes Chassis aus schwarz beschichtetem Aluminium und Stahl
Für EE-ATX-, E-ATX-, ATX-, Micro-ATX- oder Mini-ITX-Mainboards
Prädestiniert für Wasserkühlungen, bis zu vier 480-mm-Radiatoren möglich
Vier Grafikkarten mit bis zu 615 Millimeter Länge möglich
Raum für zwei Netzteile für Dualsysteme
I/O-Panel mit 4x USB 3.0 und Audio In/Out
Perfekt geeignet für eine umfangreiche Wasserkühlung
Die fast offene Bauweise des außergewöhnlichen
Raijintek Enyo
lässt den Begriff Benchtable ins Gedächtnis rufen. Und tatsächlich trennen nur
zwei Seitenteile sowie der Deckel und die Vorderseite aus Temperglas
die verbaute Hardware von der Außenwelt. In der Mitte befindet sich ein Rahmen samt PCI-Bracket, an dem Mainboard und weitere Hardware befestigt werden können. An dem Rahmen sind zudem die zahlreichen Brackets befestigt, an denen Radiatoren oder Lüfter angebracht werden können.
An der Vorderseite den Mainboard-Trays lässt sich unten ein bis zu 480 Millimeter langer Radiator verbauen, am Deckel und an der Vorderseite passen zwei weitere hin. An der Rückseite des Trays gibt es noch oben Platz für einen vierten 480-mm-Radiator sowie unten
für einen fünften, der bis zu 360 Millimeter
lang sein darf. Alle Radiatoren-Slots erlauben Wärmetauscher mit
bis zu 65 Millimeter Tiefe
.
Lüfter satt, optimiert für Custom-Loops
Wer stattdessen lieber mit Luft kühlt, kann an deren Stelle bis zu unglaubliche
23 Lüfter verbauen
. Der Rahmen mit dem Mainboard-Tray ist innen hohl, so dass dort
genügend Raum für das Kabelmanagement
bleibt. Außerdem gibt es vier G1/4-Durchführungen für Schläuche oder Hard Pipes, damit ein Custom-Loop mit bis zu
zwei Pumpen
samt Ausgleichsbehälter verbunden werden können, die an der Vorderseite des zentralen Rahmens Platz haben.
An der Rückseite des Mainboard-Trays sind Halterungen für insgesamt zwei ATX-Netzteile, die entweder zwei Systeme oder ein System und zusätzliche Grafikkarten mit Strom versorgen können. Bis zu vier Grafikkarten passen in die acht PCI-Slots. Sie dürfen satte
615 Millimeter
lang sein. Wer CPU-Kühler einsetzen will, darf einen mit einer Tiefe von
190 Millimeter Tiefe
auswählen. Natürlich gibt es auch reichlich Platz für Laufwerke. Insgesamt gibt es Halterung für
vier 3,5- oder vier 2,5-Zoll-Laufwerke
.
Die beiden Seitenteile aus
4-mm-dickem gehärteten Glas
werden durch jeweils vier Stangen an dem Innenrahmen befestigt und verleihen dem Gehäuse das Aussehen eines edlen Benchtables. Der Zwischenraum zwischen den Temperglas-Fenstern und dem zentralen Tower bleiben offen und bieten dadurch einen unbeschränkten Blick auf die meist außen am Tower verbaute Hardware. Zudem gibt es noch zwei schmale Fenster aus Temperglas für den Deckel und die Vorderseite.
Rahmen und Träger sind aus hochwertigen Stahl, der in schwarzer Farbe pulverbeschichtet ist. Die vielen Öffnungen und Verstrebungen verleihen dem
Enyo
einen edlen Industrial-Look, der durch das Temperglas besonders akzentuiert wird. Kabeldurchführungen sind mit gummierten Gromets versehen, Gummifüße für die Netzteile und gummierte Entkoppler für die Laufwerke liegen dem Gehäuse bei. An dem I/O-Panel gibt es vier 3.0-USB-Ports sowie einen Audio-Eingang und -Ausgang.
Technische Details:
Maße: 707 x 659 x 398 mm (B x H x T)
Gewicht: ca. 21,7 kg
Material: Stahl, Temperglas (4 mm), Aluminium, Kunststoff
Farbe: Schwarz
Formfaktor: EE-ATX, E-ATX, ATX, Micro-ATX, Mini-ITX
Lüfter möglich:
4x 120/140 mm (Deckel)
4x 120/140 mm (Vorderseite oben)
4x 120/140 mm (Vorderseite unten)
4x 120/140 mm (Rückseite oben)
3x 120/140 mm (Rückseite unten)
Radiatoren möglich:
4x max. 480 mm (65 mm Tiefe)
1x max. 360 mm (65 mm Tiefe)
Laufwerksschächte:
4x 3,5-/2,5-Zoll
Netzteil: 2x Standard-ATX (optional)
Erweiterungsslots: 8
I/O-Panel:
4x USB 3.0
1x HD-Audio
Maximale Grafikkartenlänge: 615 mm
Maximale CPU-Kühler-Höhe: 190 mm
Further links for

"Enyo Tempered Glass Showcase"
Videos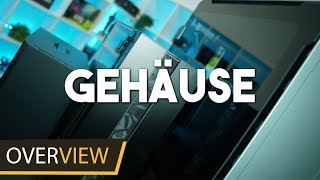 Technical Details
| | |
| --- | --- |
| Case type | Big-Tower |
| max. Mainboardformfaktor | EE-ATX |
| Form factor | E-ATX, ATX, Micro-ATX, White, EE-ATX |
| Colour | black |
| Primary colour | black |
| Width (exact) | 707 |
| Height (exact) | 659 |
| Depth (exact) | 398 |
| Width | 700 - 800 mm |
| Height | 600 - 700 mm |
| Depth | 300 - 400 mm |
| Weight (exact) | 21,7 |
| Weight | 20 to 22 kg (44 to 48.5 lbs) |
| Material | aluminium, steel, Tempered Glass / Hartglas |
| max. CPU Kühler Höhe (exakt) | 190 mm |
| max. Grafikkarten Länge (exakt) | 615 mm |
| max. CPU Kühler Höhe | 180 - 200 mm |
| max. Grafikkarten Länge | über 500 mm |
| Side panel | with window |
| Position I/O | Seitlich |
| USB 3.0 | 4x |
| Audio Out | |
| Audio In | |
| Cardreader | nein |
| Fan controller | no |
| LCD/TFT Display | nein |
| intern 2,5 / 3,5 Zoll | 4x |
| Hot-Swap | nein |
| PCI-Slots | 8 |
| HDD Isolation | ja |
| Motherboard tray | no |
| Case cable management | yes |
| PSU formfactor | ATX |
| PSU position | Hinten Seitlich |
| 120 mm Fans | 23 |
| Radiator Mounting | 1x Triple (360mm), 4x Quad (480mm) |
| Filter | no |
| Dampening | no |
| Illumination | no |
| Remote control | nein |
| Schlauchdurchführung | ja |
| Transport System | nein |
Awards
Mit dem Raijintek Enyo wird man es als Käufer mit Sicherheit so richtig schwer haben, aber nur im wörtlichen Sinne. Jedoch artet es schon fast in Körperertüchtigung aus, wenn man alles voll mit Hardware bestücken möchte. Und genau da gibt es eigentlich fast keine Limits, außer den finanziellen natürlich. Das Ganze schreit quasi stets und ständig nach mehr und das Gehäuse schluckt Hardware so gierig wie ein sibirischer Holzfäller ein gewisses Nationalgetränk. Das Design geht zudem in Ordnung und bis auf ein paar Kleinigkeiten, die sich sicher noch optimieren lassen, findet man auch keine echten Fehler bei der Konstruktion.

read more...

..quality is good. You've go like the brushed aluminium..you've got the massiver radiator fits in...it fits 5 radiators with ease now..

read more...

Positive Aspekte des Raijintek Enyo:

+ enorm viel Platz für leistungsstarke High-End-Hardware
+ extreme Kühloptionen, darunter vier 480-mm-Radiatorenplätze
+ komplett modular aufgebaut
+ zwei ATX-Netzteilplätze
+ werkzeuglose Montage für Erweiterungskarten und Netzteil (jeweils Rändelschrauben)
+ HDD-Entkopplung

read more...