RAIJINTEK


Eos RGB Rainbow Komplett-Wasserkühlung - 240mm
All-In-One-Wasserkühlung von Raijintek
240-mm-Radiator
zwei 120-mm-ARGB-Lüfter
schickes Design & leiser Betrieb
kompatibel zu AMD & Intel Sockeln
Item number: WASE-401
EAN: 4715109922950
MPN: 0R10B00174
Manufacturer: RAIJINTEK
Product information -
Eos RGB Rainbow Komplett-Wasserkühlung - 240mm
Raijintek
bietet mittlerweile ein breit gefächertes Portfolio an effizienten und leistungsstarken All-In-One-Wasserkühlungen an, vom Einsteigersystem bis hin zu High-End ist alles vertreten. Zu letzterer Gattung muss man die
Raijintek EOS 240 RBW
ganz klar zählen. Die ausgelagerte Pumpe ermöglicht mehr Flexibilität bei der Installation des Kühlkörpers auf der CPU.
Die Features der AiO Raijintek EOS 240 RBW von Raijintek im Überblick:
Komplettes Wasserkühlungssystem mit einfacher Installation
Vorgefüllt und wartungsfrei
Hohe Kühlleistung dank 29 mm tiefem Radiator
Zwei 120er PWM-Lüfter mit ARGB-Beleuchtung
Leise Pumpe mit 30 dB(A)
CPU-Kühler mit adressierbarer RGB-Beleuchtung
Hohe Kompatibilität zu AMD und Intel
Die Features der Raijintek EOS 240 RBW im Detail
Die
EOS
verfügt über
einen 240-mm-Radiator
, der von zwei 120 Millimeter großen PWM-Lüftern gekühlt wird. Die Pumpe ist knapp davor an den Schläuchen befestigt. Im Gehäuse des CPU-Kühlers ist lediglich der Ausgleichsbehälter integriert. Das bringt unter anderem wegen der geringeren Bauhöhe mehr Flexibilität beim Einbau des Kühlkörpers aus massivem Kupfer. Die Pumpe ist mit einem Keramik-Axiallager ausgestattet und bietet eine
maximale Förderleistung von 40 Litern pro Stunden
bei
4500 U/min und maximaler Lautstärke von 30 dB(A)
. Der Hersteller gibt eine Lebenserwartung von 50.000 Stunden an.
Der großflächige Boden des CPU-Kühlblocks nimmt die Abwärme des Prozessors auf und leitet sie dank Kupfer effizient an das Wasser weiter. Die Pumpe befördert es durch den Radiator, wo die Kühlflüssigkeit
die feine Lamellenstruktur an zwölf Kanälen
durchfließt und die Wärme an die durchströmende Luft abgibt.
Leistungsstarke ARGB-Lüfter
Die Lüfter sorgen dafür, dass der Radiator ständig von Frischluft versorgt wird.
Raijintek
spendiert der EOS 240 RBW
zwei 120-mm-Lüfter mit digital adressierbarer RGB-Beleuchtung
aus dem eigenen Sortiment. Mit ihren hydraulischen Lagern rotieren diese mit
maximal 1800 U/min
und erreichen ein Fördervolumen von
127,42 m³/h, einen statischen Druck von 2,3 mm H2O und bleiben trotzdem mit 28 dB(A) leise
.
Optional können zwei weitere Lüfter auf der Rückseite des Radiators für einen Push-Pull-Betrieb installiert werden. Passend zu der digital adressierbaren RGB-Beleuchtung auf dem CPU-Block sind auch die beiden Lüfter mit farbenfrohen LEDs bestückt, die via 3-Pin-RGB (5V) gesteuert und synchronisiert werden können.
Platzsparend und hoch kompatibel
Gerade in kompakten Gehäusen können besonders leistungsstarke Tower-Kühler aus Platzgründen oft nicht genutzt werden. Im Falle der
EOS 240 RBW
muss jedoch nur der flache Kühler direkt auf der CPU sitzen. Der Radiator kann unter Beachtung der Schlauchlänge recht frei an einem entsprechenden Einbauplatz verbaut werden, wo zwei 120-mm-Slots vorhanden sein müssen.
Das Montagesystem der
EOS 240 RBW
ist für die
Intel-Sockel 775, 1150, 1151, 1155, 1156, 1366, 2011, 2066 sowie für AMD-Boards mit AM2(+), AM3(+), AM4 sowie FM2(+)
geeignet.
Technische Details:
Radiatorgröße (inkl. Pumpe): 287 x 120 x 29 mm (L x B x H)
Füllmenge: 150 ml ± 10 %

Lüfter:
2x 120 mm Raijintek ADD RGB PWM
Anschluss: 4-Pin PWM / 3-Pin-ARGB (5V)
Lagertyp: Hydraulisch
Drehzahl: 800 - 1800 U/min
Lautstärke: max. 28 dB(A)
Fördervolumen: max. 127,42 m³/h
Statischer Druck: max. 2,3 mm H2O
Stromstärke: 0,17 A
Leistungsaufnahme: 1, 8 Watt ± 10 %
Pumpe:
Größe: 120 x 32 x 32 mm (L x B x H)
Lagertyp: Keramik
Förderleistung: max. 40 Liter/h
Förderhöhe: 1,5 m
Lautstärke: 30 dB(A)
Drehzahl: 4500 U/min ± 10 % bei 12 V
Stromstärke: 300 mA
Leistungsaufnahme: 3,6 Watt ± 10 %
MTBF: 50.000 Std.
CPU-Kühler:
Maße: 68 x 65 x 40 mm (L x B x H)
Material: Kupfer (Bodenplatte), Kunststoff (Gehäuse)
Anschluss: 3-Pin-ARGB (5V)
Kabellänge: 500 mm
Kompatibilität (Sockel):
Intel: 775, 115x, 1366, 2011, 2066
AMD: AM2, AM2+, AM3, AM3+, AM4, FM2, FM2+
Herstellergarantie: 2 Jahre
Further links for

"Eos RGB Rainbow Komplett-Wasserkühlung - 240mm"
Videos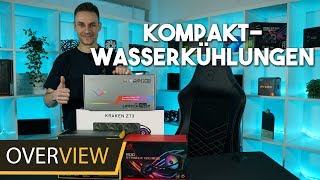 Technical Details
| | |
| --- | --- |
| CPU socket | 1150, 1151, 1155, 1156, 1366, 2011, 2066, 775, AM2, AM3, AM3+, AM4, FM2, FM2+ |
| Radiator size | 240 mm |
| Radiator height (exact) | 29 mm |
| Radiator height | 20 - 29 mm |
| Illumination | yes |
| Illumination colour | RGB (selectable) |
| Included fans | 2x |
| Rotor diameter | 120 mm |
| Fan colour | black, Transparent matt / frosted |
| Fan connector | 4 Pin (PWM) |
| Pump connector | SATA (power) |
| Max noise level | 30 - 34 dB(A) |
| Tube lenght (exact) | 50 cm |
| Tube lenght | more than 400 mm |
| CPU cooler type | AiO liquid cooler |
| Warranty | 2 years |
Awards
Mit der EOS 240 RGB erhält man eine gute All-in-One-Wasserkühlung, die vor allem auch optisch überzeugen kann. Wer jedoch ein System hat, das zu hohen Temperaturen neigt, sollte zu einem stärkeren Kühler oder zusätzlichen Lüftern greifen.

read more...

We have to admit that the EOS 240 RBW surprised us. It offers an excellent level of performance with satisfactorily low noise. It is obvious that the concept of a pump in the radiator and the enlarged copper cold plate are an excellent combination for modern multi-core processors. But we must not forget the higher static pressure fans here, which are not noisy and do their job perfectly.

read more...

Pros

+ gute Verarbeitung
+ gute Kühlleistung
+ ordentliche Montage
+ schöne Optik

read more...

Raijintek EOS240 RBW is an AIO cooling solution with good performance as well as an honest purchase price.

Here that Raijintek offers us more and more interesting and better and better cooling solutions.

read more...

Razorman - RAIJINTEK EOS 240 RBW

The liquid cooling kit Raijintek EOS 240 RBW Provides technical Characteristics for reasonable performances, consistent With other systems RL with a 240mm radiator. Both the lighting ARGB Provides pump and the controllable fan via the motherboard. Easy installation and Compatibility with leading market sockets


Würde man mich im Nachhinein fragen, dann hätte ich als Sparfuchs wohl besser die Raijintek EOS 240 in den Fokus gestellt, die noch einmal deutlich günstiger ist und am Ende bis ca. 125 Watt auf dem Ryzen 9 genauso gut kühlt. Ein Lüfter weniger garantiert dabei eine noch leisere Propelleruntermalung, wobei die Kühlleistung nichts zu wünschen übrig lässt. Wie lang der Radiator am Ende sein muss, um das Ego zu befriedigen, ist dann natürlich wieder jedem selbst überlassen; verwenden kann man beide Modelle gleichermaßen und sicher auch bedenkenlos.

read more...

Bei einem Preis von Rund 70 Euro +- bekommt man hier eine solide und Potente All in One Wasserkühlung geboten. Verarbeitung ist Perfekt, technisch ein Wunderkind und optisch schon ein echter Hingucker. Wer nun also auf der Suche nach einer neuen 240 mm AiO Wasserkühlung ist und auf RGB steht, sollte sich die neue Raijintek EOS 240 RBW genauer anschauen.

read more...
Kunden haben sich ebenfalls angesehen: