RAIJINTEK


Leto Pro CPU-Kühler, schwarz, RGB-LED - 2x120mm
Flacher Tower-Kühler von Raijintek
große Kühlfläche mit vier Heatpipes
zwei 120-mm-PWM-Lüfter mit RGB-LED-Beleuchtung
hohe Kompatibilität zu AMD und Intel
Item number: CPRT-024
EAN: 4715109921854
MPN: 0R100072
Manufacturer: RAIJINTEK
Product information -
Leto Pro CPU-Kühler, schwarz, RGB-LED - 2x120mm
Mit dem Leto Pro stellt Raijintek einen direkten Nachfolger seiner beliebten CPU-Kühler-Serie vor, die konzeptionell in die Sparte Slim-Bauweise schlägt. Der Leto Pro erreicht ebenfalls ein Höchstmaß an Kompatibilität mit Mainboards und entsprechenden RAM-Steckplätzen sowie Modulen. Dennoch bietet er im Mittelklasse-Bereich eine überlegene Kühlleistung. Erreicht wird das durch die Höhe des Kühlers, denn mit 155 mm steht insgesamt eine überdurchschnittlich große Kühlfläche zur Verfügung, die von vier statt bisher drei Heatpipes durchflutet wird.
Der CPU-Kühler Leto Pro von Raijintek im Überblick:
Tower-Kühler mit bester Kühlperformance
Vier Heatpipes aus Kupfer mit direktem Kontakt zur CPU
Lamellen aus Aluminium ohne Lötstellen montiert
Geringe Höhe von 155 Millimetern
Zwei Hochleistungslüfter für effektive Kühlung mit RGB-Beleuchtung
Kompatibel zu allen gängigen AMD- und Intel-Sockeln
Der CPU-Kühler Leto Pro von Raijintek im Detail
Der Aluminium-Kühlkörper gehört also zu den flachsten seiner Art und ermöglicht somit eine enorm hohe Kompatibilität. Dazu ist der Kühlkörper für die Montage von zwei statt nur einem Lüfter ausgelegt. Somit bietet er die Möglichkeit für ein zukünftiges Upgrade zur Steigerung von Airflow und Kühlleistung. Die Kupfer-Heatpipes setzen auf die von Raijintek C.D.C.-Technik genannte Konstruktion mit direktem Kontakt zur CPU. Damit wird die Abwärme noch effektiver abtransportiert.
Die elegant designte und wie erwähnt eigens entwickelte Lamellen-Verbindung mit den Heatpipes verzichtet auf das Verlöten der einzelnen Schichten und presst diese stattdessen. Einerseits minimiert diese Maßnahme das Beschädigungsrisiko der Wärmeröhren und erhöht die Effizienz der Wärmeabgabe, andererseits entsteht so eine wesentlich geringere Umweltbelastung und der Leto Pro wird ganz im Sinne der Green-IT hergestellt.
Die schick aussehenden, schwarzen Iris-LED-Lüfter mit RGB-Beleuchtung sind ein 120-mm-Modell mit 4-Pin PWM-Anschluss und einem gigantischen maximalen Airflow von 95,14 m³/h. Die Beleuchtung wird über einen zusätzlichen 4-Pin-Anschluss gesteuert. Sie können vom Mainboard geregelt werden, die automatische Anpassung regelt dadurch je nach Leistungsbedarf und der Leto Pro kann flüsterleise sein, wenn es nötig ist aber auch maximale Kühlleistung generieren. Die Lüfter werden dabei mit Klammern befestigt.
Jeder aktuelle Sockel und damit alle passenden CPUs können vom Leto dank des Montagekits genutzt werden. Die einfach durchzuführende Installation ist sehr nutzerfreundlich gestaltet und in einer mitgelieferten Anleitung anschaulich erklärt.
Technische Details:
Maße: 127 x 155 x 76 mm (B x H x T)
Material: Aluminium (Lamellen, Boden), Kupfer (Heatpipes)
Heatpipes: 4x Ø 6 mm
Lüfter: 2x 120 mm (max. 25 dB(A), 800 - 1.800 U/Min, 95,14 m³/h, 1,6 mmH2O)
LED-Beleuchtung: RGB
Eingangsspannung: 12 V
Startspannung: 7,5 V
Anschluss: 4-Pin PWM, 4-Pin RGB
Lebenserwartung: 40.000 h
Kompatibilität:
Intel: Sockel 775, 115x, 1200, 1366, 2011, 2011-V3, 2066
AMD: Sockel AM4, AM3(+), AM2(+), FM2(+), FM1

Further links for

"Leto Pro CPU-Kühler, schwarz, RGB-LED - 2x120mm"
Videos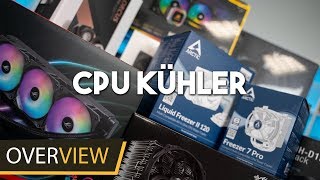 Technical Details
| | |
| --- | --- |
| CPU socket | 1150, 1151, 1155, 1156, 1366, 2011, 2011-V3, 2066, 775, AM2, AM3, AM3+, AM4, FM1, FM2, FM2+ |
| CPU cooler type | Single Tower |
| Fan connector | 4 Pin (PWM) |
| CPU cooler width (accurate) | 127 mm |
| CPU cooler height (accurate) | 155 mm |
| CPU cooler depth (accurate) | 76 mm |
| CPU cooler width | 120 to 129 mm |
| CPU cooler height | 150 to 159 mm |
| CPU cooler depth | 70 to 79 mm |
| Material base plate | aluminium, copper, nickel-plated aluminium / copper |
| Material heat sink | aluminium |
| Max rpm (exact) | 1800 U/min |
| Min rpm (exact) | 800 U/min |
| Max noise level (exact) | 25 dB(A) |
| Max air volume (exact) | 95,14 m³/h |
| Max rpm | 1500 - 1999 U/min |
| Min rpm | 750 - 999 U/min |
| Max noise level | 25 - 29 dB(A) |
| Max air volume | 75 - 99 m³/h |
| TDP | keine Angabe |
| No. of Heatpipes | 4 |
| Heatpipe diameter | 6 mm |
| CPU cooler fan(s) included | 2x 120 mm |
| Heat sink colour | black |
| Fan colour | black, transparent |
| Additional fan mounting | no |
| Illumination | yes |
| Illumination colour | RGB (selectable) |
| LED Anschlüsse | RGB (4-Pin 5050 12VGRB) |
| Approved for | active air flow |
Awards
Für die solide Leistung und dem gelungenen Design in der Preisklasse bis ca. 40 Euro fährt Raijinteks Leto Pro RGB eine Redaktionsempfehlung ein. Der Kühler arbeitet leise - im Vergleich zur Celsius S36 gibt es keine Pumpengeräusche und die Kompatibilität ist mit vielen Gehäusen, dank der Bauform gegeben. Die Höhe von 155 Millimetern stellt in einem herkömmlichen Midi-Tower kein Hindernis dar.

read more...

Anyway, I was satisfied with the cooling system. Progress from the Year is definitely noticeable, and even with the look, the Pro Lite Pro will be well delivered with each case and motherboard, because the stylish black color and RGB illuminates visually still hard to find competition. Also, you can throw it on virtually any Intel and AMD consumer processor and perform a great job on your default settings. The problem can only arise with regard to the volume of high-power processors, such as the Intel Core i7 7700K or Ryzen 7 1800X, but it is not intended to be used at the end of the day. At 40 € surely it has a place on the market and it will come to terms primarily with styling assemblies that serve glass or plexiglass pages with good insight into the interior.

read more...

PRO
+ Painting in black
+ Two fans supplied
+ RGB lighting

read more...

HardwaremAx - RAIJINTEK LETO PRO RGB

.... einen sehr wertigen, optisch großartigen Kühler, der mit einer ordentlichen Kühlleistung aufwartet. Uns hat der Kühlkörper sogar so gut gefallen, dass wir uns eine Variante mit nur einem bzw ohne Lüfter wünschen würden, da dort dann auch die Ansauggeräusche wegfallen würden.

Die Beleuchtung ist nicht überragend aber gelungen – für das Geld kann man jedoch auch keine komplexen RGB-Funktionen erwarten, zumal ja gleich zwei Lüfter beiliegen.

For us, we give our recommendations, given what we offer as a whole, ie solid performance at compact size, nice processing and just 2 nice RGB fans included, we think the price / performance ratio is also very interesting

read more...

Pro

+ Gute Verarbeitung
+ Gute Kühlleistung
+ Design

read more...

The cooler makes a high-quality impression. The install process was flawless and the performance was certainly on par with what I was expecting from the unit. The build quality is very good, but the real star of the show is that lovely Makula LED fan, which really completes the aesthetics and gives you a way of adding an extra touch of style to your system build. So would the Raijintek Leto Pro RGB be a good way to add some RGB to your system, well, yes. As a whole the RGB implementation into the cooler is brilliant and if you don't like RGB you can stick to one colour for accent lighting or completely turn it off via your software.

read more...

Raijintek's cooling has some merit as fans with RGB lighting, very competitive price and good performance. The points on his back are a cumbersome installation process and fans that sound unpleasant when they are at 100 percent use. Is it enough to recommend this cooling? Yes and no. If noise is something that bothers you then maybe it will cause you to stay away from this cooling, remember that the noise in question happens when the fans reach their maximum speed and that is not happening much and even if it happens then it is in play when you are with headphones or with an audio system that hides the noise Which comes from the fan. If you are looking for a good looking refrigerator, a good refrigerator and a relatively cheap price then this

read more...

Pro
+ RGB-Beleuchtung
+ sehr gute RAM Kompatibilität
+ gute Verarbeitung
+ angemessener Preis
+ Y-Kabel für Lüfter und RGB Anschluss enthalten

read more...

Pros

+ Performance on par with competing products
+ RGB lighting
+ Two fans included
+ Splitters for the fans and another one for the RGB lighting included

read more...

+ Light-Weight
+ Good bolt-on mounting kit
+ Five-year warranty on the heatsink
+ 120mm slim tower design with dual fans
+ Good performance for a £43.46 CPU cooler

read more...

Advantages:

+ High work culture
+ Wide compatibility
+ Good performance at this price.
+ Black cooler designer
+ Two PWM LED RGB LED fans included
+ Quick assembly

read more...

The +:
- Good workmanship
- Design full black
- Two fans provided
- RGB lighting
- Excellent value for money

read more...

Looking at the results obtained, we can see how the LETO PRO RGB under review offers similar and in some cases slightly better performance than Arctic's slightly more full-bodied Freezer 33 eSport ONE, which however we remember has a single fan, without RGB LED backlighting.

read more...

The Raijintek Leto PRO RGB has proven to be a very versatile heatsink, with good construction quality and effectiveness in dissipating the heat from our processor and also with RGB customization capability.

read more...

Advantages


+ The weight of the dispersion is not heavy
+ The shape of the fans is distinctive
+ The color of the black dispersion is proportional to most of the motherboards
+ Excellent performance of course
+ The sound of the fans is very calm
+ The price is very favorable or less than the value of the divider approximately $ 42 until

read more...

You've probably already understood it yourself, but Iuvant repetita: Raijintek Leto is certainly one of the most interesting economic heat sinks currently in circulation in its price range (about 30 euros) by virtue of two factors. The first is that performance is optimal, as shown in the graphs and with an excellent performance/noise ratio. Secondly, we have a product that is compatible with all types of sockets on the market, which considerably increases their longevity. We therefore feel advised to do so and have awarded him our silver award.

read more...

Final conclusions

We finish the analysis by saying the price: about 30 euros. For all the quality it offers, good aesthetics and a refrigeration that is up to others of the highest price and range (even better than many of the top price) from TecnoLocura we give you our gold medal. If you want a nice, cheap, LED illuminated, silent and of course cooled dissipater, we highly recommend it.

read more...

Conclusion
We have come to the end of our review, the Raijintek Leto Pro RGB is a noteworthy product that will surely enter the heart of our readers given the high quality price ratio. It's hard to find products that can keep costs down but deliver excellent performance and RGB lighting. The fact that it manages to keep our 1800x Ryzen at bay is certainly a positive note.

read more...

This is too good a price to ignore for this level of form and functionality that this cooler is offering. This is still a budget level cooler with a better thermal performance which is further augmented by the killer RGB lighting solution on the board. This cooler has upped the game of the Leto series of the coolers. Despite being a budget level cooler it has performed well to keep the hot 8700k cool relatively.

read more...

PRO'S:

+ Completely Compatible, even Socket 775
+ ALL PCI and RAM Sockets available, nothing being blocked
+ VERY SILENT
+ GOOD PERFORMANCE
+ SLIGHTLY OVERCLOCKING AVAILABLE

read more...

Razorman - RAIJINTEK LETO

The cooler Raijintek Leto offers excellent performance as we have seen in our test, with 33.25ºC in FULL, reflecting the good work of the whole. We liked the lighting 12cm LED fan included, fairly quiet in any situation.


Schwarz und trotzdem in gewisser Weise agressiv – das meistert der Raijintek Leto problemlos. Doch auch die wirkliche Kühlleistung des kleinen Taiwaners weiß zu überzeugen. Der Leto ist demnach eigentlich ein Designerkühler. Wer nicht gerade seinen Prozessor übertaktet oder wie wir mit Prime95-Tests quält, der ist mit dem Leto durchaus gut bedient und muss meist keine Kompromisse beim Design machen.

read more...

ADVANTAGE

+ DESIGN.
+ GOOD QUALITY OF CONSTRUCTION.
+ COMPATIBILITY WITH MEMORY OF LOW AND HIGH PROFILE.
+ ANTI-VIBRATION SYSTEM FOR THE FAN.
+ VERY COMPETITIVE PRICE.

read more...

ADVANTAGE

+ DESIGN.
+ GOOD QUALITY OF CONSTRUCTION.
+ COMPATIBILITY WITH MEMORY OF LOW AND HIGH PROFILE.
+ ANTI-VIBRATION SYSTEM FOR THE FAN.
+ VERY COMPETITIVE PRICE.

read more...