RAIJINTEK


Ophion Mini-ITX Case, Tempered Glass - Black
Compact gaming case
Premium aluminium in black
Designed for Mini-ITX motherboards (Intel & AMD)
ATX- and SFX PSUs compatible
Three 120 mm fans possible
Dual-slot graphics cards up to 33 cm
Up to 3x 2,5" drives
Integrated PCIe 3.0 riser module
Item number: GERT-059
EAN: 4715109922288
MPN: 0R20B00097
Manufacturer: RAIJINTEK
Product information -
Ophion Mini-ITX Case, Tempered Glass - Black
Raijintek
has produced an incredibly stylish and premium quality SFF (Small Form Factor) case in the form of the
Ophion
. The exterior consists entirely of high quality brushed aluminium alongside attractive tempered glass side panels that looks fantastic - moreover, the choice of materials make transporting this diminutive case to your next LAN party a breeze. Behind the stylish exterior, users are free to install some seriously high-end hardware due to the case's ingenious and efficient utilisation of space.
The Raijintek Ophion Mini-ITX Case at a Glance:
Ultra-compact dimensions (17,4 x 24,5 x 37,5 cm) with a volume of 16,9 L
Attractive, premium quality brushed aluminium exterior
3 mm thick tempered glass side panels
Perfectly designed for maximum air cooling efficiency
Supports dual-slot gaming graphics cards up to 33 cm long
Includes riser module with full PCI-Express 3.0 x16 support
Supports Mini-ITX format motherboards (all AMD & Intel sockets)
Space for powerful ATX power supplies & three 2,5" storage devices
Smart Design for Maximum Space & Minimal Footprint
Thanks to the case's ultra compact dimensions of just
174 x 245 x 375 mm (W x H x D)
the
Raijintek Ophion
is designed in such a way as to maximise the amount of powerful high-end hardware that users can fit inside it. Despite its SFF design, this represents no obstacle to creating an appropriately high-end gaming PC within its confines, and this is due in no small part to one quirk:
The graphics cards is installed in parallel to the rear of the Mini-ITX motherboard inside its own separate chamber
and as a result, every last cubic centimetre of this case is used to the max in the
Raijintek Ophion
. Standard style cases on the other hand regularly leave large tracts of space completely unused or underutilised. Without a doubt, if you want to maintain great gaming performance while minimising the footprint of your gaming PC, it doesn't get much smaller or more convenient than this!
Games Console Dimensions with Gaming PC Performance
The exterior of this small yet attractive case could be described as minimalist or somewhat ascetic - with its flawless craftsmanship and
beautiful anodised aluminium in black
. The metal is 2 mm thick and its hairline finish makes it stand out among its competitors. The robust metal is complemented by the addition of 3 mm thick tempered glass panels which lend the
Raijintek Ophion
not just a premium aesthetic, but also an unhindered view of the innards of your gaming PC and all the hardware that goes along with it!
The sleek front panel of Raijintek's Ophion includes a
power button with the Raijintek logo as well as two USB ports with interior connectivity
. Apart from the Type A USB 3.0 port, Raijintek has also included a USB 3.0 Type C port.
The intelligent cooling design is similarly minimalist in outlook. The airflow is designed to flow from the bottom to the top of the case. The bottom of the case allows for the inclusion of a 120 mm fan to draw in cool fresh air, which is then drawn upwards and out of the case by means of two additional (optional) 120 mm fans that can be installed in the roof. This airflow design enables the case's main chamber including the motherboard and processor to enjoy excellent cooling while the rear chamber, where the graphics card is installed, is kept separate so as to minimise heat transfer from the GPU - which traditionally runs hotter than a CPU. The front and rear of the case are constructed from high quality aluminium and include large air inlets, while the tempered glass side panels benefits from the addition of thumbscrews and spacers for the best possible airflow. This design helps to ensure that the components installed within the case enjoy maximum cooling efficiency at all times, helping to maintain low temperatures despite the high-performance gaming hardware.
Supports Premium High-End Graphics Cards thanks to the Riser Module
On the right side of the interior of the case, there is sufficient space for a
Mini-ITX
motherboard and an accompanying CPU cooler that is up to
90 mm
in height. Flat, top-down blower-style coolers are certainly an option in this instance, especially given the ever decreasing TDPs of modern processors. The
riser adapter
enables the
PCI-Express x16 slot of the motherboard to be rerouted to the left-hand side of the case
, where a GPU up to
330 mm long and up to 55 mm high
can be installed - and without any slowdown thanks to the full 16 lanes of bandwidth that PCI Express enables.
The power supply used here can be the regular
ATX-standard, with a depth of up to 160 mm
and which is attached for the fore of the motherboard. A cable harness rises up into the top of the case. An extension for the PSU cable leads to the requisite connector on the rear of the case. Needless to say, smaller SFX format PSUs can also be used.
Directly behind the front cover, the case allows space for a 2,5" hard drive. However this does mean users forfeit one of the two 120 mm fans, however users could install two further
2,5" drives instead of one large 3,5" drive
. The top and bottom of the case include magnetic dust filters as standard.
Technical Details:
Dimensions: 174 x 245 x 375 mm (W x H x D)
Material: Aluminium (anodised, brushed), steel, tempered glass
Thickness: 2 mm (aluminium), 0,5 mm (steel), 3 mm (tempered glass)
Weight: 3,14 kg
Volume: 16,9 L
Colour: Black
Form Factor: Mini-ITX
Total Possible Fans:
2x 120mm, max. 25 mm thick (roof)
1x 120mm, max. 15 mm thick (bottom)
Drives: max. 3x 2,5" / 1x 3,5" (forfeits a fan)
PSU: ATX or SFX (optional)
Expansion Slots: 2 (Dual-Slot)
I/O Panel:
1x USB 3.0 Type C (internal connection)
1x USB 3.0 Type A (internal connection)
Special Feature: PCIe 3.0 x16 riser module for GPU installation
Hardware Compatibility:
Maximum CPU Cooler Height: 90 mm
Maximum GPU Length: 330 mm
Maximum GPU Height: 55 mm (dual slot)
Maximum PSU Length: 160 mm
Note:
Please take into account the space necessary for the PCIe connectors on the rear- or top of the graphics card!
Further links for

"Ophion Mini-ITX Case, Tempered Glass - Black"
Videos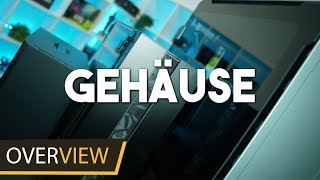 Technical Details
| | |
| --- | --- |
| Case type | Mini case |
| Form factor | White |
| Colour | black |
| Primary colour | black |
| Width (exact) | 174 |
| Height (exact) | 245 |
| Depth (exact) | Yes |
| Width | 100 - 200 mm |
| Height | 200 - 300 mm |
| Depth | 300 - 400 mm |
| Weight (exact) | 3,1 |
| Weight | 2 to 4 kg (4.4 to 8.8 lbs) |
| Material | aluminium, steel, Tempered Glass / Hartglas |
| max. CPU Kühler Höhe (exakt) | 90 mm |
| max. Grafikkarten Länge (exakt) | 330 mm |
| max. Netzteil Länge (exakt) | 160 mm |
| max. CPU Kühler Höhe | 80 - 119 mm |
| max. Grafikkarten Länge | 300 - 399 mm |
| max. Netzteil Länge | 140 - 199 mm |
| Side panel | with window |
| Front Door | Green |
| Position I/O | Front |
| USB 3.0 | 2x |
| Cardreader | nein |
| Fan controller | no |
| LCD/TFT Display | nein |
| internal 2,5" | |
| internal 3,5" | 1x |
| Hot-Swap | nein |
| PCI-Slots | 2x |
| HDD Isolation | No |
| Motherboard tray | no |
| Case cable management | yes |
| PSU formfactor | ATX, SFX |
| PSU position | Vorne |
| Preinstalled fans | nein |
| 120 mm Fans | Passive |
| Filter | yes |
| Illumination | no |
| Remote control | nein |
| Schlauchdurchführung | nein |
| Transport System | nein |