RAIJINTEK


Themis Black, Heatpipe CPU-Kühler, PWM - 120mm
Socket Compatibility: 775 / 1150 / 1155 / 1156 / 1366 / 2011 FM2+ / FM2 / FM1 / AM3+ / AM3 / AM2+ / AM2
Item number: CPRT-010
EAN: 4715109920369
MPN: 0R100010
Manufacturer: RAIJINTEK
Product information -
Themis Black, Heatpipe CPU-Kühler, PWM - 120mm
Mit Raijintek erschüttert ein echtes Donnergrollen die Hardware-Landschaft. Der namensgebende Raijin ist der japanischen Kultur und Religion entnommen und als Gott des Donners mit höchstem Respekt zu behandeln. Das trifft auch auf die Produkte des Neulings zu. Das Portfolio kann auf die jahrelange Erfahrung der Firmengründer und deren exzellente Kenntnis sowie einen ungebremsten Innovationsgeist vertrauen. "Designed in Germany - Made in China". Das zeigt sich dann auch deutlich in der Kombination von hervorragender Leistung, unglaublich gutem Preis und enormer Vielseitigkeit. Je lauter der Donner, desto stärker war der Blitz und der hat hier mächtig eingeschlagen!
Mit dem Themis Black stellt Raijintek eine schwarze Variante des Tower-Kühlers vor, der konzeptionell in die Sparte Slim-Bauweise schlägt. Damit erreicht er ein Höchstmaß an Kompatibilität mit Mainboards und entsprechenden RAM-Steckplätzen sowie Modulen. Dennoch bietet er im Mittelklasse-Bereich eine überlegene Kühlleistung. Erreicht wird das durch die Höhe des Kühlers, denn mit 157 mm steht insgesamt eine überdurchschnittlich große Kühlfläche zur Verfügung, die von drei Heatpipes durchflutet wird. Themis ist eine Angehörige der obersten Götter in der griechischen Mythologie und auch beim Themis Black kommen mehrere neu entwickelte und verbesserte Technologien zum Einsatz, die einer echten Titanin würdig sind.
Der Aluminium-Kühlkörper gehört also zu den flachsten seiner Art und ermöglicht somit eine enorm hohe Kompatibilität. In Gehäusen mit eingeschränktem Platzangebot ist der Themis Black mit gerade einmal 5 cm Tiefe ideal aufgehoben. Dazu ist der Kühlkörper für die Montage von zwei statt nur einem Lüfter ausgelegt. Somit bietet er die Möglichkeit für ein zukünftiges Upgrade zur Steigerung von Airflow und Kühlleistung. Die Kupfer-Heatpipes setzen auf die von Raijintek C.D.C.-Technik genannte Konstruktion mit direktem Kontakt zur CPU. Damit wird die Abwärme noch effektiver abtransportiert.
Die elegant designte und wie erwähnt eigens entwickelte Lamellen-Verbindung mit den Heatpipes verzichtet auf das Verlöten der einzelnen Schichten und presst diese stattdessen. Einerseits minimiert diese Maßnahme das Beschädigungsrisiko der Wärmeröhren und erhöht die Effizienz der Wärmeabgabe, andererseits entsteht so eine wesentlich geringere Umweltbelastung und der Themis Black wird ganz im Sinne der Green-IT hergestellt.
Der schick aussehende, schwarze Lüfter ist ein 120-mm-Modell mit 4-Pin PWM-Anschluss und einem gigantischen maximalen Airflow von 133,2 m³/h. Er kann vom Mainboard geregelt werden, die automatische Anpassung regelt dadurch je nach Leistungsbedarf und der Themis Black kann flüsterleise sein, wenn es nötig ist aber auch maximale Kühlleistung generieren. Der Lüfter wird dabei mit vibrationsdämpfenden Pins statt Klammern befestigt. Durch vier weitere Pins wird die Montage eines weiteren 120er-Lüfters ermöglicht.
Jeder aktuelle Sockel und damit alle passenden CPUs können vom Themis Black dank des Montagekits genutzt werden. Die sehr einfach durchzuführende Installation ist sehr nutzerfreundlich gestaltet und in einer mitgelieferten Anleitung anschaulich erklärt.
Technische Details:
Maße: 122 x 157 x 50 mm (B x H x T)
Material: Aluminium (Lamellen, Boden), Kupfer (Heatpipes)
Gewicht: 448 g (ohne Lüfter)
Heatpipes: 3x Ø 8 mm
Lüfter: 120 mm (max. 24,53 dB(A), 1.000 - 1.500 U/Min, 111 m³/h, 2,24 mmH2O)
Startspannung: 7 V
Anschluss: 4-Pin PWM
Lebenserwartung: 40.000 h
Kompatibilität: Sockel 775, 1150, 1151, 1155, 1156, 1200, 1366, 2011, 2011-V3, 2066, AM2, AM2(+), AM3(+), FM1, FM2(+)
Mit der separat erhältlichen Backplate (Artikel-Nr.: CPRT-023) lässt sich der Kühler auch auf AM4-Motherboards montieren.

Further links for

"Themis Black, Heatpipe CPU-Kühler, PWM - 120mm"
Videos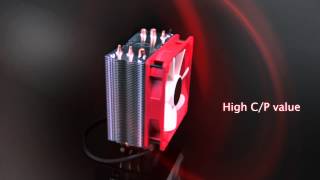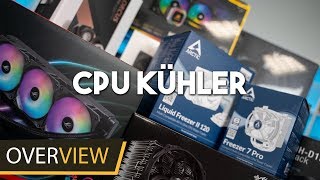 Technical Details
| | |
| --- | --- |
| CPU socket | 1150, 1151, 1155, 1156, 1366, 2011, 2011-V3, 2066, 775, AM2, AM3, AM3+, FM1, FM2, FM2+ |
| CPU cooler type | Single Tower |
| Fan connector | 4 Pin (PWM) |
| CPU cooler width (accurate) | 122 mm |
| CPU cooler height (accurate) | 157 mm |
| CPU cooler depth (accurate) | 50 mm |
| CPU cooler width | 120 to 129 mm |
| CPU cooler height | 150 to 159 mm |
| CPU cooler depth | 50 to 59 mm |
| Material base plate | aluminium / copper |
| Material heat sink | aluminium |
| Weight in g (exact) | 448 |
| Weight in g | 400 - 500 g |
| Max rpm (exact) | 1500 U/min |
| Min rpm (exact) | 1000 U/min |
| Max noise level (exact) | 24,53 dB(A) |
| Max air volume (exact) | 111 m³/h |
| Max rpm | 1500 - 1999 U/min |
| Min rpm | 1000 - 1249 U/min |
| Max noise level | 20 - 24 dB(A) |
| Max air volume | 100 - 124 m³/h |
| TDP | keine Angabe |
| No. of Heatpipes | 3 |
| Heatpipe diameter | 8 mm |
| CPU cooler fan(s) included | 1x 120 mm |
| Heat sink colour | silver |
| Fan colour | black |
| Additional fan mounting | no |
| Illumination | no |
| Approved for | active air flow |
Awards
PRO's:
- Extremely good price
- Easy installation
- Good Performance
- Sturdy and good Workmanship

read more...

The Raijintek Themis it is a Cooler air mid-range has an average cost of 28 €, comes equipped with a 120mm PWM fan which proved to be very quiet and with a very attractive design.

The level of construction is a Cooler quite robust and its 3 Heat-pipes dissipate heat from the processor a very effective way, lowering about 15 degrees cooler than Intel's origin.

The installation proved to be very simple and effective.

read more...

Razorman - Raijintek Themis

If the model Raijintek Pallas had seemed to us an excellent HTPC oriented cooler, Themis Raijintek this model has proven to be one of the best choices if you want a very quiet and efficient cooler for a price of about 30 euros in online shops.

When you look at the Raijintek Themis CPU Cooler it holds up well in terms of design and performance. It is quiet relatively well made, PWM and will look good in some red and silver themed builds.

read more...

-VERY GOOD END USER PRICE -EASY INSTALLTION -SUPPORTS ALL SOCKETS OUT OF THE BOX -PUSH / PULL POSSIBLE -EXTREME PERFORMANCE FOR SUCH AND MID RANGE COOLER

read more...

At only £20 the Raijintek Themis is a CPU cooler well worth considering, especially for those on a budget. It performs well and the 120mm fan runs extremely quiet, and we really liked the red colour scheme of the fan frame. This will coordinate well with a lot of motherboards out there that us the red and black colour scheme.

read more...

Raijintek Themis is at a price of less than € 24 a really good cooler that reigns thanks to the superb cooling performance ratio to the price.

read more...

Positive+: Equipment, installation, appearance, compact design, PWM fan, the option to install another fan, solid performance, price.

read more...

PCGameware - Raijintek Themis

The Raijintek Themis CPU Cooler has proved to be quite a hit here at pcGameware, as it offers superb value for money. The Themis came well packaged with a good set of mounting hardware meaning that the Themis will fit pretty much all of today's common Socket types (see Specifications/Features).

DigitalOnline - Raijintek Themis


PRO'S THEMIS:

- SUPERB COOLING
- SLIM
- LIGHT WEIGHT
- EXTREM GOOD END USER PRICE
- 120mm LAYOUT
- SUPPORTS ALL SOCKETS OUT OF THE BOX
- EASY INSTALLATION
- ANT VIBRATION SLICKS
- GOOD WORKMANSHIP
- PWM FAN

Ocaholic - Raijintek Themis

Sollte man auf der Suche nach einem Kühler sein, der vor allem hinsichtlich Preis/Leistungs-Verhältnis zu überzeugen weiss, dann liegt man mit dem Themis auf jeden Fall goldrichtig.

The Raijintek Themis reviewed today, it has many of the aspects of construction and design found in its proposal, top of the range, including the excellent punching patented "solder-less", and the same sink buffer.

read more...

Themis and Aidos will receive a 5/5 and awards in the category 5/5 profitability.

read more...

59Hardware - Raijintek Themis

Although the products are difficult to compare, the Raijintek Themis wins hands down this game, it has everything you need to properly cool a processor. Raijintek this cooler offers a price quite content with an average of 30 €, which gives it a very good price / quality ratio. This mid-range cooler offers a very interesting compatibility, in fact we can get on all sockets available currently.

Freeocen - Raijintek Themis

Der Raijintek THEMIS ist ein guter und günstiger Kühler. Seine Leistung würde jeden normalen Anwender begeistern. Dieser ist leise und stark zugleich. Der Preisbereich, in dem sich der Kühler befindet, ist wieder hart umkämpft, jedoch ist der Kühler immer noch sehr günstig.

Mit dem Themis hat Raijintek geschafft einen sehr schmalen Kühler zu bauen, der auch noch gut kühlt. Trotz dessen das Er grad 50 mm dick ist lässt sich ein übertakteter Intel Core i7 3770K gut Kühlen, sowohl mit 12V wie auch mit nur 7V, was ich persönlich bevorzugen würde.

read more...

+ günstig
+ leistungsstark
Der RAIJINTEK THEMIS bekommt aufgrund der sehr geringen Preisdifferenz von nur 5€ und dem geringen Leistungsdefizit gegenüber dem Cooler Master Hyper 412S unseren Silber-Award.

read more...

Temperatures in idle processors are a very balanced, because waste heat is very low, which did not have any problem smallest cooler and heatpipes are not nezohriali and remained completely cool.

read more...

Wanting to change the default cooler "Themis" definitely a good choice, you win the cooling and noise. The very compact cooler, so there should be no trouble fitting it into the ATX chassis.

read more...

The Themis is the answer if you are in the market for a solid, budget-centric CPU cooler with acceptable noise levels and exceptional performance.

read more...

The Themis is the answer if you are in the market for a solid, budget-centric CPU cooler with acceptable noise levels and exceptional performance.

read more...

Mit dem Themis hat Raijintek einen sehr schlanken Tower-Kühler im Sortiment, welcher sich vor allem an Nutzer von Sockel 2011 Mainboards richten dürfte, die ihre Mainboards mit einer vollen Speicherbestückung betreiben wollen.

read more...

Elektroniktest.dk - Raijintek Themis

Wow! This is what my experience is! When I started the test was my expectation for cooler not high, there are many coolers in this price group, and they work all ok!
However, this cooler, it provide good cooling and is relatively quiet at the same time!

Themis will in all likelihood carried to "PCAXE Best Buy" award, because he is the definition of it. Raijintek states that during the production of Themis and there is very little waste, and that is a very "green". Less waste means less pollution during production.

read more...

The sink Raijintek Themis offers good performance, especially when you consider its price. With a height of 158 mm can install most of the towers on the market, but some models are limited to 155 mm, so we should check before deciding on a model. Another point in its favor is the support of high-profile recalls .

read more...

Kitguru says: An impressive first attempt for Raijintek. We look forward to seeing what they come out with next!

read more...

Tidy structure, slim body design, installation and trouble-free issue quietly. Installation is simple and all processor sockets are also supported. Arrange for PWM fan speed in the BIOS.

read more...

Yet beyond these two, relatively small, things are cooler all pretty amazing. And then you look at the price - and then the above two grievances be totally indifferent. Not once 200kr for a cooler that performs this well is all almost too good to be true. So it gets my warmest recommendation.

read more...

An innovative and promising? The purchase price, very low and competitive. They are recommended for all those who want to spend little, without great pretensions.
Strengths Themis:
-good performance
-modern design
-discreetly thermally efficient
-low price!
-base that does not require changes

read more...