RAIJINTEK


Zelos Heatpipe CPU-Kühler, PWM - 90mm
Socket Compatibility: 1150 / 1155 / 1156 / AM2 / AM2+ / AM3 / AM3+ / FM1 / FM2 / FM2+
Item number: CPRT-006
EAN: 4715109920260
MPN: 0R100003
Manufacturer: RAIJINTEK
Product information -
Zelos Heatpipe CPU-Kühler, PWM - 90mm
Mit Raijintek erschüttert ein echtes Donnergrollen die Hardware-Landschaft. Der namensgebende Raijin ist der japanischen Kultur und Religion entnommen und als Gott des Donners mit höchstem Respekt zu behandeln. Das trifft auch auf die Produkte des Neulings zu. Das Portfolio kann auf die jahrelange Erfahrung der Firmengründer und deren exzellente Kenntnis sowie einen ungebremsten Innovationsgeist vertrauen. "Designed in Germany - Made in China". Das zeigt sich dann auch deutlich in der Kombination von hervorragender Leistung, unglaublich gutem Preis und enormer Vielseitigkeit. Je lauter der Donner, desto stärker war der Blitz und der hat hier mächtig eingeschlagen!
Mit dem ultra-flachen Zelos erweitert Raijintek sein Sortiment um einen - in Anbetracht seiner Größe - erstaunlich kühlstarken Low-Profile-Kühler. Wie bei den Produkten von Raijintek üblich, bezieht man sich auch hier beim Produktnamen auf die griechische Mythologie. Zelos steht dabei für "eifriges Streben" und ist der Sohn des Titanen Pallas. Daher passt es auch, dass der Zelos-Kühler mit seiner Höhe von nur 44 mm noch kompakter ist als der Raijintek Pallas. Trotzdem hat der göttliche Kühler-Zwerg die erstklassige Verarbeitungsqualität, verbesserte Technik und volle Featurepalette seiner großen Verwandten mit in die Wiege gelegt bekommen.
Der Zelos ist aufgrund seines Formats dazu prädestiniert selbst in den kleinsten und engsten ITX-Gehäusen verwendet zu werden und bietet damit ein absolutes Höchstmaß an Kompatibilität. Der Kühler-Winzling vereint die Vorteile seiner Maße mit der Technik von High-End-Produkten und bietet dadurch eine erstklassige Kühlleistung bei minimaler Geräuschkulisse. So werden die Aluminium-Lamellen des Kühlkörpers auch bei solch einem Kühler-Flachmann von drei vollwertigen Kupfer-Heatpipes durchzogen und sorgen so für optimalen Wärmeabtransport. Die Kupfer-Heatpipes sind vollständig von einer schützenden Nickelschicht überzogen. Doch auch die Optik profitiert von dieser Maßnahme. Einmal mehr setzt auch die Verarbeitungsqualität Maßstäbe.
Die drei Kupfer-Heatpipes setzen auf die von Raijintek C.D.C.-Technik genannte Konstruktion mit direktem Kontakt zur CPU. Damit wird die Abwärme noch effektiver abtransportiert. Die elegant designte und eigens entwickelte Verbindung der vernickelten Lamellen mit den Heatpipes verzichtet auf das Verlöten der einzelnen Schichten und presst diese stattdessen. Einerseits minimiert diese Maßnahme das Beschädigungsrisiko der Wärmeröhren und erhöht die Effizienz der Wärmeabgabe, andererseits entsteht so eine wesentlich geringere Umweltbelastung und der Zelos wird ganz im Sinne der Green-IT hergestellt.
Im Gegensatz zu Konkurrenzprodukten im Ultra-Low-Profile-Bereich, wird hier ein vollwertiger und leise drehender 90-mm-Lüfter verwendet. Der schick aussehende, rot-weiße Slim-Lüfter ist nur 15 mm hoch und mit einem 4-Pin PWM-Anschluss ausgestattet, bei einem ordentlichen maximalen Airflow von 69 m³/h. Er kann vom Mainboard geregelt werden, die automatische Anpassung regelt dadurch je nach Leistungsbedarf und der Zelos kann flüsterleise sein, wenn es nötig ist aber auch maximale Kühlleistung generieren.
Der Kühler wird mittels Backplate verschraubt und sitzt damit sehr fest und stabil. Auch regelmäßig transportierte Rechner erleben damit eine höhere Sicherheit. Zudem ist das Montagekit für die meisten alle modernen Sockel von Intel und AMD geeignet. Jeder aktuelle Sockel und damit alle passenden CPUs können vom Zelos dank des Montagekits genutzt werden. Die einfach durchzuführende Installation ist sehr nutzerfreundlich gestaltet und in der mitgelieferten Anleitung anschaulich erklärt.
Technische Details:
Maße: 94 x 44 x 93 mm (B x H x T)
Material: Aluminium (Lamellen, Boden), vernickeltes Kupfer (Heatpipes)
Gewicht: 190 g (ohne Lüfter)
Heatpipes: 3x Ø 6 mm
Lüfter: 90 mm (max. 20 dB(A), 800 - 1.400 U/min, 69 m³/h, 3,5 mmH2O)
Startspannung: 6 V
Anschluss: 4-Pin PWM
Lebenserwartung: 40.000 h
Kompatibilität:
Intel: 1150, 1151, 1155, 1156
AMD: AM2, AM2(+), AM3(+), FM1, FM2(+)

Further links for

"Zelos Heatpipe CPU-Kühler, PWM - 90mm"
Videos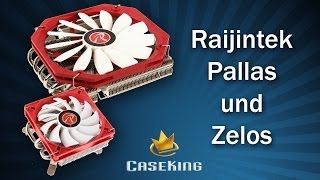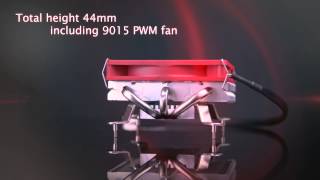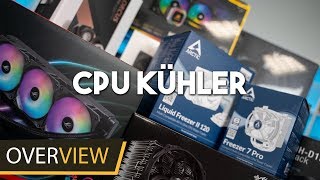 Technical Details
| | |
| --- | --- |
| CPU socket | 1150, 1151, 1155, 1156, AM2, AM3, AM3+, FM1, FM2, FM2+ |
| CPU cooler type | Top Blower |
| Fan connector | 4 Pin (PWM) |
| CPU cooler width (accurate) | 94 mm |
| CPU cooler height (accurate) | 44 mm |
| CPU cooler depth (accurate) | 93 mm |
| CPU cooler width | 90 to 99 mm |
| CPU cooler height | up to 50 mm |
| CPU cooler depth | 90 to 99 mm |
| Material base plate | aluminium / copper |
| Material heat sink | aluminium |
| Weight in g (exact) | 190 |
| Weight in g | 200 - 300 g |
| Max rpm (exact) | 1400 U/min |
| Min rpm (exact) | 800 U/min |
| Max noise level (exact) | 20 dB(A) |
| Max air volume (exact) | 69 m³/h |
| Max rpm | 1000 - 1499 U/min |
| Min rpm | 750 - 999 U/min |
| Max noise level | 20 - 24 dB(A) |
| Max air volume | 50 - 74 m³/h |
| No. of Heatpipes | 3 |
| Heatpipe diameter | 6 mm |
| CPU cooler fan(s) included | 1x 92 mm |
| Heat sink colour | silver |
| Fan colour | red, white |
| Additional fan mounting | no |
| Illumination | no |
| Approved for | active air flow |
Awards
From the positive side, the fan noted that whatever the frequency that works completely silent.

read more...

PCKoloji - Raijintek Zellos

Size is small copper heat pipes for three-phase nor what we can say is missing. Core contact technology, low body taken to improve performance in solution. In addition to this thinness of the fan at a low speed even though the air flow is able to get desired.

By cons one who will want to start a small configuration, or an HTPC, and have a very quiet machine will pounce, especially when he knows the price is less than 20 €!

read more...

Overclocking-PC - Raiijintek Zelos

During this test I had the opportunity to be surprised on several occasions:
when unpacking when I saw the small size of the radiator, when I looked more closely at the radiator and saw the traces of machining, assembly when I have not put more time into place that an Intel rad, and during the test when I had to check that the fan turned, so it was quiet.

Der Zelos von RaiJintek konnte in unserem Test durchweg überzeugen. Die Kühlleistung kann sich trotz des viel geringeren Gewichtes im Vergleich zum stärkeren Konkurrenten durchaus sehen lassen. Hier zeigt RaiJintek ganz deutlich, was man durch eine zusätzliche Heatpipe in Kombination mit direkt auf der CPU aufliegenden Heatpipes an Performance aus einem Kühler an Leistung herausholen kann.

read more...