SAMSUNG


960 EVO NVMe SSD, PCIe 3.0 M.2 Typ 2280 - 500 GB
Ultra-fast M.2 SSD (Format 2280) with 500 GB capacity
Up to 3.200/1.800 MB/s Read/Write
PCIe 3.0 x4 connection & NVMe support
200 TB TBW / 3 Year Guarantee
Item number: SSSS-113
EAN: 8806088540122
MPN: MZ-V6E500BW
Manufacturer: SAMSUNG
Product information -
960 EVO NVMe SSD, PCIe 3.0 M.2 Typ 2280 - 500 GB
The 960 series of SSDs makes a significant leap forward on the part of Samsung when it comes to all previous speed records, securing its position as the uncontested market leader in the arena of flash based Solid State Drives. The reason for this is due in no small part to the technical superiority of Samsung SSDs, first among them this
M.2-format 500 GB Samsung 960 EVO
which comes with stacked TLC memory cells with 48 layers (known as V-NAND), blazingly fast PCI-Express 3.0 with 4 lanes and support for the brand new NVM-Express protocol.
The Samsung 960 EVO M.2-NVMe PCIe SSD at a Glance:
Modern M.2 NVMe PCIe SSD with 500 GB of storage
Extremely fast 3.200/1.800 MB/s Read/Write speeds
Total of 330.000/330.000 IOPS 4KB Random Read/Write
Samsung Polaris Controller & Samsung TLC V-NAND (48 Layer)
Guaranteed Write Volume (TBW): 200 TB (3 year limited warranty)

Only Available in the M.2 Format Due to Exceptional PCIe 3.0 x4 Speeds
Samsung's 960 series of SSDs is presently only available in the
M.2 format, Type 2280 (22 mm wide, 80 mm long)
, and is connected via PCI-Express 3.0 via 4 lanes. The classic 2,5" format has reached its limits due to the fact that the relatively slow SATA 6G connection suffers from severe bandwidth limitations (max net data transfer rate of 550 MB/s) and can no longer keep up with the explosive performance increases seen in newer SSDs. Anyone wishing to enjoy the benefits of the massive speeds offered by Samsung's 960 EVO should, if in any doubt, upgrade to a PCI-Express adapter card. This can of course be found using the search function in the Caseking shop.
High Efficiency 3D V-NAND with 48 Layers
3D V-NAND memory (also known simply as V-NAND) on the Samsung 960 EVO utilises cylindrical memory cells that are bonded together on top of one another in multiple layers. Firstly this enables must larger storage capacities with higher read- and write speeds, on the other it also results in a
marked improvement in the durability and operating life of the memory along with an improvement in energy efficiency
. In comparison to its predecessors, Samsung 960 SSDs now offer 48 instead of 32 layers and bring the advanced technology of Samsung's SM961 SSDs to the consumer market having previously been restricted to OEMs.
M.2 NVMe PCIe SSD with Incredible Read- and Write Speeds
The new Samsung "Polaris" controller on this ultra-fast drive supports four PCI-Express 3.0 lanes, these support a theoretical maximum of roughly 3.900 MB/s! Taken together with the included Samsung TLC V-NAND, this 500 GB variant of the Samsung SSD 960 EVO
offers massive 3.200 MB/s Read speeds and 1.800 MB/s Write speeds
as well as fantastic IOPS values ranging up to 330.000 in 4KB Read- and 330.000 4KB Write speeds. The new "Polaris" controller chip results in a marked decrease in waste heat, preventing performance throttling due to high temperatures.
NVM-Express Protocol Support on PCIe SSDs
This Samsung SSD 960 EVO also supports the NVM-Express protocol (NVMe for short)
that has been specially designed for modern PCI-Express SSDs
. This replaces the aging AHCI protocol which stems from the time before the proliferation of SSDs and is not optimised for highly-parallelised drive operations. NVMe provides a marked decrease in latencies as well as more and deeper queue depths, resulting in higher performance in non-linear transfers like 4K Read/Write operations.
Technical Details:
Dimensions: 22 x 2,29 x 80 mm (W x H x D)
Format & Connection: M.2/M-Key 2280 (PCIe 3.0 x4, NVMe 1.1)
Weight: 9 g
Capacity: 500 GB
Cache: 512 MB LPDDR3-1866
Controller: Samsung Polaris
NAND: Samsung TLC 3D V-NAND (Triple-Level Cell with 48 layers)
Performance (PCIe 3.0):
Read: max. 3.200 MB/s
Write: max. 1.800 MB/s
IOPS (4KB Random Read): 330.000
IOPS (4KB Random Write): 330.000
Power Usage (Idle / Operating): 1,2 / 5,4 W
Compatibility (Features): NVMe 1.1, TRIM, S.M.A.R.T., 256bit AES, NCQ, Garbage Collection, TCG Opal 2.0 with future firmware updates
Average Operating Life: 1,5 M hours
Guaranteed Write Volume (TBW): 200 Terabyte (limited 3 year manufacturer's guarantee)
Operating Temperature: 0 to 70 °C
Shock Resistance: Up to 1.500 G

Further links for

"960 EVO NVMe SSD, PCIe 3.0 M.2 Typ 2280 - 500 GB"
Videos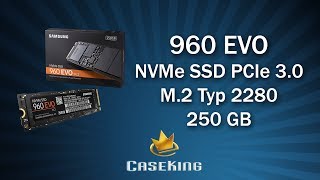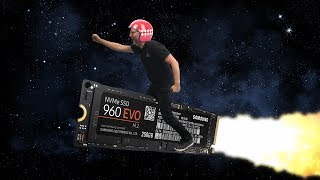 Technical Details
| | |
| --- | --- |
| SSD capacity (exact) | 500 GB |
| SSD capacity | 400 bis 580 GB |
| NAND Typ | TLC |
| Connector | M.2 (M-Key) |
| Standard / Spezifikation | NVMe, PCIe 3.0 x4 |
| Drive Size | 2280 |
| max. Lesegeschwindigkeit | 3200 MB/s |
| max. Schreibgeschwindigkeit | 1800 MB/s |
| durchschn. Lebensdauer (h) | 1,5 Mio. h |
| durchschn. Lebensdauer (TBW) | 200 TB |
| Power consumption (idle) | 1,2 Watt |
| Power consumption (operation) | 5,4 Watt |
| Warranty | 3 years |