Seasonic


Focus+ 80 PLUS Platinum Netzteil, modular - 850 Watt
Powerful 850 Watt power supply
High efficiency with 80 PLUS Platinum certification
Powerful 70 A single rail
Modular cable management with flat cables
10 year manufacturer guarantee
Item number: NESE-085
EAN: 4711173873532
MPN: SSR-850PX
Manufacturer: Seasonic
Product information -
Focus+ 80 PLUS Platinum Netzteil, modular - 850 Watt
Seasonic's new Focus series introduces a range of high quality processed power supplies with 80 plus platinum efficiency and fully modular cable management. This series places an emphasis on stylish looks along with reliable and quiet cooling thanks to a semi-passive 120 mm fan. The electronics, as well as the components and materials used, correspond to the high standards of Seasonic and together result in a first-class product that earns a long manufacturer's warranty of 10 years.
The Seasonic Focus Plus 80 Platinum Power Supply at a Glance:
850 Watt power supply with powerful 70A single rail
Very high efficiency thanks to the 80 PLUS Platinum certification
Quiet 120 mm fan with semi-passive mode
Fully modular cable management with flat cables
Six 6+2-Pin PCIe connectors for graphics cards
Power Supply with 80 PLUS Platinum Efficiency & Powerful 70A Rail
The Seasonic Focus Plus 80 Platinum is a true high-performer with its 850 Watts output providing high-end PCs with plenty of power, even in cases where two or three graphics cards in CrossFireX- or SLI setups are used. The powerful 12 Volt rail delivers a full 70A of power. Despite these impressive specifications, the Seasonic Focus Plus 80 Platinum is extremely efficient due to the use of high quality components e.g the capacitors. This enables the 80 PLUS Platinum certified power supply to achieve an efficiency of up to 90% at 50% load.
The fact that all cables can be connected individually ensures cable management is a breeze - a must with such an extensive range of connectivity options! Finally, in addition to one 24-pin and two 4+4-pin cables, there are also six 6+2-Pin PCIe connectors as well as ten SATA- and five 4-pin-Molex connectors. This means that even enthusiast boards and server boards can be installed. The cables are very flat and easy to guide.
The installed 120 mm fan comes with smooth-running fluid-dynamic bearings to ensure not only quiet operation, but also durability over time. The switch on the rear of the power supply can be switched to automatic or passive cooling modes. This allows you to prioritise noise or cooling capacity according to the demands places on the supply.
It almost goes without saying that the Seasonic Focus Plus 80 Platinum has all the necessary protective circuits that modern high-end power supplies offer. However, should there be an issue with the power supply, no problem, because Seasonic even offers a ten-year manufacturer's warranty on this exceptional product!
Technical Details:
Dimensions: 150 x 86 x 140 mm (W x H x D)
Fan: 120 mm (Fluid Dynamic Bearing, automatic control with semi-passive mode)
Efficiency: ~ 90/92/89% @ 20/50/100% load, 80 PLUS Platinum certification
Active PFC
Form Factor: ATX12V
Performance: 850 W
+3,3V: 20 A
+5V: 20 A
+3,3V & +5V: 100 W
+12V: 70 A / 840 W
-12V: 0,3 A / 3,6 W
+5Vsb: 3 A / 15 W
Connectors (modular):
1x 24-Pin
2x 4+4-Pin
6x 6+2-Pin PCIe
10x SATA
5x 4-Pin Molex
1x Floppy
Manufacturer's Guarantee: 10 Years
Further links for

"Focus+ 80 PLUS Platinum Netzteil, modular - 850 Watt"
Videos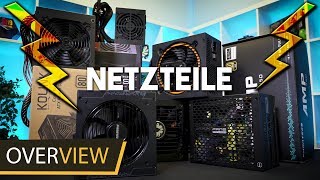 Technical Details
| | |
| --- | --- |
| PSU formfactor | ATX |
| Power category | 751 to 850 Watt |
| DC output (accurate) | 850 Watt |
| 12V power | 840 Watt |
| 12V Rail distribution | Single Rail |
| modular | yes (semi- or fully-modular), fully-modular |
| semi-passiv | yes, selectable |
| 6+2-Pin PCIe | 6x |
| CPU power supply | 2x 4+4-Pin |
| 4-Pin connectors | 5x |
| SATA connectors | 10x |
| PCIe cable length max | more than 65 cm |
| CPU cable length max | 45-65 cm |
| 24Pin cable length max | more than 60 cm |
| PSU fan | 120 mm |
| Illumination | no |
| Colour | black |
| Depth | 14 cm |
| Case fan controller | no |
| Efficiency 80Plus | 80 PLUS Platinum |
| Efficiency Class Cybenetics ETA | A |
| Volume Cybenetics LAMDA | A- |
Awards
Pro

+ Verarbeitung
+ vollmodulares Kabelmanagement
+ leiser Lüfter mit passivem Betrieb bei geringer Auslastung
+ hohe Effizienz
+ 10 Jahre Garantie

read more...

PROS

+ Price
+ Full power at 47°C
+ High efficiency
+ Good build quality
+ Quiet operation
+ 10-year warranty
+ Compact dimensions

read more...

Pro

+ hohe Leistung
+ moderne und ausgereifte Technik
+ sehr hoher Wirkungsgrad
+ Verarbeitungsqualität
+ hochwertige Bauteile
+ leiser Lüfter
+ semi-passiv Lüftersteuerung
+ zahlreiche Anschlüsse
+ abnehmbare Kabelstränge (vollmodular)
+ Länge der Kabel
+ sämtliche Schutzschaltungen vorhanden
+ 10 Jahre Garantie

read more...