Seasonic


Focus SGX 80 PLUS Gold SFX Netzteil - 450 Watt
Leistungsstarkes SFX-450-Watt-Netzteil
hohe Effizienz durch 80 PLUS-Gold-Zertifikat
starke Singlerail mit 37 A
modulares Kabelmanagement mit flachen Kabeln
10 Jahre Herstellergarantie
Item number: NESE-103
EAN: 4711173874515
MPN: SSR-450SGX
Manufacturer: Seasonic
Product information -
Focus SGX 80 PLUS Gold SFX Netzteil - 450 Watt
Mit der
Focus-Serie greift Seasonic
erneut den Markt der Netzteile an und präsentiert jetzt zusätzlich kompakte
SFX-Modelle
mit
80-PLUS-Gold-Effizienz
und vollständig modularem Kabelmanagement, die zudem sehr schick aussehen und eine zuverlässige sowie leise Kühlung mit
semi-passivem 120-mm-Lüfter
bieten. Die optimal aufeinander abgestimmte Elektronik, sowie die verwendeten Komponenten und Materialien entsprechen den hohen Standards von
Seasonic
und ergeben ein erstklassiges Produkt mit einer langen Herstellergarantie von 10 Jahren.
Das Seasonic Focus SFX 80 PLUS Gold 450 W Netzteil im Überblick:
450-Watt-Netzteil mit starker 37-A-Singlerail
Sehr hohe Effizienz durch 80 PLUS-Gold-Zertifikat
Leiser 120-mm-Lüfter mit semi-passivem Modus
SFX-Formfaktor mit ATX-Kompatibilität
Vollständig modulares Kabelmanagement mit flachen Kabeln
Ein 8+4- und zwei 6+2-Pin-PCIe-Stecker für Mainboards und Grafikkarten
Netzteil mit 80 PLUS-Gold-Effizienz und starker 37-A-Singlerail
Das
Seasonic Focus SGX 80 PLUS Gold
ist ein echter Leistungsriese und versorgt mit seinen 450 Watt Gesamtausgangsleistung auch High-End-PCs mit ausreichend Strom, selbst dann, wenn zwei Grafikkarten ein CrossFireX- oder SLI-Setup bilden. Die
kräftige 12-Volt-Schiene liefert dabei satte 37 A Leistung
. Trotz dieser beeindruckenden Daten ist das
Seasonic Focus SGX 80 PLUS Gold
äußerst effizient gestaltet, was auch aus der Verwendung hochwertigster Bauteile - wie die Kondensatoren - resultiert. So erreicht das mit 80 PLUS Gold zertifizierte Netzteil einen Wirkungsgrad von bis zu 90% bei einer Last von 50%.
Für Ordnung sorgt die Tatsache, dass sämtliche Kabel einzeln ansteckbar sind - gerade bei einer derart umfangreichen Konnektivität ein Muss! Schließlich sind neben einem 24-Pin- und einem 4+4-Pin-Kabel unter anderem noch
zwei 6+2-Pin-PCIe-Stecker sowie drei SATA- und drei 4-Pol-Molex-Konnektoren
vorhanden. Die Kabel sind dabei sehr flach und lassen sich einfach verlegen.
Der verbaute 120-mm-Lüfter verfügt über ein leichtläufiges Fluid-Dynamic-Lager und verspricht daher nicht nur leisen Betrieb, sondern ist zudem auch besonders lange haltbar. Beinah überflüssig zu erwähnen, dass das
Seasonic Focus SGX 80 PLUS Gold
über alle notwendigen Schutzschaltungen verfügt, die moderne High-End-Netzteile selbstverständlich bieten müssen. Sollte die PSU dennoch einmal das Zeitliche segnen: kein Problem, denn Seasonic gibt auf dieses Ausnahmeprodukt ganze zehn Jahre Herstellergarantie!
Technische Details:
Maße: 125 x 63,5 x 125 mm (B x H x T)
Lüfter: 120 mm (Fluid-Dynamic-Bearing, automatische Steuerung mit semi-passivem Modus)
Effizienz: ~ 87/90/87% @ 20/50/100% Last, 80 PLUS-Gold-Zertifikat
Active PFC
Formfaktor: SFX 12 V / ATX 12 V
Leistung: 450 W
+3,3V: 20 A
+5V: 20 A
+3,3V & +5V: 100 W
+12V: 37 A / 444 W
-12V: 0,3 A / 3,6 W
+5Vsb: 3 A / 15 W
Anschlüsse (abnehmbar):
1x 24-Pin
1x 4+4-Pin
2x 6+2-Pin-PCIe
3x SATA
3x 4-Pol-Molex
1x Floppy
Schutz: OPP, OVP, UVP, OCP, OTP, SCP
Sicherheit: cTUVus, TUV, CB, CCC, BSMI, EAC, CE
Herstellergarantie: 10 Jahre
Further links for

"Focus SGX 80 PLUS Gold SFX Netzteil - 450 Watt"
Videos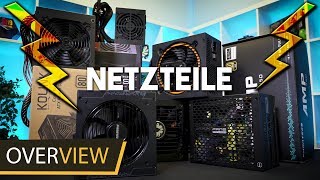 Technical Details
| | |
| --- | --- |
| PSU formfactor | ATX, SFX-L |
| Power category | 361 to 450 Watt |
| DC output (accurate) | 450 Watt |
| 12V power | 444 Watt |
| 12V Rail distribution | Single Rail |
| modular | yes (semi- or fully-modular), fully-modular |
| semi-passiv | yes |
| 6+2-Pin PCIe | 2x |
| CPU power supply | 1x 8-Pin |
| 4-Pin connectors | 3x |
| SATA connectors | 3x |
| PSU fan | 120 mm |
| Illumination | no |
| Colour | black |
| Depth | 12,5 cm |
| Case fan controller | no |
| Software Interface (digital) | no |
| Efficiency 80Plus | 80 PLUS Gold |
Awards
There are innumerable unconditional people that Seasonic has around the world. It is a fame that the brand has been able to win by offering very high levels of quality in each product placed on the market. In this case, the Seasonic Focus SGX-450W is a fantastic product, with no weak points and with a very tight price. All this makes it irresistible for everyone who likes to take care of our team.

read more...