Seasonic


Prime 80 PLUS Platinum Power Supply, Modular - 1000 Watt
Powerful 1.000 Watt power supply
High efficiency thanks to 80 PLUS Platinum Certification
Powerful 83 A rail
Modular cable management with flat cables
12 Year manufacturer's guarantee
Item number: NESE-079
EAN: 4711173873891
MPN: SSR-1000PD2
Manufacturer: Seasonic
Product information -
Prime 80 PLUS Platinum Power Supply, Modular - 1000 Watt
Seasonic has expanded its Prime series and introduced new models that offer outstanding efficiency, high performance, modular cable management and stylish design. In addition to high efficiency, the perfectly matched electronic components also employ improved voltage regulation, improved fan control, a quiet 135 mm fan on top of a twelve-year manufacturer's warranty.
The Seasonic Prime Ultra 1000 W Platinum at a Glance:
1.000 Watt power supply with powerful 83 A rail
Very high efficiency thanks to the 80 PLUS Platinum certification
Quiet 135 mm fan with semi-passive mode
Fully modular cable management with flat cables
Eight 6+2-Pin PCIe connector for graphics cards
Twelve SATA connectors
Power Supply with 80 PLUS Platinum Efficiency & Powerful 83 A Rail
The Seasonic Prime Ultra 1000 W Platinum is truly a monster among power supplies, delivering 1000 Watts of total output to high-end PCs, more than enough even with two graphics cards in a CrossFireX or SLI setup. The powerful 12V rail delivers a full 83 A of power. Despite these impressive specifications, the Seasonic Prime Ultra 1000 W Platinum is extremely efficient due to the use of high quality capacitors. This 80 PLUS Platinum-certified power supply achieves an efficiency of up to 94% at 50% load.
The fact that all cables can be connected individually ensures cable management is a breeze - a must with such an extensive range of connectivity options! Finally, in addition to one 24-pin and two 4+4-pin cables, there are also eight 6+2-pin PCIe connectors as well as twelve SATA and five 4-pin Molex connectors. This means that even enthusiast boards and server boards can be installed. The cables are very flat and easy to guide.
It almost goes without saying that the Seasonic Prime Ultra 1000 W Platinum has all the necessary protective circuits that modern high-end power supplies offer. However, should there be an issue with the power supply, no problem, because Seasonic even offers a twelve-year manufacturer's warranty on this exceptional product!
Technical Details:
Dimensions: 150 x 86 x 170 mm (W x H x D)
Fan: 135 mm (Fluid Dynamic Bearing)
Efficiency: max. 94% @ 50% load, 80 PLUS Platinum certification
Form Factor: ATX12V
Performance: 1.000 W
+3,3V: 25 A
+5V: 25 A
+3,3V & +5V: 125 W
+12V: 83 A / 996 W
-12V: 0,3 A / 3,6 W
+5Vsb: 3 A / 15 W
Connectors (modular):
1x 24-Pin
2x 4+4-Pin
8x 6+2-Pin PCIe
12x SATA
5x 4-Pin Molex
1x Floppy
Protection: OPP, OVP, UVP, OCP, OTP, SCP
Safety: cTUVus, TUV, CB, CCC, BSMI, EAC
Manufacturer's Guarantee: 12 Years
Further links for

"Prime 80 PLUS Platinum Power Supply, Modular - 1000 Watt"
Videos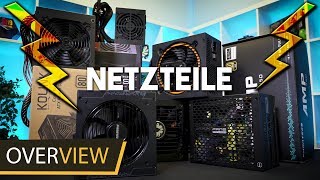 Technical Details
| | |
| --- | --- |
| PSU formfactor | ATX |
| Power category | 851 to 1000 Watt |
| DC output (accurate) | 1000 Watt |
| 12V power | 996 Watt |
| 12V Rail distribution | Single Rail |
| modular | yes (semi- or fully-modular), fully-modular |
| semi-passiv | yes, selectable |
| 6+2-Pin PCIe | 8x |
| CPU power supply | 2x 4+4-Pin |
| 4-Pin connectors | 5x |
| SATA connectors | 12x |
| PSU fan | 135 mm |
| Illumination | no |
| Colour | black |
| Depth | 17 cm |
| Case fan controller | no |
| Software Interface (digital) | no |
| Efficiency 80Plus | 80 PLUS Platinum |
| Efficiency Class Cybenetics ETA | A+ |
| Volume Cybenetics LAMDA | S+ |