King Mod Systems


Silent Home & Office PC Configurator
Value for money pre-configured system with high performance
Noise insulating Midi-Tower chassis and custom choice of components.
Item number: SIPC-907
EAN: 0000000000000
MPN: SIPC-907
Manufacturer: King Mod Systems
Product information -
Silent Home & Office PC Configurator
The demands placed on a
Home & Office PC
are entirely different to those of a gaming PC. Computers for an office environment forfeit high-end
gaming graphics cards
and
high-end CPUs
, as they shift focus more towards the best possible price-to-performance ratio while maintaining sufficient reserves for the most common
office
- and internet applications. Moreover, one of the priorities of a productivity-oriented office computer is minimising unnecessary noise while offering the ability to process data quickly. Irrespective of whether your new home office PC is intended for use in photo editing, video editing, learning applications or simply as a home for your music files, you'll feel right at home with the
Silent Home & Office PC Configurator
! Should you require something more powerful, the
Workstation PC Configurator
would be the ideal solution for uncompromising processing power, while the
High-End Gaming PC Configurator
is capable of offering additional gaming power.
Sound-Insulated Home & Office PC for Fast, Robust and Quiet Operation
Our King Mod
Home & Office Systems
offer a range of carefully selected components at the best price while still promising some serious power packed into an
insulated Midi-Tower
for the home or office! The foundation of our Silent Home & Office Computer is formed by a sound-insulated Midi-Tower of your choice alongside a premium quality motherboard selected from a range of established manufacturers. The parts used to create this reliable, high-quality hardware are not merely the standard parts of choice most frequently used in entry level PCs.
At the heart of the system lies an Intel CPU to complement the high-end DDR4 RAM. This is powered by a premium
brand power supply rated for 80 PLUS performance
, higher efficiency and adequate power. To ensure top performance we also include a pre-installed
SSD hard drive
which allows incredible Read-/Write speeds. The system can optionally include several more Solid State Drives or indeed classic mechanical-style hard drives that allow for increased storage capacities. Depending on the chosen case, we can also include an optical drive to enable DVD or Blu-Ray playback or recording. Matching office chairs, including racing-inspired
gaming chairs
can be selected via the configurator.
The unique selling point of the Silent Home & Office Systems is, naturally, the premium
sound insulation mats
that are produced here in Germany and are also used in the construction of cabins. Because of this, their effectiveness in terms of acoustic insulation has been proven time and again in industrial applications. They are made from pure sound-insulating esther foam that, on the top, is supplemented with the addition of perforated PU leather. The result is a visually appealing yet highly dirt-resistant and washable material.
From the Caseking PC Configurator to Your "Personal Computer"
NOTHING is standard here!
The complete systems from Caseking are famed for being able to be
specially customised
to your wishes by communicating with the King Mod experts prior to construction. For this reason alone virtually no single system that leaves Caseking is the same as the next. The comprehensive customisation available in terms of component selection is hugely appreciated by customers and has successfully paved the way to creating people's dream gaming PCs. We have made the customisation process even easier by means of the automated Caseking PC configuration tools, meaning that you have the option of kitting out a system that meets your exact requirements.
In contrast to off-the-shelf goods, the systems here are
fully customisable
. Every component, and consequently the style, speed and price of your PC, can be selected to meet your precise needs - truly living up to the words "Personal Computer". Furthermore, should you have any special requests, the King Mod department stands at the ready to make them happen. So don't hesitate to contact us by e-mail at systems@caseking.de or via telephone at +49 (0)30 5268473-07 - we will investigate the technical feasibility of your request and give you an answer promptly.
The PC configurator options are divided into the essential basic components like the chassis, processor or motherboard, and the optional components like hard drives, sound cards and operating systems. The King Mod Service uses only hand-picked and perfectly coordinated quality components from our own exclusive range. Furthermore, every configurator PC is subjected to a thorough stress test after assembly, thereby achieving the optimal configuration for ensuring maximum stability as well as the highest possible performance.
Free Games with King Mod Gaming Systems:
Complete systems from Caseking come bundled with the game keys matching the respective current games bundle of the chosen graphics card. Non-qualifying products do not come with game keys. All promotions are limited and only valid while stocks last or until the offer expires. Any recourse to courts of law is excluded. All currently active special offers from AMD, NVIDIA and Intel are listed below:


BullGuard Internet Security for King Mod Gaming Systems:
Every complete system from Caseking comes bundled with BullGuard Internet Security for use on up to 3 devices. The licence lasts one year and allows you to protect yourself against online security threats in the form of viruses and malware. The sophisticated Internet Security Suite from BullGuard offers effective all round protection, maximum security while browsing the internet, while also offering an integrated firewall to go with numerous other functions that combine to successfully protect your system against unwanted intrusions and other direct attacks.
Completely Custom Systems:

NOTHING is standard here! If you have a special wish, let us make it happen! Don't delay, reach us by e-mail at systems@caseking.de or by telephone at +49 (0)30 5268473-07 and we will investigate the technical feasibility of the project and give you a quick answer. Take full advantage of Caseking's huge stock and get a dream system customised to your individual needs, built and tested by the specialists in the Caseking King Mod team!

Caseking's King Mod service will take on the task of building your custom PC and the King Mod experts experts bring the same attention to detail and extensive insider knowledge discerning customers have come to expect over the years to every single system build. Regardless of whether we are talking about pre-installed water coolers, OC motherboard bundles or perfectly soundproofed cases. At Caseking, computers are more than off-the-shelf products: Every complete PC is built according to a code of practice, furnished with the neatest and slickest of cabling, and thereafter runs a gauntlet of extreme performance tests in order to ensure 100% satisfaction.

Premium Cable Management, Express Builds and More Information:

1. Build Time: Please be aware, that the King Mod Service only begins the process of building the system on receipt of your order. The expected standard of build quality requires sufficient time for assembly as well as extensive testing. As a general rule, regardless of order status, you should factor in at least 10 working days before the delivery process can begin. Should this process take any longer, the King Mod team will contact you personally. Providing all necessary components are in stock, if the Express Build Option is selected at the beginning of the build process, we guarantee dispatch within 72 hours for air cooled or AiO water cooled systems. For custom-watercooled systems, it is unfortunately not possible to indicate a general build time and there is also no Express Build Option available, as the construction time here always depends on the individual configuration and must be determined in advance with the experts of the King Mod team. In most cases shipment will be dispatched via UPS, if necessary an alternative shipping provider or forwarding agency will be used.

2. Guarantee: For all of Caseking's own complete systems, Caseking offers a 36 month guarantee, 24 of which include pick-up service. For a justified claim, there must be a technical defect on the PC that has not arisen from usage of the hardware that is outside of specification or that can be traced back to user misuse via proprietary methods or by discussion with a Caseking engineer. Furthermore the delivered system cannot be modified or altered, this includes independently updating the UEFI/BIOS as full functionality can no longer be guaranteed with UEFI/BIOS versions that differ from those originally installed. And as a general rule of thumb, you can't go far wrong with the age-old advice: "Never touch a running system!"

3. Order Production: The illustrations and photographs of computer systems are merely demonstration examples. The final product containing the desired components is built after order placement. The shipped computer may vary from the pictures according to the selection and availability of individual PC components. Under all circumstances however, you will receive a system constructed from the ground up with professionalism and all due care as well as a system where the components are highly tuned and balanced, and that you can be proud to show off at any time, because here at Caseking nothing is standard! When selecting the premium cable management option our engineers will take meticulous care to ensure all cabling in the PC is exceptionally tidy, employing all necessary cable lengths and ties.
Further links for

"Silent Home & Office PC Configurator"
Videos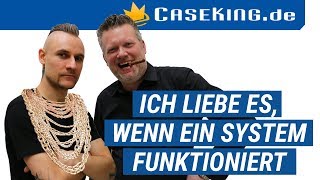 Technical Details
| | |
| --- | --- |
| CPU | Intel Pentium, Intel Celeron, Intel Core i3 |
| Graphics chip | integrierte GPU |
| Cooling | AIO Wasserkühlung, Luftkühlung |