Silverstone


SST-FQ121 FQ Series Fan, PWM - 120 mm
FQ121 represents SilverStone's pursuit of a design that balances performance and tranquility.
Item number: LUSV-049
EAN: 4710007220962
MPN: SST-FQ121
Manufacturer: Silverstone
Product information -
SST-FQ121 FQ Series Fan, PWM - 120 mm
Silverstone zählt zu den renommiertesten Herstellern für PC Gehäuse und bietet hierbei eine Palette sehr hochwertiger und innovativer Produkte für High-End-User an. Aber auch Netzteile, HDD-Gehäuse und Panels gehören zum Repertoire. Da ist der Schritt zur Entwicklung eigener Lüfter nicht weit, schließlich will man sich im High-End-Segment nicht mit Lösungen anderer Hersteller zufrieden geben, sondern auch hier nur das Beste liefern. Und dass Silverstone nicht nur im Gehäuse- und Netzteilsektor zu überzeugen weiß, beweisen auch die neuen FQ-Lüfterserien des Herstellers.
Der FQ121 ist das Ergebnis der SilverStone-Suche nach einem Design, das hohe Leistung mit leisen Tönen verbindet. Das integrierte PWM-Modul ermöglicht die Steuerung der Lüfterdrehzahl durch das Motherboard und reguliert die Temperatur im Gehäuse mit optimaler Effizienz. Die neunflüglige Ausführung des FQ121 mit geriffelten Kanten sorgt für maximalen Luftdurchsatz von 114,07 m³/h bei einem stabilem statischen Druck von 1,82 mmH2O. Diese Merkmale verbessern nicht nur die Belüftung, sondern dämpfen auch das Betriebsgeräusch.
Der Lüfter sorgt mit seinen bis zu 1.800 Umdrehungen in der Minute für einen sehr guten Airflow. Trotz dieser beachtlichen Leistung ist der Lüfter mit nur 24 dB(A) angenehm leise. Durch seine geringe Anlaufspannung von weniger als 7 V ist auch eine Drosselung der Drehzahl kein Problem. So mutiert der Lüfter mit einem optionalen Adapter-Kabel oder einer Lüftersteuerung in Windeseile zum extrem leisen Silent-Fan im schickem Design. Darüber hinaus kann der Lüfter auch noch mit einer Lebenserwartung von 150.000 Stunden glänzen.
Technische Details:
Maße: 120 x 120 x 25 mm (B x H x T)
Material: Kunststoff
Gewicht: 143 g
Farbe: Weiß (Rahmen), Blau (Rotorblätter)
Drehzahl: 1.000 - 1.800 U/Min, max. 114,07 m³/h, 0,54 - 1,82 mmH2O, 16,4 - 24 dB(A)
Spannung: 12 V
Startspannung: = 7 V
Anschluss: 4-Pin PWM
Lebenserwartung: 150.000 Stunden
Further links for

"SST-FQ121 FQ Series Fan, PWM - 120 mm"
Videos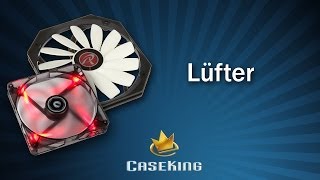 Technical Details
| | |
| --- | --- |
| Primary colour | blue |
| Secondary colour | white |
| Fan connector | 4 Pin (PWM) |
| Illumination | no |
| Initial Voltage | 7 V |
| Max rpm (exact) | 1800 U/min |
| Min rpm (exact) | 1000 U/min |
| Max noise level (exact) | 24 dB(A) |
| Min Noise Level (exact) | 16,4 dB(A) |
| Max air volume (exact) | 114,07 m³/h |
| Max rpm | 1500 - 1999 U/min |
| Min rpm | 1000 - 1249 U/min |
| Max noise level | 20 - 24 dB(A) |
| Min Noise Level | 15 - 19 dB(A) |
| Max air volume | 100 - 124 m³/h |
| Rotor diameter | 120 mm |
| Mounting holes | 120 mm |