Silverstone


SST-NJ520 Nightjar-Series, 80 PLUS Platinum - 520 Watt
SilverStone's Nightjar NJ520 is a fanless power supply that offers users a whole new experience of quietness and stability.
Item number: NEST-098
EAN: 4710007221037
MPN: SST-NJ520
Manufacturer: Silverstone
Product information -
SST-NJ520 Nightjar-Series, 80 PLUS Platinum - 520 Watt
Dass Silverstone nicht nur einzigartig gute Gehäuse fertigt, sondern auch mit leistungsstarken Netzteilen überzeugen kann, beweist der Hersteller mit einem breiten Angebot hochwertiger Modelle. Neben Spitzenleistung bietet Silverstone auch Modelle mit höchster Energieeffizienz und geringer Wärmeabgabe, was für eine geringe Geräuschentwicklung und minimierten Stromverbrauch sorgt.
Die Netzteile der Nightjar-Serie verfolgen diese Ausrichtung dabei besonders konsequent. Wesentliches Unterscheidungsmerkmal zu den anderen Modellen von Silverstone ist der Verzicht auf eine aktive Belüftung. Damit arbeiten die Netzteile praktisch geräuschlos und bieten sich vorrangig für Ultra-Silent-Systeme an. Möglich wird die passive Kühlung durch eine minimale Wärmeentwicklung sowie eine effiziente Kühlkörperstruktur.
Bereits äußerlich unterscheidet sich das SST-NJ520 deshalb deutlich. Neben der silbernen Farbe sind besonders die Kühlrippen an der Unterseite ein wesentliches Differenzierungsmerkmal. Hierbei handelt es sich um einen Aluminiumkühlkörper, der über eine interne Struktur mit den Wärmequellen verbunden ist und auf diese Weise die Wärme über die große Oberfläche der Kühlrippen abgibt. Ein Teil der Wärme wird jedoch in den Gehäuseinnenraum abgegeben, weshalb auf eine Gehäusebelüftung nicht verzichtet werden sollte.
Damit sich die Wärmeentwicklung in Grenzen hält, spannt das Netzteil den Strom besonders effektiv um. Mit dem 80 PLUS-Platinum-Zertifikat ausgestattet, besitzt die 520 Watt Version des Nightjar einen sehr effizienten Wirkungsgrad von maximal 92 Prozent und erreicht bei halber Belastung (260 Watt) sogar 89 Prozent. Dies verringert den Stromverbrauch im Vergleich zu weniger effizienten Netzteilen und minimiert zugleich die Verlustleistung in Form von Wärme. Diese Fakten machen aus dem Silverstone Nightjar SST-NJ520 ein noch interessanteres Netzteil mit mehr Leistung und höherem Wirkungsgrad.
Mit 520 Watt ist das Netzteil für viele Konfigurationen gerüstet, wobei auch der ATX12V 2.3 Standard für eine hohe Kompatibilität bürgt. Auf zwölf Volt stehen 43 Ampere Stromstärke und516 Watt zur Verfügung. Sogar High-End-Grafikkarten finden dabei Anschluss, da zwei PCIe-Konnektoren vorhanden sind (2x 6+2-Pin). Die sonstigen Komponenten werden mit einem 20+4-Pin-, 4+4-Pin-, sechs SATA- und fünf 4-Pol Molex-Anschlüssen sowie einem Floppy-Anschluss angebunden. Das Netzteil ist dabei vollständig modular.
Technische Details:
Maße: 150 x 86 x 160 mm
Gewicht: 2,3 kg
Effizienz: Ø 89 %, max. 92 % inkl. 80 PLUS-Platinum-Zertifikat
Aktiv PFC (>0,99)
Formfaktor: ATX12V 2.3
Lebenserwartung: 100.000 h
Gesamtleistung: 520 Watt
3,3V: 20 A
5V: 20 A
3,3+5V: 100 W
12V: 43 A (516 W)
-12V: 0,5 A
5Vsb: 2,5 A
Anschlüsse (modular):
1x 20+4-Pin
1x 4+4-Pin ATX12V/EPS12V
2x 6+2-Pin PCIe
6x SATA
5x 4-Pol Molex
1x 4-Pin Floppy
Further links for

"SST-NJ520 Nightjar-Series, 80 PLUS Platinum - 520 Watt"
Videos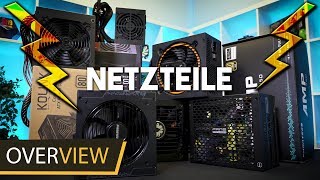 Technical Details
| | |
| --- | --- |
| PSU formfactor | ATX |
| Power category | 451 to 550 Watt |
| DC output (accurate) | 520 Watt |
| 12V power | 516 Watt |
| 12V Rail distribution | Single Rail |
| modular | yes (semi- or fully-modular), fully-modular |
| semi-passiv | passiv |
| 6+2-Pin PCIe | 2x |
| CPU power supply | 1x 4+4-Pin |
| 4-Pin connectors | 5x |
| SATA connectors | 6x |
| PCIe cable length max | 40-65 cm |
| CPU cable length max | 45-65 cm |
| 24Pin cable length max | 40-60 cm |
| PSU fan | passiv |
| Illumination | no |
| Colour | silver |
| Depth | 16 cm |
| Case fan controller | no |
| Software Interface (digital) | no |
| Efficiency 80Plus | 80 PLUS Platinum |
| Efficiency Class Cybenetics ETA | A |
| Volume Cybenetics LAMDA | A++ |
Awards
Gold is, finally, the Corsair RM-Series 550W (avg. 103 euros), a very quiet, efficient modular power that actually leaves nothing to be desired, and the SilverStone Nightjar SST-NJ520.

read more...

Mit dem Nightjar 520W hat SilverStone ein Passiv-Netzteil auf den Markt gebracht, welches neben einer sehr hohen Effizienz und sehr guten Performance auch ein ordentliches Gesamtpaket mitbringt

read more...

Silverstone offer the best value way to get a silent high performance system based off a quality Seasonic unit. If you're in the market for a passive power supply this is worth strong consideration.

read more...