Silverstone


SST-ST50F-ESB Strider Essential Series Bronze - 500 Watt
The Silverstone Strider essential series offers everything needed to build great performing PC's
proving quality and dependable PSUs can indeed be had at affordable prices.
Item number: NEST-103
EAN: 4710007221709
MPN: SST-ST50F-ESB
Manufacturer: Silverstone
Product information -
SST-ST50F-ESB Strider Essential Series Bronze - 500 Watt
Neue Version mit "80 PLUS Bronze"-Zertifikat für seine hohe Effizienz (bis zu 85 Prozent)!
Die Strider-Netzteile von Silverstone stellen die Silent-Reihe des Edel-Herstellers dar und werden in unzähligen Leistungsstufen angeboten. Damit stellen sie für nahezu alle Anwender eine perfekte Lösung bereit, die Leistung mit geringer Lautstärke verbinden wollen. Mit der Strider-Essential-Serie bietet Silverstone nun die gewohnten Vorteile, verbunden mit einer grundlegenden Ausstattung zu einem attraktiven Preis.
Das Gehäuse besitzt nur eine minimale Einbautiefe (14 cm), womit es auch bei älteren Gehäusen ohne Probleme verbaut werden kann, die mit den meist überlangen Spezifikationen aktueller PSUs oft überfordert sind. Ein Lüftergitter schützt den 120-mm-Ventilator, der je nach Belastung automatisch seine Drehzahl anpasst und somit für eine minimale Geräuschentwicklung sorgt.
Das SST-ST50F-ESB erreicht einen Wirkungsgrad von maximalen 85 Prozent und erhält damit die entsprechende begehrte Bronze-Plakette. Dies reduziert den Stromverbrauch gegenüber Netzteilen mit geringerer Effizienz. Zugleich wird die Wärmeabgabe gesenkt, was durch niedrigere Lüfterdrehzahlen wiederum einer geringen Lautstärke zugutekommt.
Statt einer mehrfach aufgesplitteten 12-V-Leitung verfügt diese Version über eine kräftige Single-Rail mit satten 37,5 Ampere. Damit liefert das 500-Watt-Netzteil genügend Stromstärke, um selbst übertaktete Einzelkomponenten zu versorgen.
Das Mainboard wird dabei von einem 24-Pin- sowie einem 4+4-Pin-Stecker versorgt. Für Grafikkarten stehen zwei Anschlüsse bereit. Ein 6-+2-Pin-PCIe- und ein 6-Pin-PCIe-Kontakt sind für Grafikkarten vorgesehen. Zusätzlich können sechs SATA-Laufwerke, drei 4-Pol-Molex-Devices und ein Floppy-Drive angeschlossen werden.
Technische Details:
Maße: 150 x 86 x 140 mm (B x H x T)
Gewicht: ca. 1,75 kg
Lüfter: 120 mm (min. 18 dB(A), automatische Steuerung)
Effizienz: max. 85 %, 80 PLUS Bronze Zertifikat
Active PFC (0,95)
Formfaktor: ATX12V 2.3
Lebenserwartung: 100.000 Stunden
Leistung: 500 Watt
+3,3V: 20 A
+5V: 20A
3,3V & +5V kombiniert: 103 W
+12V: 450 W/ 37,5 A
-12V: 0,3 A
+5Vsb: 2,5 A
Anschlüsse (fest):
1x 20+4-Pin ATX12V/EPS12V
1x 4+4-Pin ATX12V/EPS12V
1x 6-+2-Pin-PCIe
1x 6-Pin-PCIe
6x SATA
3x 4-Pol-Molex
1x Floppy
Further links for

"SST-ST50F-ESB Strider Essential Series Bronze - 500 Watt"
Videos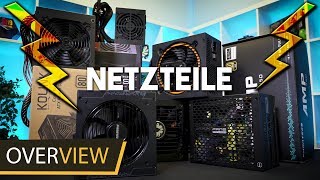 Technical Details
| | |
| --- | --- |
| PSU formfactor | ATX |
| Power category | 451 to 550 Watt |
| DC output (accurate) | 500 Watt |
| 12V power | 450 Watt |
| 12V Rail distribution | Single Rail |
| modular | no |
| semi-passiv | no |
| 6-Pin PCIe | 1x |
| 6+2-Pin PCIe | 1x |
| CPU power supply | 1x 4+4-Pin |
| 4-Pin connectors | 3x |
| SATA connectors | 6x |
| PCIe cable length max | 40-65 cm |
| CPU cable length max | 45-65 cm |
| 24Pin cable length max | 40-60 cm |
| PSU fan | 120 mm |
| Illumination | no |
| Colour | black |
| Depth | 14 cm |
| Case fan controller | no |
| Software Interface (digital) | no |
| Efficiency 80Plus | 80 PLUS Bronze |