Silverstone


SST-SX600-G Strider Gold Series - 600 Watt
The Highest power SFX unit on sale today. Fully modular for ease of use and cable management excellence.
Item number: NEST-100
EAN: 4710007221587
MPN: SST-SX600-G
Manufacturer: Silverstone
Product information -
SST-SX600-G Strider Gold Series - 600 Watt
Die Strider-Netzteile von Silverstone stellen die Silent-Reihe des Edel-Herstellers dar und werden in unzähligen Leistungsstufen angeboten. Damit stellen sie für nahezu alle Anwender eine perfekte Lösung bereit, die Leistung mit geringer Lautstärke verbinden wollen.
Nach Markteinführung des bahnbrechenden SFX-Netzteils im Jahr 2012 mit dem ST45SF-G forcierte SilverStone die technische Entwicklung mit einem weiteren, branchenprägenden Design im SX600-G noch weiter.
Dieses Netzteil mit kleinem Formfaktor hat exakt die gleichen Abmessungen wie sein Vorgänger, jedoch mit einer Steigerung der Leistungsdichte von 567 W pro Liter (im ST45SF-G) auf 756 W pro Liter. Das Ergebnis ist ein SFX-Netzteil in Standardgröße mit einer unglaublichen kontinuierlichen Leistung von 600 W - einem Niveau, das sämtliche Einzelgrafikartensysteme mit Leichtigkeit unterstützen kann.
Dank SFX-Format ist das SST-SX600-G vor allem für Mini-Gehäuse vorgesehen und bietet eine hohe Leistung bei minimalen Abmessungen. Über die mitgelieferte Austauschblende lässt es sich aber auch in ATX-Gehäusen montieren.
Neben der Leistungssteigerung ist das SX600-G zur deutlich verbesserten Kabelverwaltung in kleineren Gehäusen standardmäßig mit flexiblen, flachen Modularkabeln ausgestattet.
Es verfügt außerdem über semi-lüfterlose Funktionen, sodass der Lüfter während idealer Kleinlast oder inaktiver Zustände für vollständige Geräuschlosigkeit abgeschaltet bleiben kann.
Besonders die extrem hohe Effizienz (80 PLUS Gold!), die Stromstärke von 50 Ampere auf 12 Volt als auch das umfangreiche Anschlussarsenal in Form von komplett entfernbaren Kabeln stechen dabei deutlich aus dem SFX-Lager heraus, in dem sich normalerweise eher Netzteile tummeln, die für Low-End-Hardware ausgelegt sind.
Statt einer mehrfach aufgesplitteten 12-V-Leitung verfügt diese Version über eine sehr kräftige Singlerail mit satten 50 Ampere. Das Netzteil wird von einem 80-mm-Lüfter aktiv gekühlt, wobei dank einer sehr hohen durchschnittlichen Effizienz von 89,58 % relativ wenig elektrische Energie in Wärmeenergie umgewandelt wird.
Die individuell ansteckbaren Anschlüsse verdeutlichen die Leistungskraft des Netzteils: So stehen neben 20+4-Pin- und 4+4-Pin-ATX/EPS-Stecker auch zwei 6+2-Pin-PCI-Express-Anschlüsse zur Verfügung und über vier SATA-Stecker, zwei 4-Pol-Molex-Anschlüsse und einen Floppy-Connector werden Peripherie-Geräte wie HDDs oder Brenner versorgt.
Für SFF-Liebhaber ist das SX600-G ein wahrgewordener Traum, der den Komfort der SFX-Größe sowie sämtliche Spitzenfunktionen, die man von Highend-ATX-Netzteilen erwarten kann, in einem Produkt kombiniert.
Technische Details:
Maße: 125 x 63,5 x 100 mm (B x H x T)
Lüfter: 80 mm (automatische Steuerung)
Effizienz: Ø 89,58 %, max. 90,71 %, 80 PLUS Gold Zertifikat
Active PFC (> 0,9)
Formfaktor: SFX (ATX-kompatibel per Austauschrahmen)
Leistung: 600 W
+3,3V: 20 A
+5V: 15 A
+3,3V & +5V: 90 W
+12V: 50 A
-12V: 0,3 A
+5Vsb: 2,5 A
Anschlüsse (abnehmbar):
1x 20+4-Pin ATX12V/EPS12V
1x 4+4-Pin ATX12V/EPS12V
2x 6+2-Pin-PCIe
4x SATA
2x 4-Pol-Molex
1x Floppy
Mittlere Einsatzdauer: 100.000 h
Further links for

"SST-SX600-G Strider Gold Series - 600 Watt"
Videos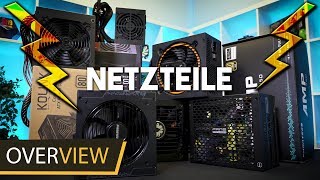 Technical Details
| | |
| --- | --- |
| PSU formfactor | SFX |
| Power category | 551 to 650 Watt |
| DC output (accurate) | 600 Watt |
| 12V power | 600 Watt |
| 12V Rail distribution | Single Rail |
| modular | yes (semi- or fully-modular), fully-modular |
| semi-passiv | yes |
| 6+2-Pin PCIe | 2x |
| CPU power supply | 1x 4+4-Pin |
| 4-Pin connectors | 2x |
| SATA connectors | 4x |
| PCIe cable length max | 40-65 cm |
| CPU cable length max | up to 45 cm |
| 24Pin cable length max | up to 40 cm |
| PSU fan | 80 mm |
| Illumination | no |
| Colour | black |
| Depth | 10 cm |
| Case fan controller | no |
| Software Interface (digital) | no |
| Efficiency 80Plus | 80 PLUS Gold |