SteelSeries


Mauspad QcK Limited Mauspad - M
Großes und sehr flaches Gaming Pad QcK von SteelSeries
Item number: GAMA-743
EAN: 5707119031196
MPN: 63400
Manufacturer: SteelSeries
Product information -
Mauspad QcK Limited Mauspad - M
Für alle diejenigen, denen Kunststoffmauspads zu unkonventionell sind, ist das Steelpad QcK eine hervorragende Alternative. Mit der
Limited Edition
führt SteelSeries eine stylische neue Farbvariante der erfolgreichen und beliebten SteelSeries QcK Gaming-Mauspads ein. Das dekonstruierte Camouflage-Design liefert mit seinem technoiden Look eine ideale Ergänzung für ein individuelles Setup.
Das stoffbeschichtete Mauspad bietet dabei ein hervorragendes Spielgefühl. Durch den mikrogewebten Stoff entsteht ein angenehm weiches Feeling, was vor allem auch Lowsense Gamern zugutekommt. Auch der Verschleiß des SteelSeries QcK ist durch das gewählte Material und die vernähten Außenkanten äußerst gering.
Sowohl Kugel-, als auch optische Mäuse können auf dem Spielfeld problemlos und äußerst präzise verwendet werden. Anders als bei Hartplastik-Pads treten bei der Benutzung kaum Geräusche auf und durch die besonders rutschfeste Unterlage wird jede kleinste Bewegung der Maus optimal auf dem Bildschirm wiedergegeben.
Technische Details:
Maße: 320 x 270 x 3 mm (B x T x H)
Gewicht: ca. 60 g
Material: Mikrogewebter Stoff
Design: Limited Edition
Further links for

"Mauspad QcK Limited Mauspad - M"
Videos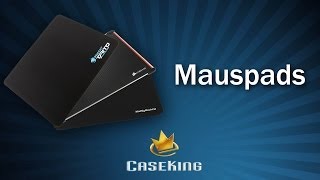 Awards
+ Very nice and smooth surface
+ Stitched edges
+ No tracking issues
+ No raised logo on the surface
+ Great build quality
+ Good backside

read more...