SteelSeries


Sensei 310 Ambidextrous Gaming Maus - schwarz
Schwarze Gaming-Maus für Rechts- und Linkshänder mit eigens entwickeltem TrueMotion3-Sensor & 12.000 DPI
RGB-Beleuchtung und acht programmierbare Tasten
Item number: GAMO-724
EAN: 5707119031936
MPN: 62432
Manufacturer: SteelSeries
Product information -
Sensei 310 Ambidextrous Gaming Maus - schwarz
Leistungssportler können ihre volle Leistungsfähigkeit nur mit einer perfekten Ausrüstung unter Beweis stellen. Auch im eSport ist eine professionelle Ausstattung daher essentiell und SteelSeries gehört in diesem Segment zu den führenden Anbietern. Mit der optischen SteelSeries Sensei 310 ein professionelle Gaming-Maus vor, die kompromisslos auf die Anforderungen wettbewerbsorientierter Spieler ausgelegt wurde.
Mit ihrem eigens für eSportanforderungen entwickelten optischen Custom TrueMove3-Sensor gewährleistet die Sensei 310 mit bis zu 12.000 DPI variabler Auflösung und echtem 1:1-Tracking in jeder Situation die optimale Kontrolle über das Spielgeschehen. Das für beidseitig ausgelegte Design eignet sich für alle Griff-Stile und ihre geringes Gewicht von nur 92 Gramm erlaubt präzise und agile Bewegungen. Dazu kommt ein 32-bit ARM-Prozessor und ein synchronisierbares RGB-LED-Backlight mit direkt im Mausspeicher ablegbaren Beleuchtungs- und Tastenbelegungsprofilen.
Die SteelSeries Sensei 310 Gaming-Maus im Überblick:
Ergonomisches beidhändiges Design für alle Griffstile
Optischer Custom TrueMove3-Sensor mit 100 - 12.000 DPI & 1:1-Tracking
Leichte Konstruktion mit nur 92 Gramm Gewicht
Extrem haltbare Omron-Switches mit 50 Millionen Klicks Haltbarkeit/li>
8 programmierbare Tasten & 32-bit ARM Prozessor
Synchronisierbares Prism RGB-LED-Backlight mit dynamischen Beleuchtungseffekten
Flexibles Gummi-ummanteltes Kabel für optimale Bewegungsfreiheit
Profi-Gaming-Maus für ambitionierte eSportler
Die Sensei 310 ist sowohl für Rechts- als auch Linkshänder geeignet und bietet neben geschmeidigen Konturen und einem ansteigenden Mausrücken auch eine Soft-Touch-Oberfläche, die mit einem Anti-Schweiß-Überzug versehen ist. Ergänzt durch die ergonomisch angelegten Tasten der Maus und die Gummierungen aus Silikon an den Seiten, ist die Sensei eine absoluten Empfehlung für professionelle eSportler und alle die es werden wollen.
Die hochwertigen mechanischen Switches von Omron bieten eine enorme Lebenszeit von mindestens 50 Millionen Klicks, bevor es überhaupt zu Ausfällen kommt. Dabei bleibt der Mausklick dezent leise, während eine schnelle, taktile Empfindlichkeit gewährleistet wird. Für ein verbessertes Klick-Gefühl sind die beiden Haupttasten im Split-Trigger-Design ausgeführt.
Im Herzen der Sensei 310 steckt ein eigens entwickelter TrueMove3-Sensor mit ARM-Prozessor-Unterstützung und echtem 1:1-Tracking, was präziseste Bewegungsabläufe verspricht. Mit der Auflösung von 100 bis 12.000 DPI und der Möglichkeit mit 50 G theoretisch auf über 890 cm/Sek. beschleunigen zu können, macht den Sensor zum Besten seiner Klasse. Mit einer besonders niedrigen Lift-Off-Distanz soll der professionelle Sensor zudem besonders präzise und akkurat arbeiten.
Mit der SteelSeries Engine 3, einer Steuerungssoftware für SteelSeries-Produkte, lassen sich in unendlich vielen Profilen DPI-Stufe und Abfragerate einstellen, acht Tasten programmieren oder die Geschwindigkeit und Beschleunigung der Maus bestimmen sowie alle Werte im internen Speicher der Maus ablegen. Aber auch ohne die Software gewährleistet der interne Speicher in Verbindung mit dem 32-bit ARM-Prozessor dass alle Einstellungen auf der Maus gespeichert werden können.
Zusätzlich lässt sich auch die RGB-Beleuchtung der Maus einstellen. Diese ist in zwei verschiedenen Bereichen der Maus zu finden (Handauflage und Scroll-Rad) und kann individuell mit 16,8 Millionen Farben in mehreren Helligkeitsstufen und drei verschiedenen Lichteffekten sowie unterschiedlichen Intervallen angepasst werden. Beide Bereiche lassen sich unabhängig voneinander mit unterschiedlichen Beleuchtungsfarben- und Mustern ansteuern.
Technische Details:
Maße: ca. 70 x 39 x 125 mm (B x H x T)
Gewicht: 92 g
Farbe: Schwarz
Sensor: TueMove3
Sensortyp: Optisch
Auflösung: 100 - 12.000 DPI (regelbar in 12 Stufen)
Beschleunigung: 50 G
Geschwindigkeit: > 890 cm/sek (mit SteelSeries QcK-Mauspad)
Anschluss: USB

Kabellänge: 2 m (Gummi)
Tasten: 8
Lebensdauer: 50 Mio. Klicks
Features:
Maus für Rechts- und Linkshänder
Echtes 1:1 Tracking
Niedrige Lift-Off-Distanz
Eigens entwickelter optischer Sensor
Einstellbare Beleuchtung mit 16,8 Mio. Farben
Enorm viele Einstellungen in unendlich vielen Profilen über Software
Further links for

"Sensei 310 Ambidextrous Gaming Maus - schwarz"
Videos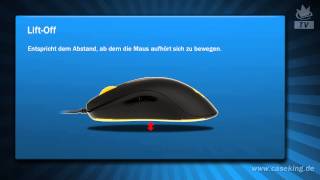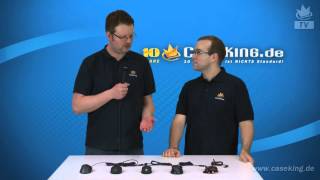 Technical Details
| | |
| --- | --- |
| Form Factor | ambidextrous, right-handed, left-handed |
| Number of Buttons | more than 6 |
| Sensor | optical |
| DPI Adjustment | yes |
| DPI max. | 12 000 DPI |
| Cable length | 190 to 209 cm |
| Connectivity | USB |
| Primary colour | black |
| Illumination | yes |
| Illumination colour | RGB (selectable) |
| Weight in g | up to 100 g |
| Makro Support | yes |
Awards
Fazit: Die SteelSeries Sensei 310 glänzt in der Praxis. Sie lässt sich einwandfrei bedienen, liegt gut in der Hand und meistert jede Herausforderung.

read more...