Super Flower


Leadex 80 PLUS Platinum Netzteil - 1600 Watt
Superflower
one of the worlds leading power supply manufacturers have added the Leadex 1600W Platinum to their range
one of the highest wattage Platinum rated PSU's on the market.
Item number: NESF-032
EAN: 4711213443688
MPN: SF-1600F14HP(BK)
Manufacturer: Super Flower
Product information -
Leadex 80 PLUS Platinum Netzteil - 1600 Watt
Super Flower galt in den vergangenen Jahren als
der
Geheimtipp im Netzteilbereich. Insider empfahlen die in Europa weniger bekannte Brand wegen ihrer extrem hochwertigen Power Supply Units (PSUs), die nicht nur eine überdurchschnittlich sichere Energieversorgung gewährleisten, sondern dabei auch noch ganz vorne bei den Effizienzwerten mitspielen. Eine große Rolle für Modder und Ästheten war und ist zudem der oft hohe Style-Faktor bei Super Flower - und ganz besondere Bedeutung kommt dem herausragenden Preis-Leistungs-Verhältnis zu!
Für Caseking sind die vielen Qualitäten der Ausnahmenetzteile Gründe genug, nun eine breite Palette an Serien und Modellen von Super Flower zu präsentieren. Die Leadex 80 PLUS Platinum Series versetzt dabei in erster Linie durch ihren extrem hohen Wirkungsgrad von 92 % und mehr in Erstaunen. Über dem Platinum-Label vergibt die "80 PLUS"-Initiative lediglich das Titanium-Zertifikat, allerdings findet sich derzeit kaum ein Netzteil, das die vorgegebenen Werte auch erbringen kann - Speerspitze der Entwicklungen auch dort: Super Flower.
Das Know-how dazu gewinnt die Marke mittels Spitzen-Produkten wie den Leadex-PSU-Modellen, die außerdem auftrumpfen mit extremer Leistungsfähigkeit für Multi-VGA- und Overclocking-Systeme, DC-DC-Technik für eine unabhängige Spannungsregulation der Schienen, vollständig abnehmbaren Kabeln, einem großen 140-mm-Silentlüfter mit Semi-passiv-Modus und umweltverträglichen Materialien (ohne Bleigehalt sowie konform zu RoHS und WEEE). Klare Kaufargumente stellen zudem die integrierten Schutzschaltungen*, japanische Qualitätskondensatoren (105 °) oder die fünf Jahre Herstellergarantie dar.
Die hier angebotene Version des Leadex Platinum bietet eine monströse Leistung von bis zu 1.600 Watt auf, entsprechend riesig ist die zentrale 12-Volt-Singlerail dimensioniert, die allein 133,3 Ampere liefert, um Prozessor und Grafikkarten (locker mehrere im CrossFireX- bzw. SLI-Verbund) in jeder erdenklichen Leistungslage zuverlässig zu versorgen. Anschlüsse sind dafür en masse vorhanden, neben dem 24-Pin- etwa auch zwei weitere 8-Pin-Mainboard-Stecker, 14 Grafikkarten-Konnektoren und 14 SATA-Anschlüsse für Festplatten und SSDs.
Dank des vollmodularen Kabelmanagements kommt der berüchtigte Kabelsalat gar nicht erst auf, denn hier ist nur im Gehäuse, was auch für den Betrieb nötig ist und das Verlegen der gesleevten Leitungen wird zum Kinderspiel. Zudem verfügt das Netzteil über eine intelligente, thermogesteuerte Lüfterregelung, die sich per Schalter auf der Rückseite des Netzteils auf zwei Modi einstellen lässt. Im AUTO-Betrieb startet der Lüfter im niedrigen Drehzahlbereich und passt sich schließlich automatisch der Temperatur an.
Der ECO-Modus (im Auslieferungszustand voreingestellt) ermöglicht einen semi-passiven Betrieb, da der Lüfter zu Beginn nicht aktiv ist. Erst ab einer Temperatur von 55 Grad Celsius beginnt der 140-mm-Silentlüfter mit entspannten 750 U/min zu drehen, passt sich anschließend der Temperatur an und schaltet sich bei einer Kühlung von unter 45 Grad wieder vollständig ab.
Technische Details:
Maße: 150 x 86 x 220 mm (B x H x T)
Lüfter: 140 mm (automatische Steuerung, semi-passiv)
Farbe: Schwarz (Netzteil, Lüfter)
Effizienz: max. 92 % (115V) / max. 94 % (230V), 80 PLUS Platinum Zertifikat
Active PFC
Formfaktor: ATX12V 2.2/EPS12V 2.92
Leistung: 1.600 W
+3,3V: 24 A
+5V: 24 A
+3,3V & +5V kombiniert: 120 W
+12V: 1.599,6 W / 133,3 A
-12V: 6 W / 0,5 A
+5Vsb: 15 W / 3,0 A
Anschlüsse (abnehmbar):
1x 20+4-Pin ATX12V/EPS12V
1x 8-Pin EPS12V
1x 4+4-Pin ATX12V/EPS12V
9x 6+2-Pin-PCIe
5x 6-Pin-PCIe
14x SATA
5x 4-Pol-Molex
2x Floppy
Herstellergarantie: 5 Jahre
* Schutzschaltungen allgemein:
Überlastschutz (OPP), Überhitzungsschutz (OTP).
Schutzschaltungen auf +12V:
Kurzschlussschutz (SCP), Überspannungsschutz (OVP), Unterspannungsschutz (UVP).
Schutzschaltungen auf +3,3V und +5V:
Kurzschlussschutz (SCP), Überspannungsschutz (OVP), Unterspannungsschutz (UVP), Überstromschutz (OCP).
Further links for

"Leadex 80 PLUS Platinum Netzteil - 1600 Watt"
Videos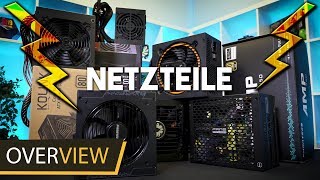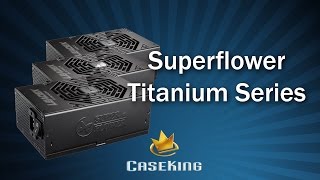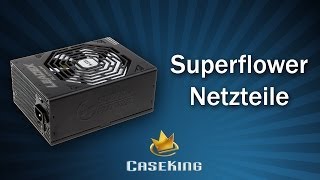 Technical Details
| | |
| --- | --- |
| PSU formfactor | ATX |
| Power category | more than 1200 Watt |
| DC output (accurate) | 1600 Watt |
| 12V power | 1599,6 Watt |
| 12V Rail distribution | Single Rail |
| modular | yes (semi- or fully-modular), fully-modular |
| semi-passiv | yes, selectable |
| 6-Pin PCIe | 5x |
| 6+2-Pin PCIe | 9x |
| CPU power supply | 1x 4+4-Pin, 1x 8-Pin |
| 4-Pin connectors | 5x |
| SATA connectors | 14x |
| PSU fan | 139/140 mm |
| Illumination | no |
| Colour | black |
| Depth | 22 cm |
| Case fan controller | no |
| Software Interface (digital) | no |
| Efficiency 80Plus | 80 PLUS Platinum |
Awards
Syndrome-OC - SUPER FLOWER LEADEX 1600W 80PLUS PLATINUM

Once again, Super Flower proposes a model that brings together all the qualities one would expect of a 80Plus Platinum certified block and a power of 1600 Watts, ie: quality, finish, performance, good ideas, aesthetics. In short, the full house on all the important points.