Super Flower


Leadex 80 Plus Platinum Netzteil, schwarz - 550 Watt
Schwarzes 550-W-Netzteil von Super Flower mit 80 Plus Platinum
komplett abnehmbaren Kabeln & semi-passiv-Modus.
Item number: NESF-047
EAN: 4711213444135
MPN: SF-550F14MP black
Manufacturer: Super Flower
Product information -
Leadex 80 Plus Platinum Netzteil, schwarz - 550 Watt
Super Flower galt in den vergangenen Jahren als
der
Geheimtipp im Netzteilbereich. Insider empfahlen die in Europa weniger bekannte Brand wegen ihrer extrem hochwertigen Power Supply Units (PSUs), die nicht nur eine überdurchschnittlich sichere Energieversorgung gewährleisten, sondern dabei auch noch ganz vorne bei den Effizienzwerten mitspielen. Eine große Rolle für Modder und Ästheten war und ist zudem der oft hohe Style-Faktor bei Super Flower - und ganz besondere Bedeutung kommt dem herausragenden Preis-Leistungs-Verhältnis zu!
Für Caseking sind die vielen Qualitäten der Ausnahmenetzteile Gründe genug, nun eine breite Palette an Serien und Modellen von Super Flower zu präsentieren. Die Leadex 80-Plus-Platinum-Series versetzt dabei in erster Linie durch ihren extrem hohen Wirkungsgrad von über 92 % und mehr in Erstaunen. Über dem Platinum-Label vergibt die "80 Plus"-Initiative lediglich das Titanium-Zertifikat, allerdings findet sich derzeit kaum ein Netzteil, das die vorgegebenen Werte auch erbringen kann - Speerspitze der Entwicklungen auch dort: Super Flower.
Das Know-How dazu gewinnt die Marke mittels Spitzen-Produkten wie den Leadex-PSU-Modellen, die außerdem auftrumpfen mit extremer Leistungsfähigkeit für Gaming- und Overclocking-Systeme, vollständig abnehmbaren Kabeln und einem großen 135-mm-Silentlüfter samt semi-passiver Lüftersteuerung. Klare Kaufargumente stellen zudem die integrierten Schutzschaltungen*, japanische Qualitätskondensatoren (105 °) oder die fünf Jahre Herstellergarantie dar.
Die hier angebotene schwarze Version des Leadex Platinum bietet selbst unter anspruchsvollen Umgebungsbedingungen echte 550 Watt Dauerleistung. Damit bringt Super Flower Top-Technik in die mittlere Wattklasse. Dank DC-DC-Technik und erstklassiger Spannungsregulation kann die gesamte Nennleistung auf der +12-Volt-Leitung abgerufen werden. Die Leadex Platinum eignen sich daher perfekt für aktuelle Komponenten und Übertaktungsprojekte. Passend dazu ist die Kabelausstattung ausreichend dimensioniert, um Strom und Spannung an die PC-Komponenten zu bringen.
Dank des vollmodularen Kabelmanagements kommt der berüchtigte Kabelsalat gar nicht erst auf, denn hier ist nur im Gehäuse, was auch für den Betrieb nötig ist und das Verlegen der gesleevten Leitungen wird zum Kinderspiel. Dem optimierten Airflow sei Dank, rotiert der große 135-Millimeter-Lüfter noch langsamer - oder gar nicht. Solange die Elektronik-Temperatur ausreichend niedrig liegt, kann der Netzteil-Lüfter auf Wunsch komplett stillstehen. Die neuen Leadex-Modelle zählen so im gesamten Leistungsbereich zu den leisesten Angeboten am Markt. High-End-Technik trifft geniale Optik mit beleuchteten Kabelbuchsen - ein echtes Super-Flower-Produkt. Die Herstellergarantie beträgt fünf Jahre.
Technische Details:
Maße: 150 x 86 x 165 mm (B x H x T)
Lüfter: 135 mm (doppeltes Kugellager, automatische Steuerung, semi-passiv-Modus)
Farbe: Schwarz (Netzteil), Weiß (Lüfter)
Beleuchtung: Anschlüsse
Effizienz: mindestens 92/90/89 Prozent bei 50/20/100 Prozent Last (115 Volt), 80 Plus Platinum Zertifikat. Effizienz im europäischen 230-Volt-Netz liegt bis zu zwei Prozentpunkte höher.
Active PFC
Formfaktor: ATX12V 2.32/EPS12V 2.92
Leistung: 550 W
+3,3V: 20 A
+5V: 20 A
+3,3V & +5V kombiniert: 100 W
+12V: 549,6 W / 45,8 A
-12V: 6 W / 0,5 A
+5Vsb: 12,5 W / 2,5 A
Anschlüsse (abnehmbar):
1x 20+4-Pin ATX12V/EPS12V
1x 4+4-Pin ATX12V/EPS12V
3x 6+2-Pin-PCIe
7x SATA
4x 4-Pol-Molex

Herstellergarantie: 5 Jahre
* Schutzschaltungen auf +12V:
Kurzschlussschutz (SCP), Überspannungsschutz (OVP), Unterspannungsschutz (UVP), Überlastschutz (OPP).
Schutzschaltungen auf +3,3V und +5V:
Kurzschlussschutz (SCP), Überspannungsschutz (OVP), Unterspannungsschutz (UVP), Überlastschutz (OPP), Überstromschutz (OCP).
Further links for

"Leadex 80 Plus Platinum Netzteil, schwarz - 550 Watt"
Videos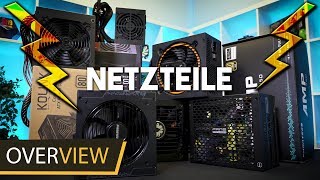 Technical Details
| | |
| --- | --- |
| PSU formfactor | ATX |
| Power category | 451 to 550 Watt |
| Power (exact) | 550 Watt |
| 12V power | 549,6 Watt |
| 12V Rail distribution | single rail |
| Modular PSU | yes (semi or fully modular), fully modular |
| Semi passiv PSU | yes, switchable |
| 6+2-Pin PCIe | 3x |
| CPU power supply | 1x 4+4-Pin |
| 4-Pin connectors | 4x |
| SATA connectors | 7x |
| max. PCIe cable length | 40 - 65 cm |
| max. CPU cable length | 45-65 cm |
| max. 24-Pin cable length | 40 - 60 cm |
| PSU fan | 135 mm |
| Lighting | yes |
| Colour | black |
| Installation depth | 17 cm |
| Case fan controller | no |
| Software Interface (digital) | no |
| Efficiency 80Plus | 80 PLUS Platinum |
Awards
Super Flower makes some of the best power supplies in the world and their Leadex Platinum 550W is a prime example of just how great they can be. To have the high-end performance of a much more expensive unit at a wattage and price range that would suit virtually any single GPU system configuration, with headroom for dual graphics cards on more modern and efficient GPUs is simply fantastic.

read more...

+ Vollmodulares Kabelmanagement mit beleuchteten Anschlüssen
+ Viele Anschlüsse und lange Kabel
+ Hochwertige Elektronik
+ Schutzschaltungen greifen rechtzeitig
+ Sehr gute Spannungsregulation und hervorragende Restwelligkeit
+ Sehr leise im semipassiven Betrieb
+ 5 Jahre Garantie und guter Support

read more...