Thermaltake


Engine 17 Low-Profile CPU Cooler
Ultra-small low-profile CPU cooler from Thermaltake
Designed for CPUs up to 35 Watt TDP
Suitable for HTPC- and Mini-AIO systems and U1-Server Racks
Nickel-plated copper and aluminium alloy
Compatible with Intel 115x sockets
Item number: CPTT-074
EAN: 4711246872646
MPN: CL-P051-AL06SL-A
Manufacturer: Thermaltake
Product information -
Engine 17 Low-Profile CPU Cooler
The tiny
Engine 17 CPU cooler from Thermaltake
is a mere 17 mm high, that is to say, a
low profile CPU cooler
in the truest sense of the word. In terms of where such a cooler might come in useful, Thermaltake suggests
Mini PCs, HTPCs as well as All-In-One PCs and even 1U server racks
. This tiny unit still manages to offer a
35 Watt TDP
. To achieve this, Thermaltake paid extra attention to the types of materials utilised in its manufacturing: Even the fan itself includes
40 rotos made from an aluminium alloy
that enable waste heat to be exhausted effectively.
The Engine 17 CPU Cooler from Thermaltake at a Glance:
Extremely low profile CPU cooler in copper and a special aluminium alloy
Just 17 mm high and 91,5 mm across
Heatsink and rotor in metal for maximum heat dissipation efficiency
Designed for processors with up to a 35 Watt TDP
Compatible with Intel LGA 1156, 1155, 1151 and 1150
Straightforward installation
All Aluminium Alloy!
The
low profile CPU cooler known as "Engine 17" from Thermaltake
uses
over one hundred fins
while retaining its ability to fit into the smallest of PCs. These fins are then cooled by an equally diminutive fan. This also consists of an aluminium alloy, and even the rotor and base are metal as well. As such it not only provides effective cooling for the delicate fins, but it also helps it serve as a heatsink.
Direct CPU contact is possible thanks to a
nickel-plated copper base plate
. The heat sink is placed on top and the fan is located in the middle of the 119 fins above its thin base. The
Engine 17
draws cool air from above and releases the heated air laterally.
Quiet and effective fan
The fan itself is controlled
by PWM
and connected to the motherboard via the usual
4-pin connector
. With a
flow volume of 15.1 m³/h
and a
static pressure of 2.4 mm H2O
the small fan removes hot air. It even remains particularly quiet. The
maximum 23 dB(A) at 2,500 RPM
correspond approximately to a quiet whisper. This is why the
Engine 17
is particularly suitable for use in Mini-PCs, but also in HTPCs on stereo shelves in the living room.
<
Not only because of its
low height of 17 mm
, but also because of the equally small
diameter of 91.5 mm
, the
Engine 17
manages not to obstruct or interfere with any RAM sticks - even on small motherboards. Additionally, it is extremely easy to install and the four enclosed screws can be installed in no time.
Technical Details:
Dimensions: 91,5 x 17 x 91,5 mm (W x H x D)
Weight: 205 g
Material: Nickel-plated copper (base plate), Aluminium alloy (fins, fan)
Colour: Silver
TDP: 35 W
Fan: 1x 60 mm (12,6 mm high)
Connection: 4-Pin PWM
RPM: 1.500 to 2.500
Volume: 11 - 23 dB(A)
Airflow: max. 15,1 m³/h
Static pressure: max. 2,4 mm H2O
Compatibility:
Intel Socket 1150, 1151, 1155, 1156
Manufacturer's Guarantee: 2 Years

Further links for

"Engine 17 Low-Profile CPU Cooler"
Videos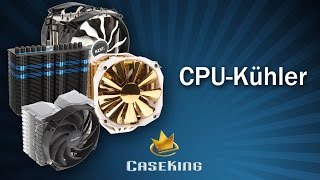 Technical Details
| | |
| --- | --- |
| CPU socket | 1150, 1151, 1155, 1156 |
| CPU cooler type | Top Blower |
| Fan connector | 4 Pin (PWM) |
| CPU cooler width (accurate) | 91,5 mm |
| CPU cooler height (accurate) | 17 mm |
| CPU cooler depth (accurate) | 91,5 mm |
| CPU cooler width | 90 to 99 mm |
| CPU cooler height | up to 50 mm |
| CPU cooler depth | 90 to 99 mm |
| Material base plate | nickel-plated copper |
| Material heat sink | aluminium |
| Weight in g (exact) | 205 |
| Weight in g | 200 - 300 g |
| Max rpm (exact) | 2500 U/min |
| Min rpm (exact) | 1500 U/min |
| Max noise level (exact) | 23 dB(A) |
| Min Noise Level (exact) | 11 dB(A) |
| Max air volume (exact) | 15,1 m³/h |
| Max rpm | 2500 - 2999 U/min |
| Min rpm | 1500 - 1749 U/min |
| Max noise level | 20 - 24 dB(A) |
| Min Noise Level | 10 - 14 dB(A) |
| Max air volume | up to 25 m³/h |
| CPU cooler fan(s) included | 1x 60 mm |
| Heat sink colour | silver |
| Fan colour | silver |
| Additional fan mounting | no |
| Illumination | no |
| Approved for | active air flow |