Thermaltake


Level 20 Showcase - Black
Super tower in three-compartment design
aluminium and tempered glass panels
modular construction
3x 140 mm RGB fans & 2x LED strip pre-installed
up to 480 mm radiators
vertical GPU- & radiator mounting
10x 3,5" HDD or 11x 2,5" SDD
Item number: GEXA-282
EAN: 4711246873261
MPN: CA-1J9-00F9WN-00
Manufacturer: Thermaltake
Product information -
Level 20 Showcase - Black
Attention: Due to logistical reasons, delivery only possible via freight!
Due to product's weight, delivery is only possible exclusively by means of a
haulier
, irrespective of which delivery method is selected at checkout. We appreciate your understanding and patience in this matter, due to the fact that this is the only method that ensures the product's safe and secure arrival without any complications. After receiving payment, the shipping and delivery date will be organised via telephone.
---
The Thermaltake Level 20 Super-Tower:
The
Thermaltake Level 20
is a unique, one-of-a-kind show case with extremely impressive looks and several technical refinements. As such, components are enclosed within three chambers each equipped with tempered glass swing doors. The pre-installed
3 Riing Plus 14 RGB fans and two LED strips incl. controller
illuminate the case's interior with their
addressable RGB lighting
. The
RGB effects can be configured via voice control
, moreover this function is even compatible with Amazon's Alexa. This means the lighting can even be customised in accordance with the weather in your local area or
synchronised via Razer's Chroma software to match your peripherals
should you prefer.
The Thermaltake Level 20 Showcase at a Glance:
Swappable tempered glass panels in tool-free swing door implementation
Fits motherboards up to E-ATX form factor
Vertical and horizontal PSU installation
Includes 3x Riing Plus 14 RGB fans & 2x LED strips
Up to 8x 120 mm- or 6x 140 mm fans
Space for a 480 mm radiator plus pumps
Vertical GPU mounting including riser cable
I/O Panel with 4x USB 3.0 1x USB 3.1 Type C
10x 3,5" HDD or 11x 2,5" SDD
Hardware Options in the Thermaltake Level 20:
The case offers a total of
eight horizontal and two vertical PCI slot brackets
. Thanks to
the included riser cable, the graphics card can also be installed vertically
. The transparent side window of the large compartment allows users to admire their high-end gaming graphics card and other hardware in all its glory. The case is also capable of holding a thick radiator and fans alongside a GPU up to 26 cm long - or even 41 cm, if users forego a radiator in the front.
Motherboards up to E-ATX
can fit in the motherboard tray and in terms of CPU cooling, coolers up to 200 mm in height are compatible.
The side-facing panels of the three compartments are made from
4 mm thick tempered glass
and allow an unobstructed view of the case's interior. The side panels are
attached onto hinges
, which allow them to open 180° wide, or even remove them entirely and use the case's modular design to allow anodised aluminium panels to be installed instead. Colour-wise, the case is covered in black and premium silver accents. As such, a stylish power supply would fit in perfectly in this instance, and the upper PSU compartments is implemented with adjustable brackets to enable the
PSU to be mounted horizontally or vertically
. Power supplies with their own RGB lighting and fans will be of particular interest to owners of this case.
Air- and Watercooling Options in the Level 20:
Apart from the unique design,
Thermaltake
has put a lot of emphasis in the
Level 20
on enabling excellent airflow by means of large mesh surfaces. In addition to the three pre-installed
140 mm fans
, the primary- and forward chambers are able to hold any number of water cooling components - or even more fans should you prefer. In the LCS compartment at the front, users can install either four 120 mm- or three 140 mm fans, while the main compartment in the front supports up to three 120 mm-, two 140- and one 120- or 140 mm in the rear.
For fans of custom watercooling solutions however, the
Level 20
really offers a
multitude of mounting points for radiators, pumps and reservoirs
. In the forward LCS compartment, 480- or 420 mm models can be fitted. The modular design also allows owners to swap out the aluminium and tempered glass panels as well as the radiator bracket if needed. RGB fans look especially good when mounting components on a radiator to one side. The main compartment in the front includes space for 280- or 260 mm radiators, with 120- or 140 mm models fitting in the rear. On the bottom of the LCS compartment, the case even includes a mounting bracket specifically for reservoirs.
Extensive RGB Lighting with a Variety of Control Options
The absolute highlight of the
Thermaltake Level 20
show case is formed by the
extensively configurable and customisable, digitally addressable RGB lighting
on the Riing fans and LED strips. The bundled controller hub, connected to the motherboard via USB header, allows components to be controlled and synchronised using the TT RGB Plus software and app. Whether we're talking about synchronisation options i.e with temperatures, games, or Razer Chroma-capable products, there's virtually nothing you can't do here. Additionall the case even includes
voice control and synchronisation via Amazon Alexa
, which can synchronise the fans with the weather forecast. Needless to say, users are free to set their own extensive speed- and lighting profiles.
3,5- and 2,5" drives can be fitted in multiple locations inside the case. The LCS chamber in the front allows for up to six 3,5" or 2,5" hard drives. Alternatively, users can discretely stow them away on the reverse of the motherboard tray in the main compartment, where either up three 2,5" SSDs or two 3,5" HDDs can be screwed in. The floor of the main compartment allows for two 2,5- or 3,5" drives to be installed. The I/O panel on the upper light side includes the now obligatory audio jacks and power/reset buttons as well as
four USB 3.0 ports
. Moreover, the case also includes a modern
USB 3.1 Type C port
that enables users to plug in devices in either orientation, putting an end to turning around your USB key until it fits! Of course,
six removable dust filters
are also included.
Technical Details:
Dimensions: 732 x 280 x 688 mm (W x H x D)
Weight: approx. 32 kg
Material: Steel (SPCC), tempered glass (4 mm), plastic
Colour: Black, Space Gray
Form factor: E-ATX, ATX, Micro-ATX, Mini-ITX
Total possible fans:
4x 120 mm / 3x 140 mm (forward compartment)
3x 120 mm / 2x 140 mm (main compartment)
1x 120 mm oder 1x 140 mm (back of main compartment)
Pre-installed:
2x 140 mm Riing Plus 20 RGB (front)
1x 140 mm Riing Plus 14 RGB (rear)
Radiator Mountings (forfeits fan slots):
1x 480 or 420 mm (forward compartment)
1x 360 or 280 mm (forward main chamber)
1x 120 oder 140 mm (front of rear compartment)
Filters: Right & left sides of front chamber, front main chamber, lower section of main chamber, bottom of main chamber (each removable)
Drive bays:
6x 3,5" or 6x 2,5" (internal; HDD cage forward compartment)
2x 3,5" or 2x 2,5" (internal; HDD bracket bottom of main chamber)
2x 3,5" or 3x 2,5" (internal; HDD bracket back of motherboard tray)
PSU: 1x Standard ATX (optional)
Expansion slots: 8+2
I/O Panel:
1x USB 3.1 Type C
4x USB 3.0
1x Audio In/Out
Max GPU length: 260 mm (with thick radiator + fan), 310 mm (without radiator)
Max PSU length: 220 mm (without fan)
Max CPU cooler height: 200 mm
Further links for

"Level 20 Showcase - Black"
Videos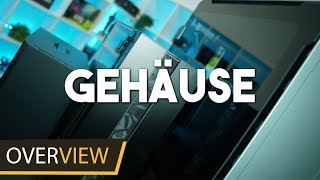 Technical Details
| | |
| --- | --- |
| Case type | Big-Tower |
| Form factor | E-ATX, ATX, Micro-ATX, White |
| Colour | black, silver |
| Primary colour | silver |
| Secondary colour | black |
| Width (exact) | 280 |
| Height (exact) | 688 |
| Depth (exact) | 732 |
| Width | 200 - 300 mm |
| Height | 600 - 700 mm |
| Depth | 700 - 800 mm |
| Weight (exact) | 32 kg |
| Weight | 32 to 34 kg (70.5 to 74.9 lbs) |
| Material | plastic, aluminium, steel, Tempered Glass / Hartglas |
| max. CPU Kühler Höhe (exakt) | 200 mm |
| max. Grafikkarten Länge (exakt) | 260 mm, 310 mm |
| max. Netzteil Länge (exakt) | 220 mm |
| max. CPU Kühler Höhe | 180 - 200 mm |
| max. Grafikkarten Länge | 200 - 299 mm, 300 - 399 mm |
| max. Netzteil Länge | 200 - 249 mm |
| Side panel | with window |
| Front Door | Green |
| Position I/O | Seitlich |
| USB 3.0 | 4x |
| USB 3.1 (Typ C) | 1x |
| Audio Out | |
| Audio In | |
| Cardreader | nein |
| Fan controller | no |
| LCD/TFT Display | nein |
| intern 2,5 / 3,5 Zoll | 10x |
| Hot-Swap | nein |
| PCI-Slots | 8, 8 + 2 |
| Motherboard tray | no |
| Case cable management | yes |
| PSU formfactor | ATX |
| PSU position | Easy Shift (Doubled Assignment of Keys) |
| Preinstalled fans | 3x 140mm |
| 120 mm Fans | 8 |
| 140 mm Fans | 6 |
| Radiator Mounting | 1x Single (140mm), 1x Triple (360mm), 1x Quad (480mm) |
| Filter | yes |
| Dampening | no |
| Illumination | yes |
| Illumination colour | RGB (selectable) |
| Remote control | nein |
| Schlauchdurchführung | nein |
| Serie | Level 20 |
| Transport System | nein |