Thermaltake


Riing 12 Plus RGB LED-Lüfter TT Premium Edition - 5er Set
Überarbeitetes 5er Set an Riing-Lüftern
120-mm-Format mit RGB-LED-Ring
max. 82,9 m³/h & 1,113 mm H2O
500-1.400 U/Min
Software zur Steuerung der Drehzahl und Beleuchtung
Item number: LUTH-048
EAN: 4717964407863
MPN: CL-F054-PL12SW-A
Manufacturer: Thermaltake
Product information -
Riing 12 Plus RGB LED-Lüfter TT Premium Edition - 5er Set
Thermaltakes Lüfter der Serie "Riing" sind speziell darauf ausgelegt, auf einem Radiator eingesetzt zu werden. Dazu wurden die Fans so gestaltet, dass sie trotz relativ niedriger Drehzahl und entsprechend leisem Lauf einen eindrucksvollen statischen Druck erzeugen, der notwendig ist, um die Lamellen eines Radiators effektiv zu durchdringen. Und obwohl das alles zunächst nach trockener Technik klingt, erkennen Sie bereits an unseren Bildern, dass die Thermaltake Riings ein
absoluter Genusshappen für Modding-Feinschmecker
sind.
Die Thermaltake Riing 12 RGB LED-Lüfter im Überblick
120-mm-Lüfter mit 82,9 m³/h Airflow bei 1.400 U/min und 24,9 dB(A)
Flexibel als Radiator- Gehäuse oder CPU-Lüfter einsetzbar
In den Rahmen integrierte LED-Streifen mit 16,8 Millionen Farben
Drehzahl- und Farbregelung über die Riing RGB Software bei bis zu 16 Lüfterhubs
Patentierte Lichteinstrahlung für einzigartige Beleuchtungseffekte
Die patentierte Technik erzeugt eine indirekte Lichteinstrahlung sowohl auf die Rotorblätter, als auch nach außen hin, was einen einzigartigen Effekt erzeugt! Egal ob ein einzelner Riing-Lüfter an einem Gehäuse-Slot oder mehrere davon in Reihe auf einem Wärmetauscher angebracht werden (die benötigten Schrauben für beide Einsatzzwecke sind beigelegt), das Farbenspiel ist ein echtes Highlight. Da die farbliche Abstimmung jederzeit angepasst werden kann sind die Möglichkeiten schier unbegrenzt.
Nicht weniger werden Technikbegeisterte staunen, denn dank den elf speziell geformten Lüfterblättern, der inneren Rahmenstruktur mit "wind blocker frame" und dem hochwertigen Hydraulik-Lager mit "Low-Noise Design" arbeiten die hier angebotenen 120-mm-Lüfter bei vollen 1.400 U/min und 1,113 mm H2O Druck sowie 82,9 m³/h Airflow ziemlich leise, nämlich mit höchstens 24,9 dB(A). Für den Fall, dass der Nutzer es gerne noch leise haben möchte, kann er die Riing-Lüfter über den "Low-Noise-Mode" betreiben, welches die Drehzahl auf 500 U/min reduziert.
Als wirksame Anti-Vibrationsmaßnahme sind in jeden Thermaltake Riing vier Gummi-Bereiche an den Ecken eingelassen. So wird die Schwingungsübertragung der Lüfter auf den Radiator bzw. das PC-Gehäuse abgeschwächt. Damit sind diese Radiator-Fans bestens für leise Modding-Systeme geeignet, die gerne auch mittels Wasserkühlung aufwarten dürfen. Natürlich machen die beleuchteten Riing in 120 mm aber auch auf jedem CPU-Kühler oder direkt an den Gehäuse-Lüfter-Plätzen einen ausgezeichneten Job!
Technische Details:
Maße: 120 x 120 x 25 mm (B x H x T)
Gewicht: ca. 158,8 g
Material: Kunststoff
Farbe: Schwarz (Rahmen, Rotor), Grau (Entkoppler)
LED-Beleuchtung: RGB-Farbraum mit 16,8 Mio Farben
Anschlüsse:
5-Pin (Lüfter an Controller)
USB 2.0 (Mainboard-Verbindung)
4-Pol-Molex (Stromversorgung Controller)
Drehzahl: 1.400/500 U/min (ohne/mit LNC)
Lautstärke: 24,7/19,8 dB(A) (ohne/mit LNC)
Fördervolumen: max. 82,9 m³/h
Statischer Druck: max. 1,113 mm H2O
Spannung: 12 V
Startspannung: 9 V
Verbrauch: max. 1,32 W
Lebenserwartung: 40.000 h
Further links for

"Riing 12 Plus RGB LED-Lüfter TT Premium Edition - 5er Set"
Videos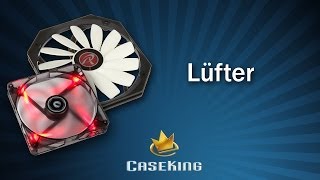 Technical Details
| | |
| --- | --- |
| Primary colour | black |
| Secondary colour | grey |
| Fan connector | Molex (4-Pin) Netzteil, USB, Only with controler |
| Illumination | yes |
| Illumination colour | RGB (selectable) |
| Max rpm | 1000 - 1500 U/min |
| Max noise level | 20 - 25 dB(A) |
| Max air volume | 75 - 100 m³/h |
| Min rpm | 250 - 500 U/min |
| Min Noise Level | 15 - 20 dB(A) |
| Rotor diameter | 120 mm |
| Mounting holes | 120 mm |
Awards
Pros
+ Bright RGB lighting
+ Quiet operation
+ Good cable management
+ 900mm cable length
+ Included fan controller
+ Simple and easy to use software

read more...