VERTAGEAR


Racing Series, SL4000 Gaming Stuhl - schwarz/weiß
Redefining gaming chairs
the SL-4000 brings unparalleled level of comfort and adjustability.
Item number: GAZU-312
EAN: 0617724127700
MPN: VG-SL4000_WT
Manufacturer: VERTAGEAR
Product information -
Racing Series, SL4000 Gaming Stuhl - schwarz/weiß
Vertagear ist ein Newcomer im Bereich der Gaming-Sitzmöbel, der mit seinen hochkarätigen Racing-Chairs endlich für frischen Wind am Markt sorgt. Das junge Unternehmen bringt dabei eine ganze Reihe unverbrauchter Ideen mit und hat sich zum Ziel gesetzt, bei seinen Produkten neue Wege zu gehen und stets offen für neue Konzepte zu sein. Voller Hingabe widmet sich der Hersteller der Schaffung innovativer Designs und erstklassiger Features, die Gamern zu jedem Zeitpunkt die besten Spielerfahrungen liefern. Dabei greift Vertagear auch auf wertvolle Nutzererfahrungen zurück und lässt das daraus gewonnene Feedback für Produktverbesserungen direkt in seine Neuentwicklungen einfließen.
Also dann, bitte nehmen Sie Platz! Und zwar auf den Vertagear Gaming-Chairs der S-Line. Diese S-Klasse der Computersessel vereint himmlischen Komfort mit einer durch Rennwagen inspirierten Ästhetik und gewährleistet so höchste Ergonomie und optimale Verstellbarkeit, um damit sowohl Gamern als auch professionellen e-Sportlern eine ideale Sitzgrundlage bieten zu können, die für deren angestrebte Spielerfolge schlicht essentiell ist. Denn ob man nun zu Hause spielt, auf einer LAN-Party oder bei einem eSports-Gaming-Event, eine ergonomische Sitzgelegenheit, die den Körper beim Spielen optimal stützt und sich zugleich dessen Form in verschiedenen Sitzpositionen anpasst, ist bei ausgedehnten Aufenthalten am PC ähnlich wichtig, wie bei einem Sportflitzer.
In einem Race-Car spielen Gesundheitsaspekte gerade bei Fahrten über längere Distanzen eine ganz besondere Rolle. Bei der Optik der S-Line lässt sich deshalb die Verwandtschaft zu klassischen Rennsitzen sofort erkennen und somit sind die 360-Grad-Drehstühle nicht nur besonders bequem, sondern sehen auch noch fantastisch aus. Die Stühle von Vertagear erinnern jedoch nicht nur äußerlich an das Interieur eines Sportwagens, sondern orientieren sich vor allem an deren Sitz-Ergonomie, denn die gesundheitlichen Langzeitfolgen, die für ambitionierte Spieler aus einer suboptimalen Sitzhaltung resultieren können, sind auch bei 0 km/h nicht zu unterschätzen.
Der hier angebotene Gaming-Chair aus der stylischen SL4000-Reihe in der Farbe Schwarz-Weiß konzentriert sich auf eben diese Aspekte und bietet obendrein ein unvergleichliches Maß an Bequemlichkeit und Anpassbarkeit. Dafür verantwortlich ist in erster Linie die auch nach vielen Spielstunden noch bequeme und beständige Polsterung aus HDF-Schaum (high density foam) in besonders dicker Ausführung. Diese ist mit einem PVC-Kunstlederimitat bespannt, was dem SL4000 sein luxuriöses Aussehen verleiht, dabei aber den Vorteil mit sich bringt, dass der Racing Chair einfach zu pflegen und lange haltbar ist. Die angenehme Formgebung des SL4000 schont neben der Wirbelsäule auch effektiv die Handgelenke, Hals und Nacken, Schulterpartie sowie die Arme.
Zur zusätzlichen Stützung im Nacken- und Steißbereich werden zwei farblich passende Kissen mitgeliefert. Der Drehstuhl selbst fußt auf einer starken Stahl-Basis mit Fußkreuz aus einer Aluminium-Legierung sowie fünf beständigen Rollen und ist für Nutzer mit einem Gewicht bis zu 150 kg freigegeben. Dank der Tatsache, dass der Drehstuhl selber ziemlich leicht ausfällt (nur etwa 25 kg), lässt er sich mühelos auf diversen glatten Untergründen leise hin und her bewegen. Darüber hinaus punktet der SL4000 mit 360-Grad-Rotation, Flexibilität bei der Einstellung der Sitzhöhe (mittels bequemem Druckluftheber), in 4 Dimensionen (8 Richtungen) verstellbaren Armlehnen, variabel verstellbarem Winkel der Rückenlehne (bis 170°) sowie der integrierten Wippfunktion samt "Lock"-Mechanismus.
Technische Details:
Gesamthöhe (mit Basis): ca. 120 - 130 cm
Breite Rückenlehne (Schulterhöhe): ca. 52 cm
Breite Rückenlehne (Beckenhöhe): ca. 28 cm
Breite Sitzfläche innen: ca. 35,5 cm
Breite Sitzfläche außen (breitester Punkt): ca. 52 cm
Tiefe Sitzfläche: ca. 44,5 cm
Sitzhöhe: ca. 40 - 50 cm
Gewicht: 25 kg
Material: Stahl (Rahmen), Aluminium-Legierung (Fußkreuz), Kaltschaum (Polsterung), PVC-Kunstleder (Bezug)
Farbe: Schwarz, Weiß
Maximalbelastung: 150 kg
Features:
Dicke & beständige HDF-Schaumpolsterung
Flexible Sitzflächenhöhe
Pflegeleichter PVC-Kunstleder-Bezug
Kippmechanik mit Feststellfunktion
Anpassbarer Winkel der Rückenlehne (bis 170°)
Armlehnen in 4 Dimensionen (8 Richtungen) verstellbar
Inkl. je einem Kissen für unteren Rücken und Hals
Säule mit langlebigem Druckluftheber (Klasse 4)
Starke 5-Punkt-Basis aus einer Aluminium-Legierung
Produktanpassung ab Dezember 2015
: Bei ab Dezember 2015 ausgelieferten Exemplaren hat sich Vertagear aufgrund des Kundenfeedbacks dazu entschlossen, die Aufhängung der Gasdruckfeder leicht abzuändern, damit Letztere geringfügig niedriger sitzt und sich so die minimale Sitzhöhe etwas verringert. Durch diese Maßnahme sollen auch Käufer mit geringerer Körpergröße optimalen Sitzkomfort erleben und somit sind die Stühle bestens geeignet für 173 cm bis 190 cm.
Further links for

"Racing Series, SL4000 Gaming Stuhl - schwarz/weiß"
Videos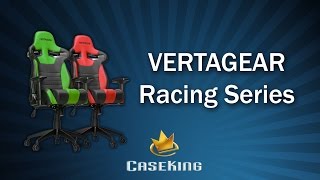 Technical Details
| | |
| --- | --- |
| Serie | Racing |
| Primary colour | black |
| Secondary colour | white |
| Seat cover material | synthetic leather |
| Adjustable back rest | Yes |
| Adjustable armrests | Yes |
| Height adjustment | Yes |
| Adjustable seating angle | Yes |
| Maximalbelastung / Gewichtsbereich (exakt) | 150 kg |
| Weight limit | 126 to 155 kg (277 to 341 lbs) |
| Seatbelt guide | Yes |
| Weight (exact) | 25 kg |
| Weight | 24 to 26 kg (52.9 to 57.3 lbs) |
| Gesamthöhe, mit Basis (exakt) | 120 cm, 130 cm |
| Tiefste Sitzposition, einstellbar (exakt) | 40 cm |
| Höchste Sitzposition, einstellbar (exakt) | 50 cm |
| Breite Sitzfläche innen (exakt) | 35,5 cm |
| Breite Sitzfläche außen, breitester Punkt (exakt) | 52 cm |
| Tiefe Sitzfläche (exakt) | 44,5 cm |
| Total height (including base) | 140 to 149.9 cm (55.1 to 59 inch) |
| Lowest seating position (adjustable) | 30 to 39 cm (11.8 to 15.3 inch) |
| Highest seating position | 40 to 49 cm (15.7 to 19.2 inch) |
| Back rest heigth | 90 to 99 cm (35.4 to 38.9 inch) |
| Back rest width (inner dimension) | 30 to 34 cm (11.8 to 13.3 inch) |
| Back rest width (widest outer dimension) | 50 to 54 cm (19.6 to 21.2 inch) |
| Seat width (inner dimension) | 35 to 39 cm (13.7 to 15.3 inch) |
| Seat width (widest outer dimension) | 50 to 54 cm (19.6 to 21.2 inch) |
| Seat depth | 50 to 54 cm (19.6 to 21.2 inch) |
| Head cushion included | Yes |
| Lumbar cushion included | Yes |
| Material base | aluminum, steel |
Awards
The Vertagear S-Line SL4000 Gaming Chair is truly a race inspired chair and has earned its name. Vertagear has touched on all the important factors: race inspired styling, offset colored stitching, strong supports, as well as a seat that stays comfortable even during the longest computing sessions. It has just enough adjustment to make nearly anyone comfortable, without needing to feel like you have more controls than you know what to do with.

read more...

The Vertagear SL4000 gaming chair has changed my life. It's so comfortable for those hours at your desk, whether it's productivity or gaming. Get one, now!

read more...

KitGuru Says: We have been asked about gaming chairs time and time again. Now, we finally have an answer for you. If you are looking to pick up a gaming/racing seat, the SL4000 has our vote.

read more...

+Hochwertiger Bezug: Kein unangenehmer Geruch, dank HDF-Polster langlebig & bequem.
+Leichtgängige Rollen: Kein Quietschen, kein Kratzen.
+Exzellente Verstellmöglichkeiten: 4-D-Armlehnen, Rückenlehne bis 170° Neigung & Wippfunktion.
+Ergonomische Sitzposition durch tolle Formgebung sowie Lenden- & Nackenkissen.
+Tolle Optik: Cooler Racing-Look, präzise und wertige Verarbeitung von Nähten & Co.
+Der Stahlrahmen wirkt sehr massiv und robust (belastbar bis 150kg).
+Passend für Körpergrößen zwischen 160cm und 190cm.

read more...

Vertagear's SL4000 is an exemplary office chair. This stylish, well-designed piece of furniture will add class to your office while quarantining comfort for extensive periods of time.

read more...

This seat has a lot of functionality, the arms move up, down, forward, backward and even rotate in and out roughly 45°. This can adjust to an extremely wide range of user choices and the rotating function lies well with how your arms naturally lie. For the first time in a while, I have found a chair that actually has a functioning tilt action. When I initially sat on the chair I almost fell off, but after tightening the dial on the base, the tilting was easily reduced to a suitable level.

read more...

After nearly a month of intensive use, we can say that comfort is total, even after many hours spent in front of a screen, the adjustable lumbar support is very valuable for people suffering from back pain.
The finish is very good, holding the faux leather looks good even if it is not in one month we can judge, its maintenance is easy unlike textile coatings.

read more...

PCGameware - Vertagear Racing Series S-Line SL4000 Gaming Chair

The Vertagear SL4000 was an absolute gem to sit in, super comfortable, lots of adjustability and knowing in your mind that you are setting off your Gaming room with style. Vertagear have thought of most the things that you might want, tilt and rocking feature, adjustable height, reclining back, three way adjustable armrest and neck/Lumbar cushions for that final touch. All the time I was Gaming whilst using the Vertagear SL4000 I always felt more than comfortable, the chair had so many options for helping me to relax that I did not need to stand up and stretch anymore, all I need now is a built in fridge on the side.

Wall Of Gaming - Vertagear SL4000

To summarize, after almost two weeks of daily use, no problems to report. Our tester has never felt backache, bad position, no fatigue at headquarters. A real pleasure to spend time on this Vertagear SL4000, either to play or write the tests and news.

If you're into racing games or are perhaps just looking for a new chair and want something that looks a bit different then the Vertagear S-Line SL4000 definitely has something to offer you. With a Steel frame and High density foam support material covered in PVC leather the SL4000 is a sturdy and hard wearing beast. It's available in five colours so if you don't like the White we have for review then either the Red, Green or Blue may appeal to you, and if not, well then there's always good old traditional Black.

read more...