Watercool


Radiator MO-RA3 360 Core - black
he name "Mo-Ra" is always mentioned in watercooling circles with awe
because this is one of the most powerful radiators in the world.
Item number: WARA-166
EAN: 4251312601591
MPN: 22015
Manufacturer: Watercool
Product information -
Radiator MO-RA3 360 Core - black
Der Name "Mo-Ra" wird in Wakü-Kreisen stets mit Ehrfurcht genannt, denn hierbei handelt es sich um einen der leistungsstärksten Radiatoren der Welt. Wer also eine Vielzahl von Komponenten kühlen möchte, oder sehr ambitionierte OC-Experimente plant, findet mit dem Mo-Ra einen adäquaten Wärmetauscher der Extraklasse.
Der Hersteller Watercool bietet den Radiator inzwischen in der dritten Revision an, welche nochmals verbessert wurde. Dabei stehen verschiedene Modelle zur Wahl, um das individuelle Traummodell zu finden.
Nach wie vor handelt es sich um einen Radiator für den externen Einsatz, der direkt am Gehäuse montiert wird oder frei steht. Ein interner Einbau ist aufgrund der enormen Abmessungen im Normalfall ausgeschlossen. Der enorme Materialeinsatz ist jedoch zugleich der Hauptgrund für die extreme Kühlleistung, da eine ebenso extreme Fläche zur Wärmeabgabe bereit steht.
Die Lamellengeometrie wurde für den Einsatz mit langsam drehenden Lüftern optimiert, so dass sich der Mo-Ra3 für den Silent-Einsatz empfiehlt. Dabei erfolgt die Einbindung in den Wasserkreislauf über ganze sechs G1/4 Zoll Gewinde. Hierbei handelt es sich um die Core Version des Mo-Ra3. Dieser wird ohne Rahmen und ohne Lüfter-Montageplatte geliefert. Er empfiehlt sich daher vor allem für Modder, Bastler oder den Einsatz als Passivkühler.
Zum Lieferumfang gehören, neben dem Radiator, vier Abstandhalter für die Montage am Gehäuse, vier Verschlussstopfen, um die nicht benötigten Öffnungen zu versiegeln und eine Einbauanleitung. Die Herstellung des Mo-Ra3 erfolgt in Europa und zum großen Teil in Deutschland selbst.
Technische Details:
Maße: 405 x 63 x 378 mm (BxHxT)
Material: Kupfer (Rohre), Aluminium (Lamellen), Stahlblech (Gehäuse), Pulverbeschichtung
Farbe: Schwarz
Gewicht: 5 kg
Gewinde: 6x G1/4 Zoll
Drucktest: 5 bar
Lieferumfang:
Radiator
4x Verschlussstopfen
4x Abstandhalter M4x20
1x Montageanleitung
Further links for

"Radiator MO-RA3 360 Core - black"
Videos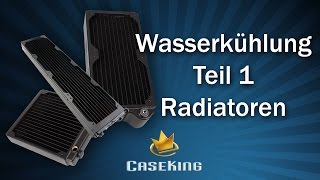 Technical Details
| | |
| --- | --- |
| Radiator size | external |
| Radiator Typ | Multipass |
| Radiator height (exact) | 63 mm |
| Radiator width (exact) | 378 mm |
| Radiator lenght (exact) | 405 mm |
| Radiator height | 60 - 69 mm |
| Radiator width | over 200 mm |
| Radiator lenght | 400 - 499 mm |
| No. of water cooling fittings | 6x G1/4" |
| Cooler Material | aluminum, copper |
| Fan / radiator mounting | M4 thread |
| Pressure tested | 5 Bar |
| Weight in g (exact) | 5000 |
| Weight in g | über 2500 g |
| Primary colour | black |
| Secondary colour | silver |