XSPC


EC6 Coolant, 1 Liter - blutrot
XSPC EC6 is a high performance
eco-friendly coolant for PC water-cooling. It's based on a blend of refined vegetable extracts with non-toxic corrosion inhibitors and non-toxic dyes.
Item number: WAZU-329
EAN: 5060175582768
MPN: 5060175582768
Manufacturer: XSPC
Product information -
EC6 Coolant, 1 Liter - blutrot
XSPC ist ein in England ansässiger Hersteller und dort schon sehr bekannt und beliebt. Die Wakü-Spezialisten zeichnen sich durch hervorragend verarbeitete und innovative Produkte aus. Gewählt wird nur aus den besten Materialien, wobei großes Augenmerk auf eine herausragende Optik gelegt wird. Trotz dieser hohen Ansprüche kann XSPC mit einem wirklich guten Preis glänzen und so den etablierten Marken zur echten Konkurrenz werden.
Das EC6 ist ein leistungsstarkes, umweltfreundliches Kühlmittel für den Einsatz in Wasserkühlungen. Es basiert auf einer Mischung aus raffinierten, pflanzlichen Extrakten und nichttoxischen Korrosionsschutzmitteln sowie ungiftigen Farbstoffen. Es bietet einen hervorragenden Schutz für Kupfer, Messing, Stahl, Nickel, Aluminium und wurde auch mit einer Reihe von Acetal- und Acryl-Kunststoffen getestet.
EC6 besitzt eine hohe thermische Leitfähigkeit, eine geringe elektrische Leitfähigkeit und ist dank einem breit gefächerten Angebot an intensiv leuchtenden Farben das perfekte Kühlmittel für alle Wasserkühlungen. Die vorliegende 1 Liter Variante kommt in der martialisch klingenden Farbe Blood Red, also Blutrot und leuchtet dementsprechend in einer intensiven roten Farbgebung.
Technische Details:
Menge: 1 Liter
Farbe: Blutrot (Blood Red)
Features:
geringe elektrische Leitfähigkeit
ungiftige Farbstoffe
Further links for

"EC6 Coolant, 1 Liter - blutrot"
Videos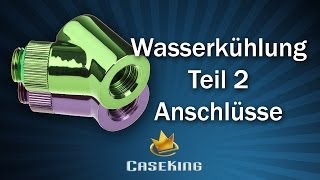 Technical Details
| | |
| --- | --- |
| Fluid type | premixed cooling fluid |
| Volumen | 1 l |
| Colour | red |
| UV activity and UV colour | no |