XSPC


RayStorm Neo CPU-Kühler für Intel - Black Chrome
High-End-CPU-Wasserkühlblock von XSPC für Intel-CPUs
mit ausgezeichneter Kühlung
aus Kupfer und schwarz verchromtem Aluminium & erstklassige Verarbeitung
LED-Beleuchtung & Sichtfenster & überarbeitete Bodenplatte
Item number: WACP-354
EAN: 5060175589002
MPN: 5060175589002
Manufacturer: XSPC
Product information -
RayStorm Neo CPU-Kühler für Intel - Black Chrome
Der britische Hersteller XSPC entwickelt innovative und erschwingliche Produkte mit dem Fokus auf Wasserkühlungen. Dabei reicht das Portfolio hochwertiger Parts von Pumpen und Radiatoren über Waterblocks und Reservoirs bis hin zu Anschlüssen, Schläuchen und LED-Beleuchtung.
Beim
Raystorm Neo
handelt es sich um um das Topmodell von XSPC in einem neuen Look. Ausgelegt für Multi-Core-CPUs, bestehend aus Kupfer, Acryl und Aluminium ist dieser Kühler eine wahre Augenweide: Aufsehenerregendes Design gepaart mit perfekter Verarbeitung. Durch die zwei im Lieferumfang enthaltenen 2x5x5 mm großen RGB-LEDs und dem transparenten Deckel lässt sich dieser Kühler im System mit stimmungsvollen Lichteffekten in Szene setzen.
Der Raystorm Neo CPU-Kühler im Überblick:
Kühlblock aus extrem reinem Elektrolytkupfer mit feinen Kühlfinnen & Sichtfenster
Großzügig dimensionierte Zu- und Abflusskanäle für hohe Durchflusswerte
2x 2x5x5-mm-LEDs & Multifunktions-LED-Controller enthalten
Verbessertes Befestigungssystem zur einfachen Montage & gleichmäßigen Anpressdruck
2x G1/4 Zoll Gewinde für größtmögliche Kompatibilität mit den meisten Kompressions-Fittings
Die Features des Raystorm Neo CPU-Kühlers im Detail:
Kennzeichnend ist die sehr filigrane Kühlstruktur der überarbeiteten Baseplate, die eine große Fläche mit eng anliegenden Finnen zur Übertragung der Wärme vom Kühler zum Wasser ermöglicht. Im Gegensatz dazu sind die Kanäle sehr groß dimensioniert und werden zentral angeströmt. Damit werden zugleich ein geringer Wasserwiderstand und gute Durchflusswerte realisiert, was den schnellen Abtransport von Abwärme garantiert.
Der Kühler ist aus extrem reinem Elektrolytkupfer gefertigt, womit eine optimale Wärmeübertragung garantiert ist. Die Halterung besteht aus massivem, schwarz verchromtem Aluminium und ist in Sternform aufgebaut. Es handelt sich nicht nur um einen schicken, sondern auch einen ausgereiften Kühler. Professionelle Wärmeleitpaste wird passenderweise direkt mitgeliefert.
Das neue Mounting-System verspricht, gegenüber dem des Vorgängers neben einer vereinfachten Installation einen gleichmäßiger verteilten Anpressdruck. Über den Multifunktions-RGB-LED-Controller kann zwischen 20 statischen Farbmodi und acht Helligkeitsstufen gewählt werden. Darüber hinaus besitzt er 19 dynamische Modi, die zusätzlich in der Geschwindigkeit gesteuert werden können und wird über einen SATA-Anschluss mit Strom versorgt.
Technische Details:
Material: Elektrolytkupfer, Aluminium, Acryl
Beleuchtung: 2x 2x5x5-mm-LEDs
Farbe: Black Chrome / Kupfer
Gewinde: 2x G1/4 Zoll
Kompatibilität: Intel Sockel 1150, 1151, 1155, 1156, 1366, 2011, 2011-v3, 2066
Further links for

"RayStorm Neo CPU-Kühler für Intel - Black Chrome"
Videos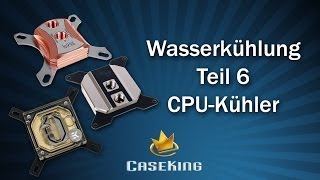 Technical Details
| | |
| --- | --- |
| CPU cooler type | CPU Water Cooler |
| CPU socket | 1150, 1151, 1155, 1156, 1366, 2011, 2011-V3, 2066 |
| No. of water cooling fittings | 2x G1/4" |
| Material base plate | copper |
| Material Deckel | Acrylglas |
| CPU cooler width (accurate) | 72 mm |
| CPU cooler height (accurate) | 21,8 mm |
| CPU cooler depth (accurate) | 72 mm |
| CPU cooler width | 70 to 79 mm |
| CPU cooler height | 20 bis 29 mm |
| CPU cooler depth | 70 to 79 mm |
| Primary colour | copper, transparent |
| Secondary colour | silver |
| Illumination | yes |
| Illumination colour | RGB (selectable) |
| LED Anschlüsse | RGB (4-Pin 5050 12VGRB) 2x |
Awards
+ Well priced for what you get
+ Excellent build quality with chrome and black chrome customization options
+ Precise mounting
+ Good thermal performance
+ Low coolant flow restriction
+ Included RGB LEDs with bundled controller

read more...