Xtrfy


XTP1-L4-FB-1 Mauspad, Friberg-Edition, King of Banana - groß
Großes Mauspad (460 x 400 mm) aus waschbarem Stoff von Xtrfy mit einer Höhe von 4 mm
vernähten Kanten und coolem Ninjas in Pyjamas Friberg King of Banana Fan-Design
Item number: GAMA-685
EAN: 7340086907859
MPN: XTP1-L4-FB-1
Manufacturer: Xtrfy
Product information -
XTP1-L4-FB-1 Mauspad, Friberg-Edition, King of Banana - groß
Zocken wie die Pro Gamer! Bis man den Status eines echten Pro Gamers erreicht hat und anfängt mit dem Spielen Geld zu verdienen, vergehen ohne Zweifel einige Stunden und Tage an Übung und Training. Um allerdings von vornherein möglichst gut aufgestellt zu sein, sollte man seine Gaming-Werkzeuge gründlich auswählen. Das Mauspad stellt den Untergrund für eines der wohl wichtigsten Eingabegeräte, daher muss es strapazierfähig sein, gute Gleiteigenschaften aufweisen und die passende Größe haben.
Mit dem XTP1-L4 von Xtrfy steht Ihnen ein solches Mauspad zur Verfügung, von echten Pro Gamern getestet und für gut befunden, überlassen Sie nichts mehr dem Zufall. Selbstverständlich muss man kein angehender Profi sein, um das XTP1-L4 verwenden zu können, auch Gelegenheitsspieler haben ihre Freude an dem Mauspad.
Die Fläche von 460 x 400 mm bietet ausreichend Platz für ausladende Mausbewegungen und ist daher perfekt für Spieler mit niedrigeren Maus-Empfindlichkeiten ausgelegt. Durch die hochwertige Stoff-Matrix-Oberfläche ist eine hohe Gleichmäßigkeit und Präzision garantiert, optimale Eigenschaften für aktuellste optische- und Laser-Maussensoren. Die Rückseite besteht aus einer Gummioberfläche und hält das Mauspad auch in hitzigen Situationen stets in Position.
Sowohl Kugel-, als auch optische Mäuse können auf dem großen Spielfeld problemlos und äußerst präzise verwendet werden. Anders als bei Hartplastik-Pads treten bei der Benutzung kaum Geräusche auf und dank der besonders rutschfesten Unterlage wird jede Bewegung der Maus wie gewünscht auf dem Bildschirm wiedergegeben.
Das stoffbeschichtete Mauspad bietet ein hervorragendes Gefühl beim Spielen, wobei besonders der gesteigerte Komfort durch die Höhe beeindruckt, weshalb auch sehr lange Gaming-Sessions keine Probleme aufwerfen. Durch die Stoffbeschichtung und den vernähten Kanten entsteht ein angenehm weiches Feeling. Auch der Verschleiß des Xtrfy XTP1-L4 ist durch das gewählte Material äußerst gering. Als netter Bonus ist das Mauspad bei 30° komplett in der Maschine waschbar, somit fühlt sich das XTP1-L4 immer wie neu an.
Diese Version des Mauspads ist eine Ninjas in Pyjamas Special Edition und dient als Tribut an den professionellen Counter-Strike: Global-Offensive Spieler Adam Friberg, der unter eSportlern einfach nur als "Friberg" bekannt ist. Als starker Rifler und Entry-Fragger konnte Friberg seinem Team zu zahlreichen Siegen in großen Turnieren verhelfen. Bekannt wurde er außerdem durch seine unübertroffenen Skills auf der CS:GO Map Inferno, dessen "Banana"-Bereich er absolut dominierte, weshalb Friberg auch gern als "King of Banana" bezeichnet wird.
Technische Daten:
Maße: 460 x 4 x 400 mm (B x H x T)
Material: Stoff
Kompatibilität: Keine Einschränkungen
Further links for

"XTP1-L4-FB-1 Mauspad, Friberg-Edition, King of Banana - groß"
Videos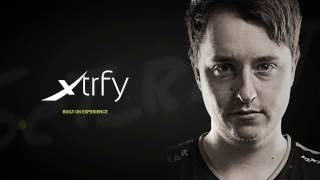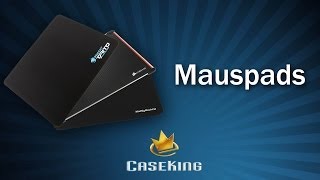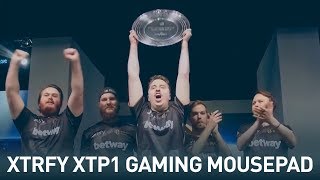 Technical Details
| | |
| --- | --- |
| Primary colour | Bild |
| Material | Stoff |
| Width (exact) | 460 |
| Height (exact) | 4 |
| Depth (exact) | 400 |
| Width | 400 - 500 mm |
| Height | 3 - 4,9 mm |
| Depth | 300 - 400 mm, 400 - 500 mm |
| Illumination | no |