Noiseblocker


NB-eLoop X B12-PS ARGB - 120mm, black
High-performance and quiet high-tech fans from Noiseblocker
120 mm format
Optimised bionic fan blades
Quality electronics with PWM
max. 98.7 m³/h Airflow & 21.2 dB(A)
Digitally addressable RGB-LEDs embedded in the hub
Item number: LUNO-080
EAN: 4250051906561
MPN: ITR-B12X-PS-BL
Manufacturer: Noiseblocker
Product information -
NB-eLoop X B12-PS ARGB - 120mm, black
The German company
Blacknoise
has been manufacturing case fans since 1998 and is known for its Black Silent fan and Ultra Silent fan series. However, with the introduction of the
Noiseblocker eLoop
fans in 2012, the company was able to inspire fans of silent PCs in particular. Because the
NB-eLoop
uses a bionically optimised design, they have managed to create some impressively low noise units. With the
NB-eLoop X
fan series,
Noiseblocker
now offers a special design fan for case modders, design lovers and RGB-LED fans alike.
The new
X models
come in either smart black or white, making them perfect for sprucing up the interior of your gaming PC while also improving overall airflow as well - without having to compromise on noise. The new, more neutral, colour scheme means they coordinate perfectly with just about any system, allowing users full freedom to select the combination of cases and fans that they want. Even the
integrated RGB lighting
is reserved: a total of seven digitally addressable RGB-LEDS are embedded in the hub and these help to illuminate the
transparent fan blades
as well as the frame.
The Features of the Noiseblocker NB-eLoop X Fan B12-PS ARGB in Black at a Glance
Sleek black to go with any colour combination
Modern fans with unique bionically optimised and transparent blades
Digitally addressable RGB-LEDs with 3-Pin connector (5VDG) for high compatibility
Low noise of max. 21.2 db(A)
Impressive airflow of max. 98.7 m³/h
0 to 1.500 RPM, connected via 4-Pin PWM
Long operating life of up to 140,000 hours
Guarantee: 2 Jahre
Bionic Fans with Unique Blade Shape
The most striking feature of the bionic fans of
Noiseblocker
is the unique blade shape, which makes the noise of the airflow itself significantly quieter. At the same time, the fans help focus the airflow. This enables a more directional and efficient style of air flow, offering advantages depending on where they are being used and the components they are paired with (directional air transport, airflow management, water cooling etc).
Intensive Research with Governmental Funding
The eLoop fans are the result of research conducted by Dr. Rudolf Bannasch, who developed the basic principles of this style of rotor. The technology gradyated to production readiness in Noiseblocker's own developmental laboratory. This elaborate process was made possible thanks to funding from the German Federal Ministry of Economics and Technology. The aim of the project was to develop the "quietest fans in the world".
Energy- and Noise Efficiency
The technology that has been developed helps reduces the noise produced as a result of the air flow, with the total flow rate increased over a comparable area at the same RPM. The other consequence is this is a commensurate increase in energy savings during operation. In addition to the bionic (i.e. naturally occurring, simulated) fan shape and optimized electronics, the high-tech fans also feature other clever innovations. These include a newly revised
NanoSLI bearing
(version 2) from
Noiseblocker
with an encapsulated design for maximum protection against dust.
Der vorliegende
NB-eLoop X B12-PS ARGB
works in a range
between 0 and 1500 RPM
thanks to
PWM
technology, generating a considerable static pressure of
up to 1.802 mm H2O
. However, it becomes absolutely impressive when looking at the airflow, i.e. the air flow rate. A remarkable
98.7 m³/h
at maximum are generated here despite the low speed range. At 12 Volt voltage and full speed the fan is still not louder than a
maximum of 21.2 dB(A)
- this is a remarkable achievement in the world of air cooling.
Cable management, Decoupling and Lighting
Furthermore, the
NB-eLoop
has
cable management
: Only a very short
4-pin cable
is attached to the fan itself, the length of which can be varied using two supplied adapter cables. Thanks to the choice of a polycarbonate material, in particular Makrolon, the chassis is also vibration dampened and
additional dampeners are still included as standard
.
A total of
seven digitally addressable RGB-LEDs
are installed in the hub, discreetly illuminating the transparent fan blades. Thanks to the widespread
3-pin connector (5VDG)
, the fans can easily be connected directly to an appropriately equipped motherboard or controller. The lighting can be controlled via ASUS Aura Sync, MSI Mystic Light or Gigabyte RGB Fusion.
Technical details:
Dimensions: 120 x 120 x 25 mm
Weight: 125 g
Colour: Black
Volume: max. 21.2 dB(A)
Speed: max. 0 - 1500 RPM
Airflow: max. 98.7 m³/h
Start voltage: 6 V
Rated voltage: 12 V
Voltage range: 6 - 13,8 V
Power consumption: 0.95 W
Connection (fan): 4-pin PWM
Connection (RGB LEDs): 3-pin 5VDG
Operating life: 120,000 hours
Guarantee: 2 Years
Scope of delivery:
12-piece mounting set
2x connection cable 20+50cm
2x ARGB cable 20+50cm
Further links for

"NB-eLoop X B12-PS ARGB - 120mm, black"
Videos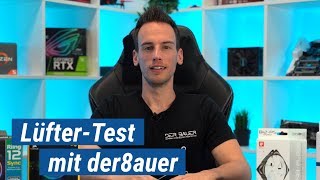 Technical Details
| | |
| --- | --- |
| Rotor diameter | 120 mm |
| Mounting holes | 120 mm |
| Primary colour | transparent |
| Secondary colour | black |
| Fan connector | 4 Pin (PWM) |
| Illumination | yes |
| Illumination colour | RGB (selectable) |
| LED Anschlüsse | Digital RGB (3-Pin 5VDG) |
| LED Kompatibilität | ASUS Aura Sync, GIGABYTE RGB Fusion, MSI Mystic Light Sync |
| Initial Voltage | 6 V |
| Max rpm (exact) | 1500 U/min |
| Max noise level (exact) | 21,1 dB(A) |
| Max air volume (exact) | 98,7 m³/h |
| Max rpm | 1500 - 1999 U/min |
| Min rpm | 0 - 249 U/min |
| Max noise level | 20 - 24 dB(A) |
| Max air volume | 75 - 99 m³/h |
| Warranty | 2 years |
Awards
The good:

+ Excellent performance regarding airflow, noise output and cooling
+ Amazing build quality
+ Superb ARGB implementation
+ Unique anti-vibration and low turbulence patents
+ Advanced blade design
+ Fully sleeved and modular cables (long and short options)
+ Product presentation is very top notch and rich with technical details

read more...

Dass die NB-eLoop X als Lüfter eine hervorragende Figur machen stand schon vor dem Test außer Zweifel. Die bionischen Lüfter performen auch heute noch ganz oben und haben nur wenig Konkurrenz, wenn es um die Effizienzkrone geht. Die technischen Neuheiten sind keine Revolution, aber das Sahnehäubchen auf einer fast perfekten Torte.

Die neue digitale RGB-Beleuchtung hat der Hersteller fantastisch umgesetzt. Sie wirkt durch das clevere Design trotz Reduzierung auf die Nabe einfach grandios und schränkt den Lüfter nicht in seiner Leistungsfähigkeit ein!

read more...