PHANTEKS


Enthoo Pro Midi-Tower - schwarz Window
Beautifully crafted and engineered to maximize cooling potential with its amazing expansion flexibiltiy
the Enthoo Pro is the budget friendly mid-tower from Phanteks
Item number: GEPH-004
EAN: 0886523300144
MPN: PH-ES614P_BK
Manufacturer: PHANTEKS
Product information -
Enthoo Pro Midi-Tower - schwarz Window
PHANTEKS steht für Innovation, Qualität und Unverwechselbarkeit - ein Ruf, den das junge Unternehmen sich in kurzer Zeit erarbeitet hat. Mit kühlstarken, spezialbeschichteten Prozessorkühlern und hervorragenden Lüftern, sowohl was Laufruhe als auch Förderleistung angeht. Und auch in puncto Design setzte man mit neuen Formen und viel Farbenfreude Akzente.
Mit dem Luxus-Big-Tower Primo präsentierten die Niederländer nicht nur den ersten Vertreter ihrer Enthoo-Serie, sondern auch ihr erstes Computergehäuse überhaupt. Das PHANTEKS Enthoo Primo konnte mit seinem unverwechselbar edlen Design, den massenhaften Features und seinem überwältigenden Support für interne Wasserkühlungen vom Fleck weg überzeugen, blieb aber dennoch für viele eine unerschwingliche Hardware-Kostbarkeit.
Genau diese Sympathisanten der PHANTEKS-Designhandschrift, die größere Teile ihres Budgets nämlich lieber in die Innereien anstatt ins Gehäuse selbst investieren möchten, visiert PHANTEKS nun mit dem hier angebotenen Zweitwerk Enthoo Pro an. In vielem seinem großen Primo-Bruder recht ähnlich, ist der Midi-Tower zugleich ein Schmuckstück und dabei erneut sehr flexibel und praktisch geraten, aber der Käufer muss verhältnismäßig wenig Geld dafür in die Hand nehmen.
PHANTEKS hat es beim Enthoo Pro geschafft, die kostensparenden Einschnitte so gut zu verstecken, dass man kaum etwas weniger Edles als den Primo vor sich zu haben glaubt. Beispielhaft dafür ist die Materialwahl an Frontpartie und Top-Panel. Dass es sich hierbei nur scheinbar um gebürstetes Aluminium, in Wahrheit aber um speziell behandelten Kunststoff handelt, lässt sich rein visuell kaum erahnen. So bleibt die starke Familienähnlichkeit zwischen Midi- und Big-Tower erhalten.
Das gilt auch für die Formen, die beim Enthoo Pro nun wieder ein wenig konservativer ausfallen. Dies allerdings tut einer wundervollen ästhetischen Anmutung keinen Abbruch: herrlich geradlinig und hundertprozentig symmetrisch tritt das PHANTEKS Enthoo Pro auf. Im unteren Bereich der Vorderseite bildet ein rechteckiger Lochgitterbereich das Ansaugareal für die dahinter positionierbaren Lüfter. Ein 200-mm-Rotor ist dabei schon vorangebracht.
Oben in der Front werden drei ODD-Einschübe (tool-less) hinter Blenden verborgen, die oberste Blende ist eine Klappe für die I/O-Ports, je zweimal USB 3.0 sowie 2.0 und Audio-Anschlüsse. Das Topteil setzt den Look nahtlos fort. Vorne nur ein Power-Button, dahinter liegen auch hier Lüfter-Slots für optionale Fans in 200, 140 oder 120 mm hinter Mesh verborgen. Im Gegensatz zu vielen anderen Gehäusen hat PHANTEKS dem Enthoo Pro nicht nur in Front und Boden, sondern auch hier einen Staubfilter spendiert.
Sowohl in Deckel, hinter der Front, auf dem Boden als auch an der mit einem 140er-Fan vorausgestatteten Hecklüfter-Position lassen sich beim PHANTEKS Enthoo Pro alternativ auch Wasserkühlungsradiatoren unterbringen. Im Deckel sogar Triple-Wärmetauscher bis 360 bzw. 420 mm, die allerdings nicht höher als 65 mm ausfallen dürfen, um nicht mit dem verbauten Mainboard zu kollidieren. Der Tray nimmt Platinen von Mini-ITX bis E-ATX auf und hinten neben den PCI-Slots lässt sich ein Wakü-Ausgleichsbehälter anschrauben.
Die hier angebotene Window-Version des schwarzen Enthoo Pro besitzt wie das Primo ein kleineres Fenster im vorderen Bereich, hinter welchem auf dem geschlossenen Laufwerksschacht eine schicke PHANTEKS-Plakette zu sehen ist. Der Blick durch das große Hauptfenster offenbart neben vielen gummierten Kabeldurchlässen auch eine eigene, abgeschlossene Kammer für das ATX-Netzteil, das seine Frischluft von unten anzieht und seine Wärme nicht an die anderen Parts im Midi-Tower abstrahlt.
Die geöffnete rechte Gehäuseseite enthüllt weitere tolle Features, wie man sie schon vom Enthoo Primo kennt: Vorne sitzen zwei einzeln entnehmbare HDD-Käfige, die auch von hier aus mit 3,5- oder 2,5-Zoll-Laufwerken zu beladen sind. Ganz hinten dagegen findet sich eine zusätzliche 2,5-Zoll-Aufnahme mit "Drop-n-Lock"-Mechanismus. Dank der vielen Klettverschlüsse und Clips ist das Bündeln und Lenken von Kabeln sehr einfach zu bewerkstelligen, zumal dafür zwischen 2,7 und 3,9 cm Platz herrschen.
Und auch eine andere, enorm praktische PHANTEKS-Erfindung ist dort untergebracht. Eine kleine Platine mit Anschlüssen für bis zu sechs 3-Pin-Lüfter. Per SATA-Strom-Kabel werden diese netzteilseitig mit Strom versorgt. Der Clou aber ist, dass sie allesamt automatisch drehzahlgesteuert werden - und zwar in Abhängigkeit vom PWM-Signal, welches das verbaute Mainboard vorgibt. Dazu führt ein Extrakabel vom Lüfter-Hub zum 4-Pin-PWM-Anschluss der Hauptplatine. So lassen sich die beiden vorinstallierten und vier weitere Lüfter synchron und temperaturabhängig regeln.
Der Midi-Tower-Ableger Enthoo Pro ist damit die ideale Alternative für alle Fans des PHANTEKS-Gehäusedesigns, die hier optisch wie technisch auf gar nicht allzu viel verzichten müssen, dafür aber jede Menge von PHANTEKS geboten bekommen.
Technische Details:
Maße: 235 x 535 x 550 mm (B x H x T)
Material: Stahl (Body), Kunststoff mit Optik von gebürstetem Aluminium (Front, Deckel)
Farbe: Schwarz
Formfaktor: E-ATX, ATX, Micro-ATX, Mini-ITX, SSI EEB
Lüfter insgesamt möglich:
1x 200 / 2x 140/120 mm (Vorderseite)
1x 140/120 mm (Rückseite)
2x 120 mm (HDD-Käfig)
1x 200 / 3x 140/120 mm (Deckel)
1x 140 / 2x 120 mm (Boden)
Davon vorinstalliert:
1x 200 mm (Vorderseite)
1x 140 mm (Rückseite)
Radiator-Mountings (teilweiser Verzicht auf HDD- und/oder Lüfter-Slots):
1x max. 240 mm (Vorderseite)
1x max. 120/140 mm (Rückseite)
1x max. 360/420 mm (Deckel; bis 65 mm Höhe)
1x max. 240/140 mm (Boden)
Filter: Vorderseite, Deckel, Boden, Netzteil (entnehmbar)
Laufwerksschächte:
3x 5,25 Zoll (extern; werkzeuglos)
6x 3,5/2,5 Zoll (intern; 2 HDD-Käfige, 3,5 Zoll werkzeuglos)
1x 2,5 Zoll (intern; SSD-Bracket hinter dem Motherboard-Tray mit "Drop-n-Lock")
Netzteil: 1x Standard ATX (optional)
Erweiterungsslots: 8
I/O-Panel:
2x USB 3.0 (interne Anbindung)
2x USB 2.0
1x je Audio In/Out
Maximale Grafikkartenlänge: 347 mm (ohne jeglichen Verzicht)
Maximale Grafikkartenlänge: 472 mm (ohne HDD-Käfige)
Maximale CPU-Kühler-Höhe: 193 mm
Further links for

"Enthoo Pro Midi-Tower - schwarz Window"
Videos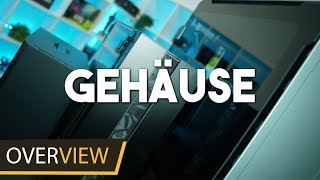 Technical Details
| | |
| --- | --- |
| Case type | Midi-Tower |
| max. Motherboard form factor | E-ATX, SSI-EEB |
| compatible Motherboard form factors | E-ATX, ATX, Micro-ATX, White, SSI-EEB |
| Colour | black |
| Primary colour | black |
| Secondary colour | black |
| Width (exact) | 235 |
| Height (exact) | 535 |
| Depth (exact) | 550 |
| Width | 200 - 300 mm |
| Height | 500 - 600 mm |
| Depth | 500 - 600 mm |
| Weight (exact) | 11.9 |
| Weight | 10 to 12 kg (22 to 26.4 lbs) |
| Material | plastic, steel |
| max. CPU cooler height (exact) | 193 mm |
| max. GPU lenght (exact) | 347 mm, 472 mm |
| max. CPU cooler height | 180 - 200 mm |
| max. GPU lenght | 300 - 399 mm, 400 - 500 mm |
| Side panel | with window |
| Front Door | Green |
| Position I/O | Front |
| USB 2.0 | 4x |
| USB 3.0 | 2x |
| Audio Out | |
| Audio In | |
| Cardreader | nein |
| Fan controller | no |
| LCD/TFT Display | nein |
| internal 2,5" | 7x |
| internal 3,5" | 6x |
| external 5,25" | 3x |
| Hot-Swap | nein |
| PCI-Slots | 8 |
| HDD Isolation | ja |
| Motherboard tray | no |
| Case cable management | yes |
| PSU formfactor | ATX |
| PSU position | rear bottom |
| Preinstalled fans | 1x 140 mm, 1x 200 mm |
| 120 mm Fans | Not Supplied |
| 140 mm Fans | 7 |
| 200 mm Fans | 2 |
| Fan colour | black, white |
| Radiator Mounting | 1x Single (120 mm), 2x Single (140 mm), 2x Dual (240 mm), 1x Triple (360 mm) |
| Filter | yes |
| Dampening | no |
| Lighting | no |
| Remote control | nein |
| Schlauchdurchführung | nein |
| Serie | Enthoo Pro |
| Content Volume in L | 69,15 |
| Transport System | nein |
Awards
Das Phanteks Enthoo Pro ist ein exzellentes Gehäuse mit nur wenigen Schwächen. Der Preis ist sehr angemessen.

read more...

Watercooled - Phanteks Enthoo Pro

Phanteks Enthoo Pro Full Tower Chassis is one of best on the market you can get for approx. 100 Euro if you plan to use liquid cooling in the future. Excellent cable management, many adjustable/removable parts and enough space even for 60mm thick 240mm radiator in front. Dust filters, cooling capacity, overall design and features proves that Phanteks has presented again something unique and well thought-out.

Watercooled - Phanteks Enthoo Pro

Phanteks Enthoo Pro Full Tower Chassis is one of best on the market you can get for approx. 100 Euro if you plan to use liquid cooling in the future. Excellent cable management, many adjustable/removable parts and enough space even for 60mm thick 240mm radiator in front. Dust filters, cooling capacity, overall design and features proves that Phanteks has presented again something unique and well thought-out.

HardwaremAx - Phanteks Enthoo Pro

Phanteks bietet mit dem Enthoo Pro ein hervorragendes Gesamtpaket an, das angesichts des Preises eher in der High-End-Klasse als Mittelklasse agieren müsste. Da das Gehäuse für seine Leistung schon für schlappe 96,-€ zu erwerben ist, prämieren wir das Enthoo Pro mit einem Preis/Leistungs-Award, sowie mit einem Gold-Award.

Positiv aufgefallen ist uns folgendes: insbesondere der voluminöse Innenraum überzeugt und offeriert dem Anwender zahlreiche Möglichkeiten. Ob nun hohe Towerkühler, überlange Grafikkarten oder gar eine komplette High-End-Wasserkühlung verbaut werden soll, das Enthoo Pro bietet den nötigen Platz an.

read more...

In conclusion, we can safely say that Phanteks with Enthoo Pro has pulled out of a house with the quality, modularity, and the predispositions of a high end homes but in a chassis the size and the price of 99euro for the version with ' elegant windowed panel and the equally well-crafted midplate cover-PSU.

read more...

In short, a very good case and signed by Phanteks who watch more sober and well done.

read more...

Anyway, as you can see we are not far from perfect and is now part Phanteks manufacturers on which any hardware enthusiast will consider when deciding to renew his cabinet, and if I add that the rate is between 110 and 120 € and ten euros less for the version without window, competition from worry about. ...

read more...

Overall, the Phanteks Enthoo Pro uses the same great construction quality we have come to love in the Primo and Luxe, but with a healthy cut-down on its optional features, which should leave you with a smile and some money left in your wallet at the end of the day—enough to take your girlfriend out to a nice dinner.

read more...

HiTechLegion - Phanteks Enthoo Pro

The Phanteks Enthoo Pro is a great example of case manufacturers noticing the market changing, and the end user wanting the ability to customize the chassis of their computer. Not a lot of users have the tools or knowledge to do extensive case modding, so a case that offers versatility, without the necessity for extensive tools, or knowledge of modding, is sure to be a winner with the beginner and even the enthusiast.

While the Enthoo Pro drops several features from the Enthoo Primo, the price is cut even deeper. Phanteks did not cut any major feature out of the Enthoo Pro. There is plenty of room for some of the largest systems, and the cooling options to keep it all running.

read more...

TheLAB.gr - Phanteks Enthoo Pro

A big thumbs up to the manufacturer and therefore my wish as all imagine, is to overwhelm us with new products in this price range, while maintaining the top features.

On the whole, however Enthoo Pro a really nice chassis that inherits many of the features we liked the big brother Enthoo Primo, while both the size and the price tag has slimmed down considerably.

read more...

Phanteks keeps tradition alive, even when extremly affordable. The Enthoo Pro is not only full with everthing most people would think of, it also covers all the aspects you hadn't considered, until seeing this design in action!

read more...

The Phanteks Enthoo Pro is a stunningly good piece of hardware. Build quality is nigh faultless and the level of features on offer make the modest asking price appear a bargain.
I do adore aluminium cases but this steel and plastic model could easily convert me – the build quality is just that good.

read more...

Bottom line, does this case deliver? Is it a value driven and driveable supercar? I say absolutely. At $99.99 for the windowed version from my favorite online store, this is a steal. If you are shopping in this price range currently this is your next case.

read more...

Der Enthoo Pro ist das zweite Case von Phanteks. Auch dieses Mal ist ihnen ein guter Wurf gelungen, der nur durch ein paar fehlende Extras vom Top-Case entfernt ist. Selten findet man ein Case, das so viele Montagemöglichkeiten für Radiatoren anbietet. Technisch zeitgemäß ausgestattet lässt er kaum etwas missen. USB 3.0, Staubfilter, PWM HUB, geteilter Harddisk Käfig, 200 mm Lüfter etc.

read more...

Overclocking-PC - Phanteks Enthoo Pro

What can I say except that Phanteks succeeded once again an excellent case. Of course, sacrifices had to be made ??to display a selling price attractive but these savings (no frills kind fans LEDS for example) have not been realized at the expense of efficiency or quality of finish, really remarkable.

Hardwareluxx - Phanteks Enthoo Pro

Auf den ersten Blick mag das Enthoo Pro eher unscheinbar wirken. Doch was sich hinter der schlichten Fassade verbirgt, ist eine positive Überraschung. Obwohl das Enthoo Pro preislich ein Gehäuse der Mittelklasse ist, bietet es praktisch die Ausstattung eines High-End-Modells.

It's hard to make sense of the fact this is a sub-$100 case. There's support for full-sized E-ATX motherboards, a shroud that covers the PSU (only on the windowed version), space for four water cooling radiators, mounting locations for a massive 360mm top rad, dust filters on every conceivable opening, a closed off HDD cage for optimal airflow and a truly innovative cable management system.

read more...

It may not be the Phanteks Enthoo Primo, but if you are looking for a case with room for those large video and cooling options, access to up to 3 external devices, and plenty of mounting space for HDDs and SSDs, then you need this case. With the retail pricing of the windowed version only $99 (or $89 if you can do without a side window), you will get an excellent case and not have to worry about a replacement for many years.


read more...

PureOverclock - Phanteks Enthoo Pro

Utilizing many features from the Enthoo Primo makes the Phanteks Enthoo Pro a great purchase and a sure winner in my book. The Phanteks Enthoo Pro, at a price point of only $99.99 USD, is a purchase that's really hard to beat.

Phanteks really hit the nail right on the head with their latest design. Value, construction, functionality, and excellent looks that easily outweigh the cons (which are really just nitpicks), it is difficult to find any chassis that offers what the Enthoo Pro does for the price.

read more...

In the end, Phanteks has created a very well-rounded chassis for a perfect price point of $100.

read more...

I would dare say that the Phanteks Enthoo Pro is my new favorite mid-tower case. Not only for its large roomy design, but because build quality was above and beyond was I was expecting.

read more...

3DGameman - Phanteks Enthoo Pro

If you're looking for a very stylish, well build full tower case that has it all, the Phanteks Enthoo Pro Case is probably it. I love the looks and the feature list is just astounding. With lots of drive bays, fans, space to work, cable management, provision for water cooling and so much more, it's outstanding.