Endgame Gear


XM1 RGB Gaming Mouse - Black
Professional gaming mouse in black
patented analogue technology with signal processing under 1 ms
Pixart sensor PMW3389 with up to 16,000 CPI
preselected Kailh GM 4.0 switches (60M clicks)
low weight (82 grams) & 2 mm LOD
large PTFE skates for maximum precision
3-zone RGB lighting
Item number: GAMO-864
EAN: 4251442503505
MPN: EGG-XM1RGB-BLK
Manufacturer: Endgame Gear
Product information -
XM1 RGB Gaming Mouse - Black
The high-quality
XM1 RGB
gaming mouse is made for ambitious gamers with an eye for style and design. It is the result of consistent development and innovation as well as numerous inhouse-tests at
Endgame Gear
. Endgame Gear took feedback from the gaming community to heart and used mechanical Kailh GM 4.0 buttons for the XM1 RGB, added large and easy-to-slide mouse skates and RGB lighting. Additionally the XM1 RGB includes onboard memory and optimized software. The combination of quality, precision and design makes the XM1 RGB the ultimate gaming mouse. Shine like never before!
The Endgame Gear XM1 RGB gaming mouse at a glance:
High-quality gaming mouse for ambitious gamers with a preference for style and design
Selected, mechanical Kailh GM 4.0 buttons for an ideal click feeling
Elegant RGB lighting with three zones
Large, noiseless and low-friction PTFE glides for maximum precision
Patented analogue technology with signal processing under 1 ms
Pixart PMW3389 flagship sensor for low / mid / high-sense gamers
Five configurable buttons + onboard memory
Mouse wheel with 2-way scrolling and tactile switch
Resource-saving software for CPI, button remapping and RGB
Ergonomic right-handed mouse for Claw Grip, Palm Grip & Finger Grip
Super-fast signal processing & tip sensor
The optical high-end sensor Pixart PMW3389 detects movements with high precision even at a speed of up to 450 IPS, enabling total control, even in hectic situations. A short lift-off distance of 2 millimeters lets gamers easily move and re-centre the mouse without unintended movement in-game.

The LOD can also be increased to 3 millimeters using the software. Thanks to the patented analogue technology and the built-in 32-bit STM ARM Cortex-M0 MCU microcontroller, the internal signal processing latency of the buttons is even less than a millisecond, which in combination with the Kailh GM 4.0 switches ensures unprecedented click speed.
High-quality components for continuous and long term use
The Endgame Gear XM1 RGB has a total of five mouse buttons and a dedicated profile switch. The mechanical and selected Kailh GM 4.0 switches of the two main buttons are an exclusive custom-made product for the Endgame Gear XM1 RGB. They are designed for heavy loads and up to 60 million clicks. Long durability and perfect feedback with every click are guaranteed.
On the left side of the right-handed mouse there are two extra keys. In addition to the two main buttons, there is also a clickable 2-way mouse wheel which is very easy to grip thanks to the rubber coating. This makes use of a tactile switch, which is noticeably smooth and reacts quickly due to a low release force of only 75 grams.
RGB lighting with 14 LEDs across three zones
A total of 14 RGB LEDs are arranged across three lighting zones on the XM1 RGB. The mouse wheel, the logo and the RGB ring on the bottom of the mouse can display 16.7 million colours and be individually set and controlled via included software. A total of five lighting modes with different effects and four brightness levels allow for endless configuration.
Resource-saving and efficient software
Precise movements are possible with the Endgame Gear XM1 RGB because gamers can customize the mouse thanks to well-thought out settings and options. Its highly functional software uses the same 'slim design' philosophy as the mouse itself. This software is limited to the essentials and so will not impact system performance. With this software additional keys can be easily reassigned. The software lets users store up to four CPI profiles in the XM1 RGB's on board memory, which users can cycle between via a dedicated profile switch at the bottom of the mouse.
Briefly pressing this button switches through CPI profiles with 400, 800, 1,600 and 3,200 CPI being pre-set. A long press changes the polling rate with three being pre-defined. The CPI value can be adjusted by software in increments of 50 from 50 CPI to 16,000 CPI and adjustments are indicated by the LEDs on the bottom. The current USB polling rate option is shown by the two LEDs (both light up = 1,000 Hz, right LED = 500 Hz, left LED = 250 Hz).
CPI or DPI?
CPI or counts per inch - or point density - is actually the correct term for the accuracy of a mouse. Although the term DPI has become established almost everywhere as a unit of measurement, dots per inch measures the level of detail for printers, digital cameras or screens. In that context, the unit indicates the number of individual points that are placed in a line next to each other per inch. CPI counts the number of steps a sensor registers when the mouse is moved an inch.
The surface has a Dry Grip coating that is slightly worn to ensure a firm grip - this is an immense advantage during heated battles. At the same time, the ergonomically perfect shape prevents overstressing of the wrist and ensures maximum comfort even during heavy use. The design of the mouse is suitable for claw, palm and finger grip.
The Endgame Gear XM1 RGB weighs just 82 grams and has a flexible 1.85 meter long cable. Its large, noiseless and low-friction PTFE skates, with a height of 0.8 mm, ensure perfect gliding. They reduce fatigue from repeated and rapid movements and thus help to maintain accuracy in movements. The large mouse skates ensure the XM1 RGB slides smoothly with their benefit being especially obvious on soft mouse pads.
Braided Endgame Gear Flex Cord Cable
The XM1 RGB has an extremely light and flexible cable. As a result it is known as the Flex Cord. These braided cable also enable an extremely tight bending radius. In order to reduce cable drag even further, the XM1 RGB's cable is angled upwards to create enough space between it and the surface. This makes mouse movement feel unrestricted and almost wireless. A ferrite bead at the end of the flex cord reduces signal noise.
Technical details:
General:
Dimensions: 65.81 x 38.26 x 122.14 mm (W x H x D)
Width of grip: 60 mm
Weight: 82 g
Connection: USB 2.0 Type A
Lenght of cable: 1.85 m
Colour: black (matte)
Material: Plastic (Chassis), PTFE (Glides), Dry Grip coating (Surface)
Ergonomics / Layout: dextral (for right handed players)
Supported grip types: Claw Grip, Palm Grip, Finger Grip
Internal signal processing latency: <1ms
Sensor:
Type: Pixart PMW3389 high-end sensor (optical)
Microcontroller: 32bit STM ARM Cortex-M0 MCU
Resolution: 50 - 16.000 CPI (adjustable in 50 CPI increments)
Polling-Rate: 250, 500, 1.000 Hz (adjustable)
Acceleration: 50 G
Max Speed: 450 IPS
Lift-Off Distance: 2mm (standard) or 3mm (adjustable via software)
Buttons:
Number of buttons: 6 (2x top, 2x side, 1x wheel, 1 profile switch)
Programmable buttons: 5 (2x top, 2x side, 1x wheel)
Mouse-wheel-scrolling: 2-way
Main buttons (right/left):
Kailh GM 4.0-Switches (mechanical, selected)
Clicking force: 60 g +-5g
Operating life: 60 million clicks
Manufacturer's guarantee: 2 Years from date of purchase (EU)
Further links for

"XM1 RGB Gaming Mouse - Black"
Videos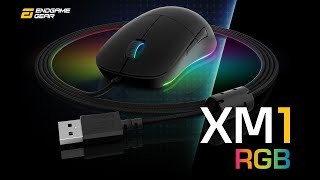 Technical Details
| | |
| --- | --- |
| Form Factor | right-handed |
| Number of Buttons | 5, 6 |
| Sensor | optical |
| Sensor Model | Pixart PMW 3389 |
| DPI Adjustment | yes |
| DPI max. | 16.000 DPI |
| Cable length | 170 to 189 cm |
| Connectivity | USB |
| Primary colour | black |
| Illumination | yes |
| Illumination colour | RGB (selectable) |
| Adjustable weight | no |
| Weight in g (exact) | 82 |
| Weight in g | up to 100 g |
| Lift Off Distance (LOD) | 2 mm, 3 mm |