Noiseblocker


BlackSilent Fan XL1 - 120mm
The well-balanced properties of this bestseller make this inexpensive and high-quality series of fans the absolute bestseller throughout the world.
Item number: LUNO-022
EAN: 4250051906110
MPN: ITR-XL-1
Manufacturer: Noiseblocker
Product information -
BlackSilent Fan XL1 - 120mm
Noiseblocker ist der Spezialist für besonders leise Lüfter. Um dies zu erreichen, setzt das Unternehmen auf hohe Qualität mit geringen Fertigungstoleranzen und hohes, technologisches Know-How mit deutscher Ingenieurskunst. Zudem gibt der Hersteller an, dass seine technischen Spezifikationen realistische Werte darstellen, die deshalb nicht direkt mit anderen Herstellern verglichen werden können.
Aushängeschilder von Noiseblocker sind die Multiframe Modelle mit einer innovativen Gehäuseform und Aufhängung. Die BlackSilent Serie stellt demgegenüber eine preiswertere Linie dar, die auf einen Rahmen mit herkömmlicher Konstruktion basiert, jedoch ebenfalls auf minimale Geräuschentwicklung optimiert wurde. In der inzwischen dritten Revision der Serie eignen sich die Lüfter gleichermaßen für CPU und Gehäuse.
Allen Lüftern gemeinsam ist ein schwarzer Rahmen mit blau transparenten Lüfterblättern. Hierbei handelt es sich um einen 120mm Lüfter mit 1.000 U/Min. Dabei erzeugt er gerade einmal 13 dB(A) und stellt ein Fördervolumen von 69 m³/h zur Verfügung. Der Lüfter wird über 3-Pin angeschlossen und kann über eine optionale Lüftersteuerung noch weiter gedrosselt werden, wobei die Startspannung bei 5V liegt.
Um die Geräuschabgabe weiter zu senken, liegen vibrationsgedämpfte Gummipins zur Befestigung des Lüfters bei.
Technische Details:
Maße: 120 x 120 x 25 mm
Gewicht: 120 g
Material: Kunststoff
Lautstärke: 13 dB(A)
Drehzahl: 1.000 U/Min
Airflow: 69 m³/h
Luftdruck: 0,659 mm-H2O
Startspannung: 5 V
Spannung: 12 V
Leistungsaufnahme: 0,96 W / 0,08 A
Anschluss: 3-Pin
Lebenserwartung: 80.000 Stunden
Garantie: 3 Jahre
Further links for

"BlackSilent Fan XL1 - 120mm"
Videos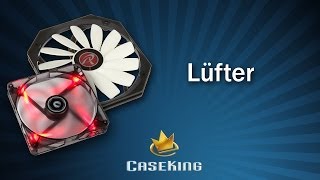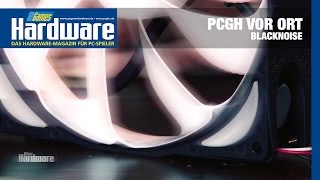 Technical Details
| | |
| --- | --- |
| Primary colour | blue |
| Secondary colour | black |
| Fan connector | 3 Pin |
| Illumination | no |
| Initial Voltage | 5 V |
| Max rpm | 1000 - 1500 U/min |
| Max noise level | 10 - 15 dB(A) |
| Max air volume | 50 - 75 m³/h |
| Rotor diameter | 120 mm |
| Mounting holes | 120 mm |
| Warranty | 3 years |
Awards
Schicker Lüfter mit sieben bläulich, durchscheinenden Flügeln im bewährten Design. Der Luftstrom fällt zwar etwas gering aus, ist dafür aber auch in einem Meter Abstand nicht mehr vom menschlichen Ohr zu vernehmen.

read more...